If you are looking for a weed edible recipe to get a cannabis party going, search no more. This is a perfect weed edible for cannabis enthusiasts. A cannabis infused nacho cheese is not only ridiculously good, it's super easy to make. This is the perfect stoner gathering weed treat. This munchie will satisfy and keep you craving more!
What do I need to get my weed infused nacho cheese started?
The main and most important ingredient in cannabis infused nacho cheese is cannabutter (canna-butter). Cannabis butter is made with only two ingredients: cannabis and butter. Is your cannabis butter ready? You are minutes from creating the ultimate weed infused nacho dip recipe.
Not to worry, you only need a few more ingredients. Grab your flour, whole milk, shredded cheddar cheese, chilli powder, and salt. Now you're ready to start cooking!
What should I pair with my cannabis infused nacho cheese?
Well there is the obvious answer, nachos. Let's think outside of the box for a minute. This nacho cheese pot infusion may taste really good on a hot dog. Further to this, this weed infused cheese would taste amazing poured over mashed potatoes. In addition, this cannabis infused nacho cheese is really good on broccoli or cauliflower. Smother this cannabis infused cheese on a burger and you have the best weed cheeseburger around.
Try this cannabis edible at any occasion!
Excitingly, this weed edible can work well for almost any occasion. If you're celebrating the Super Bowl, mourning a break up, or just Netflix and chilling, this weed infused cheese is the perfect cannabis edible.
Bring this party favor to your friends. Anti-up by bringing along cannabis guacamole or weed salsa alongside this savory weed infusion.
Start Your Making Your Cannabis Nacho Cheese Now!
Follow the recipe below to create your delicious weed infusion nacho cheese. Hit us up in the comments and let us know what you think of this recipe! Show us how your recipe turned out on social media!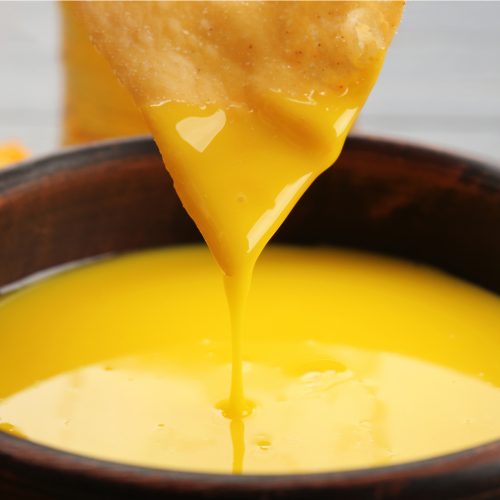 Ingredients
2

tbs

Canna-butter

1/2

half

onion, and chopped

1

jalapeño

pepper, and chopped

1/4

tsp

cayenne pepper

2

tsp

garlic paste

2

tsp

flour

1

cup

milk

2

cups

cheddar cheese

1/2

cup

Canna- olive oil

1

green

onion
Instructions
In a large saucepan, set to medium heat, and using a whisk, melt the canna-butter.

While stirring with the whisk, add the onion, and sauté. Add the jalapeño pepper, and sauté. Continue to whisk as you add, the cayenne pepper, garlic paste, and the flour.

Gently pour the milk into your mixture and stir. Now, add the cheese and whisk. Your nacho cheese should be smooth and creamy.

Remove cheese from the heat and transfer to a serving bowl. Garnish with sliced green onions on top.
Nutrition
Calories:
200
kcal
|
Fat:
20
g