Here are the cannabis butter basics:
Cannabis butter is a great basic ingredient that rounds out delicious cannabis-infused edibles. This THC infusion requires an important initial step. Firstly, THC is activated to enable the psychoactive properties of cannabis. In other words, THC must morph from its acidic form to its psychoactive form. We achieve this by heating cannabis at a low temperature. This initial step is called decarboxylating or decarbing. Once your THC is activated, it is time to infuse your butter with this elevating ingredient.
Of course, it is very important to properly dose cannabis butter. Do not over saturate your butter with THC. It is possible for over consumption to cause uncomfortable feelings. Subsequently, our cannabutter recipe is carefully dosed. It is our intention for this infusion to create an ideal high. This recipe is very easy to follow. Please stick to the recipe guide to create this cannabis infusion for optimal results.
Are you wondering what to do if you do not enjoy the taste of cannabis?
Unfortunately, not everyone loves the taste of cannabis. Follow this primary step to lessen the flavour of cannabis. Grab a cooking pot, and fill it half way with hot water. Add the measurement of cannabis required by the recipe to this hot water. Let the cannabis soak in this water for 8 hours. You are now ready to begin the recipe. Do not stress, THC is not water soluble and this process will not take away any of its potency. This process maintains the integrity of the THC in your cannabutter while dampening its earthy flavor.
What dishes will my cannabis butter complement?
Excitingly, you may swap your regular butter out for delicious cannabis butter. I other words, any recipe that requires butter is can now contain your THC butter. Suffice to say, cannabutter may be used in sweet THC edibles, cannabis infused lunches, and weed dinners. Cannabis infused butter is an exciting add to every meal!
Let's Get Cooking!
Carefully follow the step-by-step recipe below. Please partake responsibly. Be sure to let us know how you are enjoying your cannabudder on Facebook or Instagram. Hit us up in the comments below!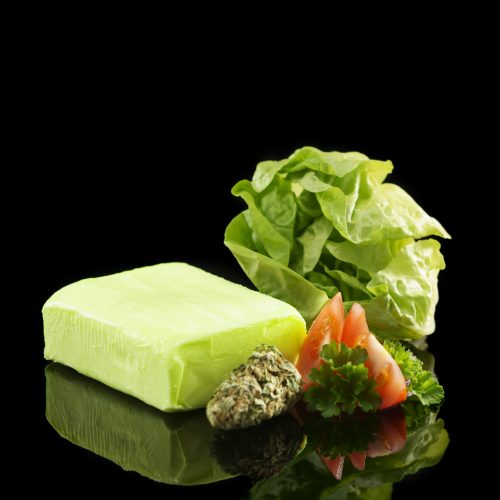 Ingredients
1/4 to 1/2

Ounce Cannabis 

1

cup

Butter
Instructions
Decarboxylate your weed by spreading your cannabis evenly on an oven tray And coat with aluminum foil.

Place in the oven on 240F/115C for 25 till 45 minutes, and then let it cool.

Grind your dry cannabis or chop it till fine.

Place the cannabis in a strong mason jar, add butter and (1 tsp of sunflower lecithin)(optional)

Place your closed jar in cold water and let it come to a boil, Boil for 2 to 3 hours.

Strain your butter through a cheesecloth.

Cool down

Now you can use the Cannabis Butter (Cannabutter)
Video
Notes
If using a mason jar, be sure to start with cold water. Furthermore, it is imperative to let the water cool gradually so that your glass will not shatter.
The video guide might be slightly different than the blog recipe. The blog recipe is the most updated and accurate.
Nutrition
Calories:
1628
kcal
|
Carbohydrates:
1
g
|
Protein:
2
g
|
Fat:
184
g
|
Saturated Fat:
117
g
|
Cholesterol:
488
mg
|
Sodium:
1621
mg
|
Potassium:
54
mg
|
Sugar:
1
g
|
Vitamin A:
5673
IU
|
Calcium:
54
mg