Are you a sucker for Cannabis Lollipops?
So are we! Follow this unique recipe for Cannabis Lollipops to create a sweet treat. This weed edible is a fan favorite and makes an excellent party favor. If you're looking for an easy to make, easy to travel, cannabis edible this weed lollipop may be right for you!
What flavors of weed lollipops can I make?
The sky is the limit for flavoring your weed edible lollipops. Add a little bit of lemon for a sour candy. Try adding liquorice to these pops for a unique flavor. You can flavor these pops with your favorite flavor extract.
Substitute the water in this recipe with a delicious juice to mix things up! Once your cannabis lollipops have set, you can dip them in water and then cannabis sugar for a potent garnish. Consider also dipping them in your favorite powdered candy or sugar.
How long do cannabis lollipops take to make?
Excitingly, these candy edibles only take 25 minutes to prepare. After 5 minutes of cooking, these weed lollies will need a bit of time to cool down. These cannabis infused lollipops will be visibly ready as they will harden.
What do I need to create these cannabis infused candies?
To complete this recipe you will need a short list of ingredients. Gather your cannabis tincture, sugar, water, corn syrup, and a flavor extract.

In addition, you will need a few cooking utensils. Be sure to have a cooking pan, a whisk, and your weed lollipop moulds on hand.

Furthermore, if you wish to color to these weed pops, you will need food coloring. Add a couple small drops of coloring to the mixture to create weed edibles that are easy on the eyes!

Don't worry, if you do not have a cannabis tincture you can follow this recipe to make your own weed tincture at home.
Start Your Cannabis Lolly Recipe Now!
Be sure to let us know what you think of these sweet weed edibles.
Reach out to us on social media or hit us up in the comments below!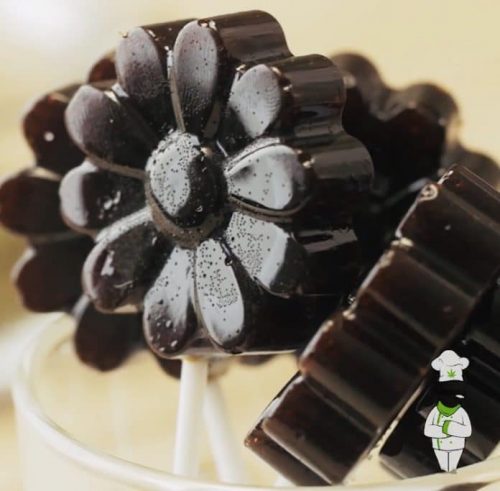 Ingredients
1

tbsp

Cannabis tincture

1

cup

sugar

1/2

cup

light corn syrup

1/4

cup

water

1

tsp

lemon extract or other flavor
Instructions
In a medium pan, add sugar, light corn syrup, 1/4 cup water.

Slowly heat your pan till you reached 300F while whisking the whole process.

Take off the heat.

Add your extract and cannabis tincture.

Whisk well, so your tincture is divided into the mixture.

Setup your lollipop mold and lollipop sticks.

Pour mixture into your molds and cool down.

Done
Video
Nutrition
Calories:
200
kcal
|
Fat:
20
g