Cannabis infused greek salad is a crisp and and healthful way to dose. Can you believe that the nickname of this salad, Horiatiki, translates to peasant salad? This is because the salad contains a mix of garden vegetables that can be grown at home, without need for purchasing.
Well, isn't that something. Cannabis can also be grown at home. Albeit a little bit more difficult with stringent laws, this is becoming a hobby for many cannabis enthusiasts as legalization progresses. Ultimately, it doesn't matter if you grow the ingredients of this salad, or purchase them. Your Cannabis Infused Greek Salad is going to taste amazing.
This is how we are dosing your weed salad:
We are infusing this salad by way of cannabis cooking oil.
Cannabis oil is easy to make. If you love coconut, olive, or avocado oil you can easily fortify your cooking oil with cannabis. Set aside a few hours to prepare your THC oil and get ready to turn it into the perfect cannabis extraction.
Here is a tip to help in selecting your cannabis buds.
If you're not using home grown, it is important to be selective with your cannabis strain. Let your dispensary representative know that you will be creating THC oil with your marijuana buds. Your rep can help you choose a strain that works well with cannabis cooking.
In fact, it may be helpful to let your budtender know that you're creating Cannabis Infused Greek Salad. It is possible that they will point you to a weed strain that complements weed infused salad nicely. You must decide between a THC strain for its elevating properties or a CBD bud that will not get you high.
Wait! There's one more important step.
Don't forget to decarboxylate your cannabis! This process activates the compounds in your cannabis. Unfortunately, without following this process, your weed oil will not offer the high, or benefits of CBD that you are hoping for.
Start Your Cannabis Infused Greek Salad Now!
Follow the recipe below and create a fantastic weed lunch or cannabis dinner. Let us know how your salad turns out in the comments below or send us a pic on social!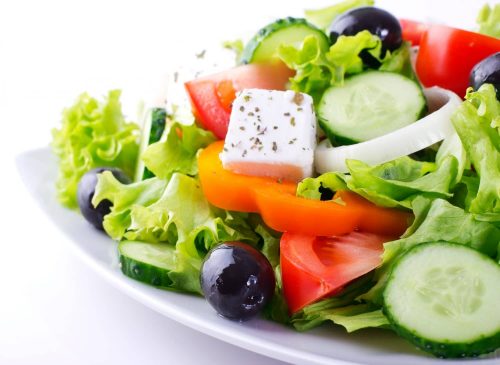 THC:
86 – 172 MG for whole dish
Ingredients
2

Tablespoons

Cannabis Oil

3

cucumbers,

seeded and sliced

1

1/2

cups crumbled feta cheese

1

cup

black olives, pitted and sliced

3

cups

diced Roma tomatoes

1/3

cup

diced oil-packed sun-dried tomatoes, drained,

1/2

red

onion, sliced
Instructions
In a large salad bowl, toss together the cucumbers, feta cheese, olives, roma tomatoes, sun-dried tomatoes, 2 tablespoons reserved sun-dried tomato oil, and red onion.

Drizzle your cannabis oil over the salad

Serve the Cannabis Infused Greek Salad chilled
Nutrition
Calories:
200
kcal
|
Fat:
20
g