A little bit of must, a little bit of mustard seeds, and a little bit of honey goes a long way. From ball-parks to BBQ's, marinades, dips and dressings, Dijon Honey Mustard is one of the most versatile condiments. Let us add, a breeze to make and a boost of flavor to every bite. This is why we're choosing to dose this sauce with cannabis. Why not combine two versatile ingredients to make the ultimate flavor fixing sauce, Cannabis Honey Mustard Dressing.
We get that Cannabis Infused Honey Mustard Dressing's common intention is for salads. That doesn't mean it is only enjoyable this way. Using this dressing to create weed infused roasted vegetables, as a cannabis dip, or marijuana spread is not off the table.
Cannabis Honey Mustard Dressing really is a must, here's why:
A "burning must" is what the Romans called experimental mustard as early as the 4th Century. This makes mustard one of the oldest condiments around yet still delicious and oh-so-versatile.
Mustard seeds are available in black, brown and yellow and come from three different plants in the cabbage family. Who knew? These tiny hard spheres have no aroma but their flavour is sharp and fiery hot! Yellow seeds are the mildest and black have the strongest flavour.
Creating Dijon mustard involves a small switch of ingredients. Creating the perfect sauce includes switching out vinegar with "verjus." This is an unusual acidic green juice from unripe grapes. Uncommonly, creating Dijon mustard utilizes white wine and black seeds. This differentiates from the making of yellow mustard as they contain powdered yellow seeds, spices, and vinegar.
So, why throw Honey in the mix?
Honey is a natural antibiotic and additive to baking, cooking, beverages and many sauces. Take your sauce spread or dip to the next (Higher!) level! Mixed in a 1:1 ratio, Honey and Dijon Mustard elevate your flavor profile. This is a mix of tangy hot with a little sweet for a well-balanced use-it-on-everything-sauce! This in combination with a weed infused oil is sure to be amazing.
We are infusing our Cannabis Honey Mustard Dressing with THC oil.
Cannabis cooking oil is the seamless base to this recipe. It's smoothness and ability to take on flavor make it perfect for this dressing. Purchase THC oil from your local dispensary or create your own. Check out this recipe for cannabis oil.
Start your Cannabis Honey Mustard Dressing Today!
Follow the recipe below to create your weed dressing. Send us a message in the comments below and let us know how you're enjoying this sauce.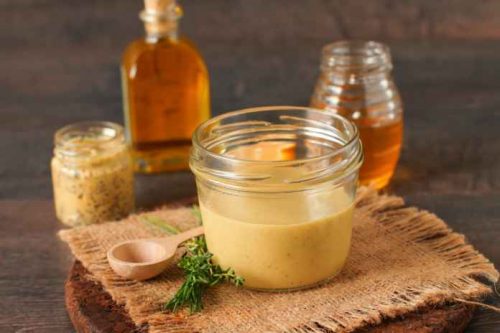 Ingredients
2

Tablespoons

Cannabis Oil

1/4

cup

plus 1 tablespoon Djion mustard

1/4

cup

honey

Also

1/4

cup cider vinegar

1

1/2

teaspoons kosher salt

1/4

cup

Vegetable oil
Instructions
In a medium bowl, whisk together the mustard, honey, vinegar, and salt. Gradually whisk in the oil to make a creamy dressing. Use immediately or store in the refrigerator, covered, for up to 3 days.

Serve the Cannabis Honey Mustard Dressing with salad
Nutrition
Calories:
200
kcal
|
Fat:
20
g