We're not approaching this one gingerly. No, we're going all out with this Cannabis Gingerbread Loaf to help you create a fantastic bread full of festive flavor. Gingerbread is a warm flavor to tuck into in the cold months of winter. This spicy sweet weed treat will lift your spirits and your tastebuds just in time for the holidays.
Cannabis Gingerbread Loaf is the weed dessert you didn't know you were missing.
You might not know it yet, but this weed infused bread is the sweet treat that you need. This loaf is the perfect balance of warming spice and comforting sweetness. If you enjoy dessert that is not overwhelmingly sweet and offers a more complex flavor, this one is for you. Sink your teeth into a melt in your mouth weed bread or gift this holiday bread to a neighbour. Our Cannabis Ginger bread is here to spread good cheer.
This is a little tip to up the anti.
For a special occasion, ice your Cannabis Gingerbread Loaf with a buttery cream cheese frosting. Mix ½ cup cannabutter with 8 ounces of cream cheese using the back of a wooden spoon. When soft and blended, add 2 cups icing sugar and finish with a teaspoon of vanilla extract. If you feel the frosting is on the sweet side, a dash of lemon juice will help. Be sure to cool the cake before frosting.
Read this if you need to create cannabis butter.
Cannabis butter (cannabutter) is a simple edible infusion made with (you may already know this) cannabis and butter.
You can purchase weed butter or make it in the comfort of your home. If you're going to make your weed infused butter at home, you will need to pick up cannabis bud. We always recommend consulting your budtender to select the best weed strain for your cannabis edibles. Don't forget to decarboxylate your weed before baking!
If you're ready to create your own cannabis butter, check out this recipe.
Create Your Cannabis Infused Gingerbread Loaf today!
Follow the recipe below to create your cannabis infused loaf. Send us a message in the comments, or tag us in a pic on social. We would love to see how these weed edibles turn out!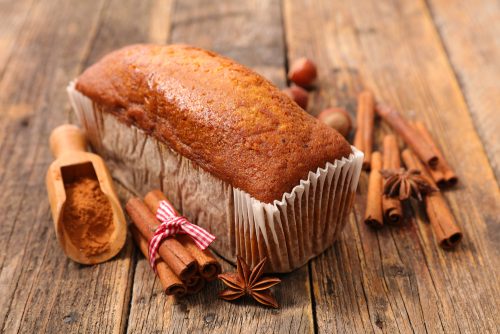 THC:
175 – 350 MG Per loaf
Ingredients
1/4

cup

Cannabis Butter

1/4

cup

Normal Butter

One Egg

One Cup Molasses

2 1/2

cup

All purpose Flour

1 1/2

Teaspoon

Bakin Soda

1

Teaspoon

Ground Cumin Also 1 Teaspoon Ground Ginger

1/2

Teaspoon

Salt

1

cup

Hot Water
Instructions
Preheat oven to 330 degrees F (165 degrees C). Grease and flour a 9-inch square pan.

In a large bowl, cream together the sugar and butter. Beat in the egg, and mix in the molasses.

In a bowl, sift together the flour, baking soda, salt, cinnamon, ginger, and cloves. Blend into the creamed mixture. Stir in the hot water. Pour into the prepared pan.

Bake 1 hour in the preheated oven, until a knife inserted in the center comes out clean. Allow to cool in pan before serving.

Serve the Cannabis Gingerbread
Nutrition
Calories:
200
kcal
|
Fat:
20
g