Sangria Saturdays just became a whole lot more exciting! Celebrate your friendships with the perfect toast-able weed infused beverage.
Sangria is a delicious beverage staple. This fantastic drink is getting the glow up it deserves. If you're sipping sangria in the sun, or simply serving it at brunch, this weed infused sangria is a must try.
Firstly, what is sangria?
Sangria is a traditional beverage that stems from Spain. Sangria recipes continue to evolve with beverage trends. Typically, this refreshing drink is made with red or white wine, juices, soda, and fruit. These flavors blend together to make a semi-sweet drink that is appealing to the eye. Moreover, Sangria often contains spirits such as brandy, tequila, and cointreau. These spirits fortify this boozy beverage while adding depth to flavor.
How do I create a weed sangria infusion?
We infuse our sangria with cannabis sugar and cannabis tequila. Both of these cannabis infusions pack a powerful punch and fantastic taste.
To make cannabis sugar, follow this detailed recipe.
It takes planning to create cannabis tequila. Cannabis tequila is easy to prepare. However, our recipe calls for this tequila to sit for a minimum of three days. Be sure to allow yourself the correct amount of time for to create cannabis infused tequila.
Is this a red or white wine weed sangria?
This recipe is for white wine weed sangria. Excitingly, you can swap your wine out for red if it is your preference. Pour red wine for instead of white to make red wine sangria.
Traditionally, red wine sangria is made with brandy. Infuse your brandy following the exactly same steps as your cannabis tequila. Substitute the cannabis tequila with your cannabis infused brandy. Add a little spice to your red sangria by throwing in whole cinnamon sticks. Consider adding cranberry if you're looking for a winter sangria.
Cheers! It's time to make your weed sangria!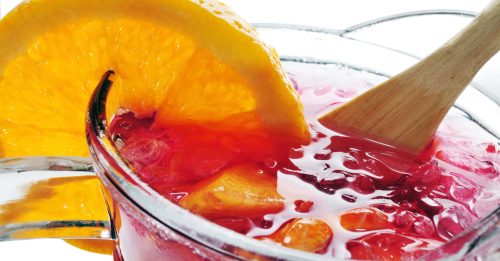 Ingredients
1

Apple,

diced

1/2

lemon,

sliced

1/2

orange,

sliced

2

tbs

Cranberries

2

tsp

pomegranate seeds

1/2

cup

Canna-sugar

1/4

tsp

Cinnamon

1

oz

(cannabis) Canna-Tequila

4

oz

orange juice

1/2

cup

peach snaps

1/2

bottle

Infused Red Wine/ White Wine

4

oz

lemon & lime soda

4

oz

Sparkling water

Infused

White

Sangria Below

*Infused

White

Mascoto Wine can be substituted

*

Sliced

Pears Substituted for Apples.

*

Sliced

Limes Substituted for Oranges.

*

Pear

Juice can be substituted for

*

Ice

Optional
Instructions
Core and slice apple. Slice lemons and oranges.

Using a wooden spoon in a large pitcher, stir in orange juice, cinnamon and canna-sugar. Mix well.

Add sliced fruit to the pitcher, add infused tequila, peach schnapps, wine and stir. Add, cranberries and pomegranate seeds. Refrigerate for 3 hours.

Before you are ready to serve, add the soda or sparkling water to the Sangria to keep from going flat.
Nutrition
Calories:
200
kcal
|
Fat:
20
g