This is the ultimate party starting cannabis shot!
If you're reading this, you might be the life the of the party. If so, we have the perfect weed infused shooter to kick off a great night with friends. This THC drink is delicious. It is the opposite of boring for adventure seekers. This recipe for weed infused strawberry and banana shooters is a next level option for our party people!
Warning: This isn't your standard shooter.
This THC infused shot is super potent. Remember, this THC shot still contains alcohol so prepare yourself and your guests accordingly. THC metabolizes faster in liquid than edibles. It is possible that this cannabis beverage can hit you hard. Please consume responsibly and do not over indulge. Of course, THC does not metabolize as fast as alcohol. Please allow for a significant amount of time to let your cannabis shooter kick in before you go for another.
Create a great looking cannabis drink with this weed infused shooter.
If you are celebrating, why not go all out. Consider rimming your shot glass with fun-fetti as pictured in the recipe below. If fun-fetti isn't your thing, you could rim the glass with cannabis sugar. Just remember, this will make this weed shooter even more potent. If you're not a fan of banana liquor, substitute for blue curaçao or apple. Consider adding whip cream or sauces to dress up this beverage. Add a cherry on top to finish this weed infused shooter perfectly.
This recipe calls for cannabis vodka! Here is what you need to know:
This recipe uses a cannabis infused spirit. Cannabis vodka is simple to make, but it does require time and planning.
Firstly, need to decarboxylate your cannabis. This process activates the THC in your THC bud. Break up your flowers over a cooking sheet. Cover the cannabis and sheet with tin foil. Activate your cannabis for 20-45 minutes at 115c/225f. Your weed is ready for infusion!
Wrap your decarb weed in cheesecloth. You are going to put this in your bottle of vodka for 2-3 days minimum to effectively infuse this spirit. Follow this step-by-step recipe that will teach you exactly how to create your weed vodka.
Follow this a yummy recipe for weed infused shooter!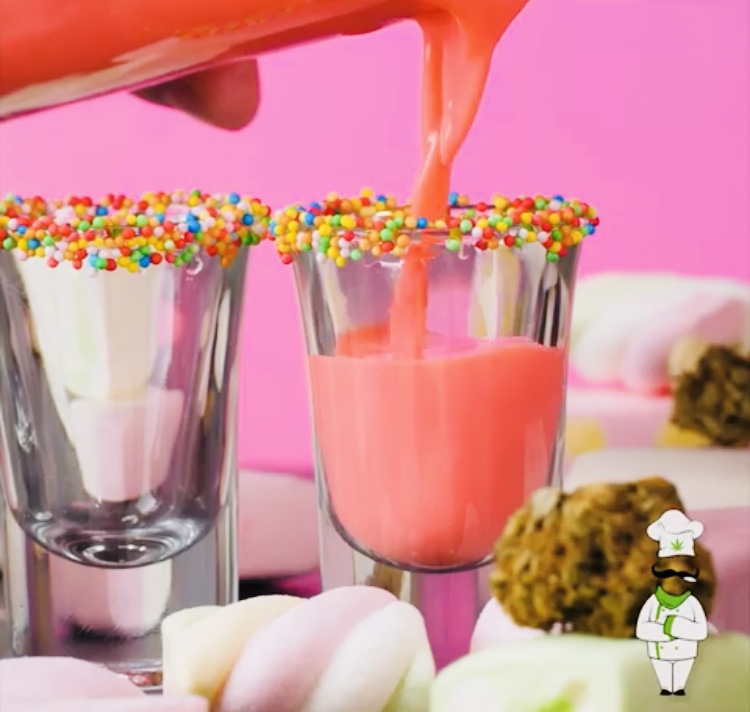 Ingredients
5

grams

Decarbed

1

bottle

of Vodka

Banana liquor

Strawberry Baileys

Sprinkles (optional)

1

cherry

per shooter (optional)
Instructions
Place the decarbed cannabis in a cheesecloth or pantyhose and infuse it in your favorite vodka.

Sit the vodka for 3-4 days and shake every 12 hours.

Get your shooter glasses ready and place them bottom side in some corn syrup or honey followed by decorating them with some sprinkles.

For the shooter you will need 1 part Cannabis Vodka, 1 part Banana liquor and 1 part strawberry Baileys.
Video