These weed infused shooters will get your party started!
Cannabis cocktails is not for everyone, but for those that like to get crossfaded from time to time this is the ultimate recipe.
The delicious banana and strawberry flavor completely covers the cannabis flavor infused in Vodka. Decorate it with some sprinkles and top it off with a cherry and you are good to go.
The first step in making this recipe is to infuse your Vodka of choice with 5 grams of cannabis. For a nice potent infusion you want the vodka to sit for 3 to 4 days. So make the vodka ahead of time and get creative with cannabis cocktail recipes.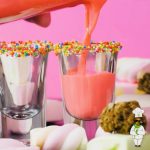 Ingredients
5 grams  Decarbed
1 bottle of Vodka
Banana liquor
Strawberry Baileys
Sprinkles (optional)
1 Cherry per shooter (optional)
Instructions
Place the decarbed cannabis in a cheesecloth or pantyhose and infuse it in your favorite vodka.
Sit the vodka for 3-4 days and shake every 12 hours.
Get your shooter glasses ready and place them bottom side in some corn syrup or honey followed by decorating them with some sprinkles.
For the shooter you will need 1 part Cannabis Vodka, 1 part Banana liquor and 1 part strawberry Baileys.
Shake, pour and drink!