What is better than weed infused salted caramel sauce? We're certain the salted caramel latte will soon be making a reappearance when you taste this version that is infused with weed.
How is this recipe infused?
Weed infused caramel sauce is made with cannabis butter. Cannabutter is a simple infusion. If you're ready with your weed bud on hand, you can create your cannabis butter. Decarboxylate your weed by cooking it for 40 minutes at 215F. Prepare your cannabis bud by breaking it up over a cooking sheet, covering this in tinfoil, and putting it in the oven. Now that your cannabis is through the decarboxylating process, it can be infused into butter. Follow this recipe to finish off your cannabutter. All you need is decarb cannabis and butter to make it!
Remember, you can create your cannabis infused butter with CBD bud. If you're not looking to get high, choose a CBD strain. Ask your local dispensary to provide you with a weed strain that is high in CBD and low in THC. This way you can enjoy this warm cannabis beverage without getting high. Of course, you can use your CBD butter for other cannabis edibles like CBD brownies, cannabis cookies, and more.
Follow this recipe to create cannabis butter.
Here are a few idea to make your Weed Infused Caramel Sauce even better:
Once prepared and cooled, your weed infused salted caramel sauce can be stored in a sterilized jar. It is ready for use in all manners of cannabis creations. You can mix it into hot drinks, create decadent cannabis desserts, or make pot caramel candies. Heck, you can eat a full spoon of this warm, golden cannabis liquid.
If you prefer something colder, you can use your cannabis salted caramel sauce to dress up a weed infused ice cream sundae. Better still, blend it with some cannabis vanilla ice-cream to make a salted caramel weed milkshake. 
Not only is all of this delicious, 45 minutes later the real treat starts. You are experiencing a beautiful mellow high. Can you see why this weed infused salted caramel sauce is the bomb? The only problem you will have with this recipe is that you will need to keep your hands off the caramel sauce jar once you're feeling the desired high.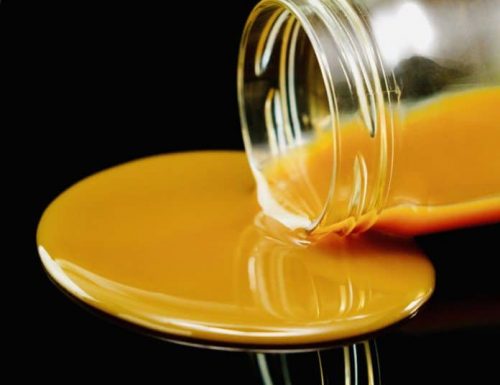 Ingredients
1/4

cup

water

1

cup

granulated sugar

2/3

cup

heavy whipping cream

3

tablespoons

Cannabis butter

1

teaspoon

vanilla

1

teaspoon

salt or to taste
Instructions
In a heavy bottomed saucepan, heat the water and sugar over medium heat. Make sure to use a saucepan that's a little bigger than what you think you will need. Stir constantly until the sugar has dissolved and the mixture starts to bubble just a little.

Increase the heat to high and bring to a boil, stop stirring completely. Let the mixture continue boiling until it turns an amber color, this could take around 5 minutes or more.

Remove from the heat and slowly whisk in the heavy cream. The mixture will bubble up quite a bit, so make sure to do this very carefully. Then, mix in the cannabis butter, vanilla, and salt one at a time.

Pour the caramel sauce into a dish and allow to cool completely, then cover tightly and store in the refrigerator. The caramel sauce will thicken up some once it's cooled and refrigerated.
Nutrition
Calories:
200
kcal
|
Fat:
20
g