Do you love the taste of Twix chocolate bars? Are you a cannabis enthusiast? If your answer is yes, this recipe is perfect for you!
This mashup of cannabis and twix is absolutely delicious and easy to make! Put this weed infused tweedix cookie recipe together in under and hour. If you're craving chocolate and hoping to medicate, follow this step-by-step recipe for tweedix cookies.
This requires cannabis butter, here's how to make it:
If you're feeling weary, do not worry! Cannabis butter (cannabutter) is simple to make. If you browse through our recipes, it is highly noticeable the many weed infusions call for cannabutter. Create this cannabis recipe base to up your cannabis edible game. This staple is great for sweet weed treats and savory cannabis dinner recipes.
Choose a strain of cannabis that works for your needs. If you are looking to elevate, it is best to choose a weed strain that is high in THC and low in CBD.
If you are looking to consume cannabis foods without the high, it is best to infuse with a marijuana strain that is high in CBD and low in THC.
Consult your local cannabis dispensary representative to ensure you get the best type of weed for your personal needs.
Follow this recipe to create your weed butter now to start your tweedix cookies!
How long do tweedix cookies take to make?
Fortunately, this recipe is very quick to make! If your cannabutter is ready to go, it is time to start baking.
The prep time for this recipe is only 20 minutes. Tweedix cookies need to bake for 30 minutes. These weed cookies need a little time to cool. The fun part begins! It is time to decorate your cannabis cookie.
Create Your Tweedix Cookies Now!
It's time to start baking. Follow the step-by-step recipe below and create delicious cannabis cookies.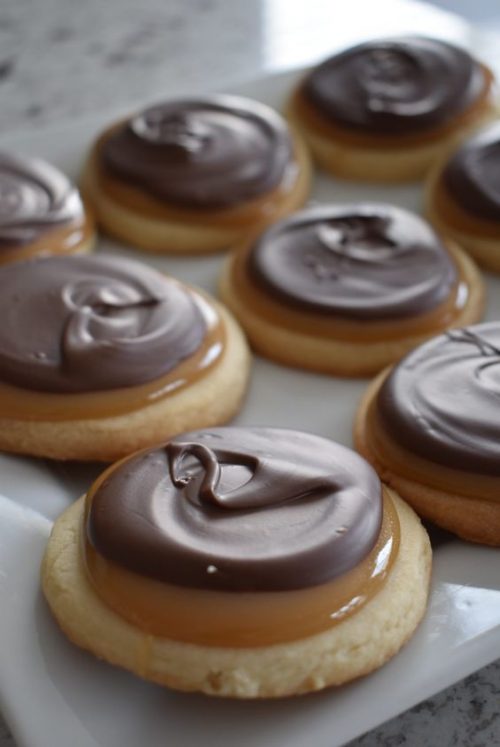 Ingredients
1

1/2

cups Canna-butter

1

cup

powdered sugar

1

tsp

vanilla extract

3

cups

all-purpose flour

3/4

tsp

salt

2

cups

caramel

2

tbsp

evaporated milk

2

cups

Milk Chocolate chips

2

tsp

coconut oil.
Instructions
Preheat oven to 250° F.

In a large mixing bowl, cream together the Canna-butter and sugar together. Add vanilla, flour and salt and mix well

On a lightly floured surface, roll the dough out to 1/2 inch thick. Using a small round cookie cutter, cut out your cookies and place them 2 inches apart from each other, on a silicone baking mat, or on parchment paper covered baking pan. Bake in the 250 degree oven for 30 minutes or until the cookie begins to turn a light golden color. Place cookies on a wire rack to cool.

Using a microwaveable bowl, add the caramel and evaporated milk and microwave for 30 second intervals to not burn the caramel. Mix well, and spread onto the cool cookie and allow to set.

Using a small microwaveable bowl, add the chocolate and coconut oil together and then melt in microwave for 30 second intervals also, to not burn. Spread on top of the caramel and allow to set.
Video
Nutrition
Calories:
200
kcal
|
Fat:
20
g