What goes down easier than a delicious Strawberry Cannabis Smoothie to start the day. If you're a busy mom, a fitness instructor, or a cannabis enthusiast, this weed smoothie may work for you. Whip up a smoothie fast, throw it in a to-go cup, and take it with your on your morning run. This Strawberry Cannabis smoothie is easy to make and easy to take for our busy cannabis lovers.
You choose whether or not this smoothie is CBD or THC infused.
If you're hoping to experience a high from this smoothie, you will need to infuse your cannabis milk with a THC bud. If you're looking for a CBD smoothie, infuse your canna-milk with a strain that is high in CBD and low in THC.
When picking up your strain of cannabis, be sure to let your dispensary representative know which type of weed strain you are looking for. Let them know that you are creating cannabis infused milk with this weed infusion. Your budtender may point you to a cannabis bud that will work well for this type of weed extraction. Further to this, let your rep know that you are creating a Strawberry Cannabis Smoothie. They may even carry a weed bud that works well with these flavors.
If this sounds like folklore, it's not. Cannabis contains terpenes. These unique compounds actually influence the flavor and smell of cannabis. It is possible for strains to be sweeter, spicier, earthier, and other complex profiles. Work with the experts to find a bud that will work for you.
Check out this recipe for cannabis infused milk.
Use your cannabis milk in far more recipes than your Strawberry Cannabis Smoothie.
There are several different ways to use your cannabis infused milk. Create weed infused pancakes, cannabis omelettes, weed coffees, and more. Get creative and explore many recipes to use your new cannabis base.
Create Your Cannabis Strawberry Smoothie Today!
Follow the recipe below. Hit us up in the comments and let us know how you're enjoying your smoothie.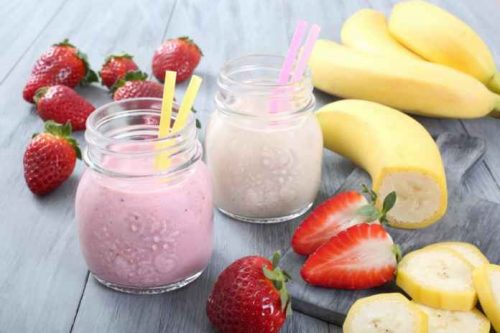 Ingredients
1/2

Cup

Cannabis Milk

1/2

Cup

Milk

1

Chopped

Banana Frozen

3/4

Cup

Strawberries

1

Teaspoon

Vanilla extract

1/2

Teaspoon

Ground Cinnamon

1

Teaspoon

Honey
Instructions
Add all ingredient to Blender

Start Blending

Add 1 Cup of Cannabis Milk instead of 1/2 a cup for a stronger smoothie.
Nutrition
Calories:
200
kcal
|
Fat:
20
g