We are creating our weed infusions always with patients in our minds and hearts. Cannadish is actually around today because of the noble idea of bringing cannabis recipes to those who medicate with cannabis to the comfort of home. It is our goal to help safely dose weed treats and meals to help our community alleviate their issues with a little bit more ease.
We are using cannabis butter to medicate this weed edible.
If you are in need of creating cannabis butter at home, we are here to help. You can purchase weed butter or make it in the comfort of your home. If you're going to make your weed infused butter at home, you will need to pick up cannabis bud. We always recommend consulting your budtender to select the best weed strain for your cannabis edibles.
This is a couple tips for selecting your weed.
Let your dispensary representative know that you will be creating cannabutter with your marijuana buds. They can help you choose a strain that works well with cannabis cooking. Decide between a THC strain for elevating properties or a CBD bud that will not get you high.
Do not skip this very important step.
If you're ready to create your cannabis infused butter, it is time to decarboxylate your weed. This will activate the compounds in your cannabis that give you all of its helpful properties. Unfortunately, skipping this step will make these properties null and void. Be sure to decarb your weed and reach out to us in the comments if you need any assistance with this.
Okay, you can create your cannabutter now!
Now that you are ready to create your cannabis infused butter, check out this recipe. This is the last step, and you're onto the Chocolate Cannabis Bar! Excitingly, you can use your weed butter for a variety of recipes. Cannabis pasta, weed garlic bread, or cannabis cake are only a few ideas for your new butter. This weed extraction can go a long way!
Create your chocolate cannabis bar now!
Follow us on social media and tag us in a photo of your weed chocolate bar. Hit us up in the comments below if you need any assistance, or want to tell us how your weed chocolates turn out!

Want to make more weed edible recipes? View our Cannabis cookbook here with many cannabis infusions and recipes and never run out of ideas!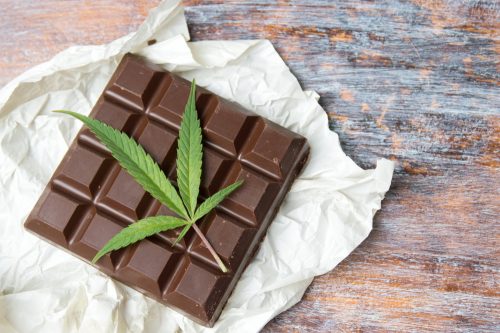 THC:
175 – 350 MG per whole batch
Instructions
Melt the chocolate in a clean, dry bowl set over a pan of barely simmering water. If you want to temper the chocolate (see above.) Add your cannabis butter.

Once the chocolate is melted, (and tempered, if tempering the chocolate), remove the bowl from the pan and wipe the moisture off the bottom of the bowl.

Pour or spoon a layer of chocolate into your molds. Rap them on the counter a few times to distribute the chocolate evenly and release any air bubbles, then working quickly, top with any kinds of nuts, dried fruits, or other ingredients that you wish and press them in slightly.

(You can also stir ingredients into the chocolate, such as toasted nuts, seeds, crisped rice cereal, snipped marshmallows, or other ingredients, then pour the mixture into the molds.)

Immediately put the bars in the refrigerator until firm. If tempered chocolate is used, it shouldn't take more than five minutes for them to firm up. Otherwise the chocolate will take longer.

Serve the Chocolate Cannabis Bar
Nutrition
Calories:
494
kcal
|
Carbohydrates:
53
g
|
Protein:
3
g
|
Fat:
36
g
|
Saturated Fat:
21
g
|
Cholesterol:
15
mg
|
Sodium:
65
mg
|
Potassium:
254
mg
|
Fiber:
5
g
|
Sugar:
45
g
|
Vitamin A:
177
IU
|
Calcium:
23
mg
|
Iron:
2
mg