If you love wine and cannabis you're going to love this. Cannabis infused wine is a delicious way to enjoy both of these novelties as one. Infuse your favorite bottle of wine with your favorite cannabis strain for a unique and tasty experience.
How do you infuse cannabis wine, you ask?
Firstly, you need to decarboxylate your wine. This process activate the THC or CBD in your cannabis bud. Following decarboxylation, place your cannabis bud and sink it into your bottle of wine. Shake your weed infused wine at least once a day and let sit for a couple days to maximize this infusion.
If you need instructions to effectively decarb your bud, follow this guide. Uniquely, this step-by-step article teaches you to decarb your weed without any smell.
What type of wine works well for a cannabis infusion?
Fortunately, you can select your favorite bottle of wine. If you're a red or white wine connaisseur, you can choose what ever bottle you would like!
Keep in mind that different strains of cannabis offer different flavors and scents. Ask your local budtender about your strains to pair your wine with your cannabis accordingly.
Interestingly, some wines are rich in tannins, spices, or aromas. It is common in the culinary realm to pair like with like. Consider using a spicier cannabis bud with a spicier wine. If your choice bud produces a lighter flavor, you may want to choose a lighter blend of wine.
Furthermore, it is important to decide whether or not you would like this wine to be infused with a psychoactive cannabis strain. If you're hoping to elicit feelings of elevation, choose a bud strain that is high in THC. If you're looking to enjoy cannabis without mind altering effects, choose a weed strain that is high in CBD and low in THC.
Always disclose to those who will be consuming your weed wine that it is infused with cannabis.
Start Your Cannabis Infused Wine Today!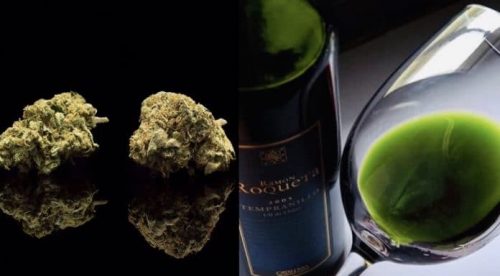 Ingredients
Your

Favorite

bottle of wine

3

grams

of your choice of cannabis
Instructions
Decarboxylate your weed by spreading your cannabis evenly on an oven tray, coat with aluminum foil and bake for 40 minutes on 240F.

Wrap up your weed tightly in a piece of cheesecloth or pantyhose and infuse it in your favorite bottle of wine.

Shake at least once per day and store depending on the kind of wine.
Nutrition
Calories:
200
kcal
|
Fat:
20
g