This recipe is for the cannabis edible chef with some patience. Cannabis infused Turkish delights take some time to make but are very easy and super delicious! Follow the steps in the recipe and you will not regret it.

Just like any another edible recipe, we need to extract the THC out of the flower. Since turkish delights are candies, we can't use cannabis oil or butter. Nobody likes butter or oil in candy right?
So we start of with making cannabis sugar, which is than used to make cannabis THC syrup. Click on the link to get directed to the recipe if this is your first time making cannabis sugar.

These turkish cannabis candies are a little harder to make than THC Gummies, but they are super unique and have a very different texture and taste. Keep in mind that these candies are super potent because of the amount of cannabis sugar used. However, you would be able to make them less potent by cutting the sugar in half and use regular sugar. Or you can exactly dose the amount of THC you want in the recipe. Enjoy!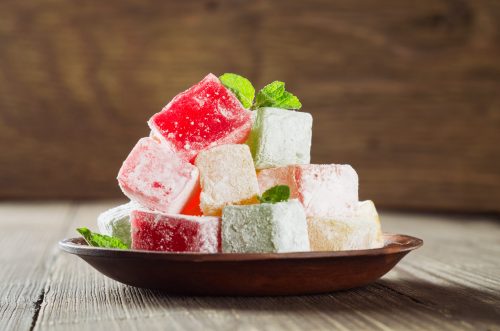 Ingredients
2 1/4

Cups

Cannabis sugar

2

Cup

water

1

Cup

Cornstarch

2

Tsp

Cream of tartar

2

Tbsp

Lemon juice

1

Tbsp

Rose water or orange blossom

1 or 2

Drops

Red food coloring

1

Cup

Powdered sugar
Instructions
Place the cannabis sugar, lemon juice, and 1 cups of the water in a medium saucepan over medium heat. Stir until the sugar dissolves and bring the mixture to a boil to create a THC Syrup.

Make sure the temperature of the cannabis syrup does not reach higher than 240F. Once it is 240F, put the heat down and continue to next step.

In another saucepan, place another cup of water with the cornstarch and cream of tartar. Whisk untill there are no more lumps. You now have a nice and creamy white mixture.

Take the pan with the white mixture and put it on medium heat while continiously whisking. Continue to whisk on heat jntill you have a thick paste.

At this point, add the hot THC syrup to the white mixture and whisk untill all incorporated.

Reduce the heat to very low, and leave this mixture on the heat for about an hour. While whisking it every 10 min.

The mixture should be golden and very thick and gluey in texture.

You can now take the THC candy mixture off the heat and add coloring and rose water. Mix to incorporate.

Pour the mixture into a pan dusted with powdered sugar and leave uncovered overnight to set.

Dust some powdered sugar over a surface and place your prepared pan upside down on it. You can now start cutting the turkish delights in it's shape and dust them individually in powdered sugar.

Enjoy your cannabis turkish delights