If you're a fan of Pad Thai and cannabis, this dish may be exactly what you're hoping for. Perhaps you are looking for ways to spice up your cooking and try new recipes. This is a simple, step-by-step recipe with incredible flavor. This weed edible is a fantastic lunch or dinner option that packs the power of cannabis oil.
What is Pad Thai?
Pad Thai is a Thai style dish that is most commonly made with rice noodles. Peanuts, chicken, vegetables, tofu, shrimp, cilantro, and bean sprouts are often part of this delicious dish. This sweet and savory offering is most recognizable by its signature tangy Pad Thai sauce.
How do I infuse this dish with cannabis?
Firstly, this Cannabis Infused Pad Thai requires CBD or THC oil. Cannabis oil is easy to find at dispensaries and holistic health centers. However, it is simple and cost effective to make this cannabis extraction at home.
You will need to follow a few necessary procedures to get the most of your cannabis. It is imperative that you decarb your weed before infusing it into oil. This will activate its chemical compounds. Otherwise, compounds such as THC and CBD will be ineffective.
Our easy to follow recipe for cannabis cooking oil will explain all processes in detail. Fortunately, it is very easy to follow and does not take too long.
Can Cannabis Infused Pad Thai be vegetarian?
Cannabis Infused Pad Thai often requires fish sauce. However, our recipe calls for soy sauce. Therefore, it is modifiable for vegetarians. Choose a plant or vegetable protein to create an amazing weed infused vegetarian meal. Feel free to add in more vegetables than the recipe calls for for extra flavor and nutrients. Weed infused Pad Thai is a fantastic vegetarian option that is super flavorful and tasty.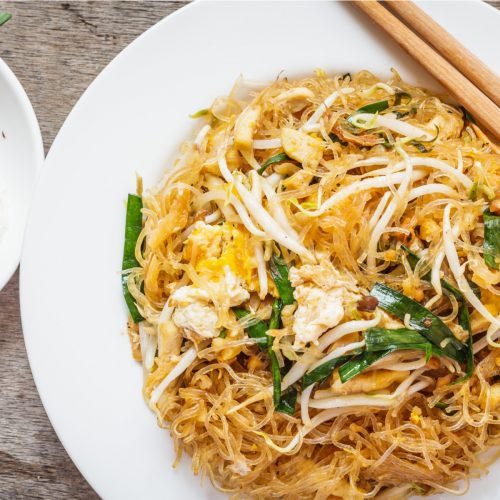 Ingredients
8

ounces

Pad Thai rice noodles/ lo

2

tbs

infused oil/ vegetable, coconut oil

4

garlic

cloves, minced

2

large

eggs beaten

1

1/2

tbs soy sauce

1

tsp

fish sauce

2

tbs

fresh lime juice (one medium

2

tbs

brown sugar

1/8

tsp

red pepper flakes

3

green

onions sliced

1/4

bunch

cilantro, chopped roughly

1/4

chopped

peanuts

*1/3

cup

shredded carrots, or your choice

*

1

lb Shrimp or chicken
Instructions
Bring 4-5 quarts water to a boil.

In a separate bowl, pour hot water over dry noodles, allow 10 minutes for noodles to become tender, then drain and set aside.

In a large skillet heat infused vegetable oil over medium heat.

Sauté garlic 1 or 2 minutes,until tender.

Pour lightly whisked eggs into the skillet and cook just until firm but still moist, moving the eggs around in the skillet until eggs look slightly scrambled. When eggs are cooked, remove from skillet from heat and set aside.

Add vegetable, to pan with eggs on medium heat.

In a small bowl stir together the soy sauce, lime juice, brown sugar, fish sauce, and red pepper flakes. Pour mixture over noodles in the skillet with the scrambled eggs.

Sprinkle green onions and cilantro and peanuts over the noodles. Toss lightly to combine ingredients. Serve warm.
Nutrition
Calories:
200
kcal
|
Fat:
20
g