Your favorite candy just became a little cooler!
Nerds are a scrumptious and popular candy. Of course, we are celebrating this candy by infusing it with another novelty. Cannabis Infused Nerd Candies are sure to be a hit. Especially as an amazing weed infused candy rope! Try our step-by-step recipe and make an exciting weed edible for the whole crew.
How is this candy infused?
Interestingly, we dose our cannabis infused nerd candies with cannabis coconut oil. This kitchen staple is easy to make and houses a fantastic flavor. Follow this simple recipe to create your very own canna-coconut oil.
Be sure to decarb your weed prior to creating your oil. Otherwise, you will not attain its desired effects.
What is a weed infused candy rope?
Simply put, weed infused candy rope is a cluster of candy that forms a long rope. With the help of gelatin and jello, we infuse this string of candy with cannabis coconut oil. This weed treat is super sweet and super fun. Wrap these weed candies individually or serve them as is. Cannabis candy rope is an exciting way to experience cannabis edibles.
Will Cannabis Infused Nerd Candies make me high?
If your intention is to get high, you must select a cannabis strain that is high in THC and low in CBD. If you are hoping to avoid any elevation properties, choose a CBD strain. This strain must be high in CBD and low in THC. THC is the property of cannabis that elicits a mind altering experience. Thusly, you must choose a weed strain that works for your specific needs. Talk to your budtender to find the marijuana strain that works for you.
Create Cannabis Infused Nerd Candies Today! Follow The Weed Candy Rope Recipe Below!
Show us how your candies turn out on social media! Let us know how you enjoy this recipe in the comments below.

If you love cannabis candies, you will love our new cannabis cookbook! Get it here!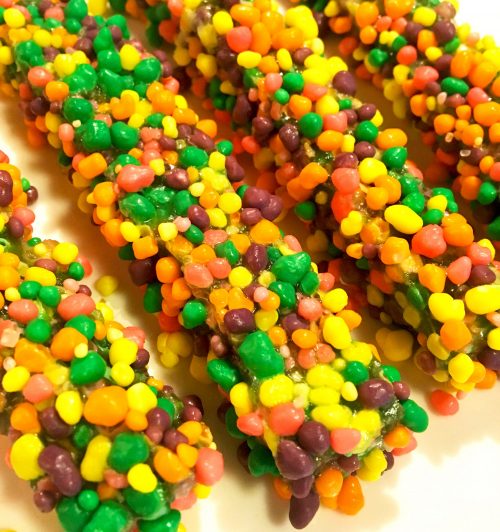 Ingredients
1/4

cup

water

3

oz.

lime Jello

or 4 sheets of Gelatin

1/2

cup

of water

1/4

cup

Corn syrup

1/2

tsp

sunflower lecithin

1/4

cup

canna-coconut oil

Large

sheet

of parchment paper for cutting
Instructions
Add gelatin to 1/4 cup of water, set aside to bloom/ soften. ( skip if using jello)

Dissolve corn syrup into 1/2 cup water in medium pot.

Add lime jello and turn heat to medium until mixture reaches a boil.

Turn heat down to low, allow to simmer several minutes.

Stir in sunflower lecithin.

Slowly stir in the gelatin mixtures that you set aside (#1) and allow it to dissolve in simmering pot. In case you don't use gelatin, use the jello mix.

Add canna-coconut oil/ your (THC/CBD). Mix well. Try not to create bubbles.

Poor into your candy rope molds and let it cool.
Nutrition
Calories:
200
kcal
|
Fat:
20
g