What better way to celebrate Valentine's Day than to treat your loved one to the ultimate high. Making cannabis infused heart lollipops full of THC is a unique gift. Show your significant other how much you care with time and effort of a handmade gift.
Do I need to be an experienced cook to create these weed lollipops?
Weed edibles are fun to make and even more fun to enjoy. This recipe has a few simple steps. These weed lollies only taken 30 minutes to create. Once the weed candies are ready to set, you just let them cool.
You can get creative with packaging these weed candies. Wrap these cannabis candies up or create a bouquet for your special someone. Perhaps, you can stick one of these weed edibles into a cupcake. Perhaps you can ribbon around your cannabis lollipop and attach a sweet note.
What do I need to create cannabis lollipops?
To create this recipe, you will need a cannabis tincture. Simply checkout how to make a cannabis tincture in the link provided and the rest of the recipe is a piece or cake. A Cannabis tincture is best used for this recipe as the amount of THC per lollipop will spread out equally. You can always adjust the THC dose to however you like.
In addition, you will need water, sugar, corn syrup, and strawberry flavored gelatin. When ready, these ingredients will need to set in a heart shaped mould that is primed with cooking spray.

Other than a few cooking utensils, this is all you need to make your delicious cannabis infused heart lollipops!

Create Your Cannabis Infused Heart Lollipops Today!
Remember, you don't always need an occasion to create a special gift. Surprise your friend or loved one with these heart shaped cannabis edibles.
Create a take home weed party favor. Add a little extra something to a birthday present.
Be sure to let us know how you enjoy your heart shaped cannabis lollipop in the comments below.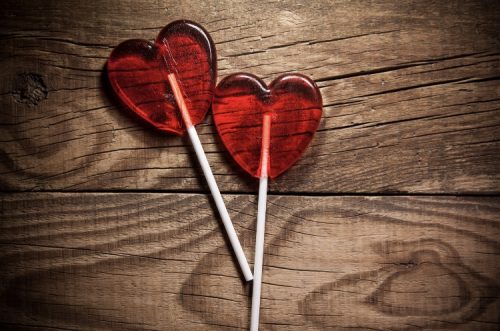 Equipment
candy thermometer

Lollipop stick

Lollipop molds
Ingredients
100

Mg

Cannabis Tincture

1/4

Cup

Water

3/4

Cup

Granulated sugar

1/2

Cup

Light corn syrup

4

Tsp

strawberry gelatin dessert
Instructions
Spray your lollipop molds with cooking spray. Insert the lollipop sticks into the molds and continue to step 2.

In a medium saucepan over medium heat, combine the cannabis tincture, water, sugar, and corn syrup. Stir the mixture until the sugar dissolves. Use a candy thermometer to heat the mixture to 295F.

Stir in the gelatin dessert. Working quickly, spoon the sugar mixture into the lollipop molds.

Let it all cool down. When ready, take out the lollipops and wrap them up as a gift or enjoy it yourself.