We came across a lot of weed gummy recipes on the net. Some of these guides are making cannabis gummy bears in very difficult ways. We are weeding out the difficult methods to streamline your cooking experience. It is our goal to make cooking cannabis simply enjoyable. Check out our recipe for Cannabis Gummy Bears to see how it compares.
This is how we are infusing cannabis candies differently.
We are doing some digging into the methods of formulating weed infused gummy bears. One common infusion for weed gummies is cannabis coconut oil. Cannabis coconut oil is an option, but it is actually one of the more difficult methods. Dosing with coconut cannabis oil is not very easy. You may find that the fat of your weed infused coconut oil starts to surface. It may start collecting on top of your weed gummies. This is why we create our cannabis gummy bears with a weed tincture.
Why create weed infused gummies?
Cannabis gummy bears are a convenient and popular product. These tasty weed candies can be found in nearly every dispensary in current times. They are a discreet and potent way to take your medicine. They are also fun and simple for recreational users.
Fortunately, you can recreate this experience in the comfort of your home. Creating your own cannabis candy allows you to tailor the strain to your needs. You can also adjust the potency according to your tolerance.
In addition, you can play around with flavors to modify the taste to your liking. This recipe calls for strawberry flavoring. If you have an aversion to strawberries or you're allergic like some of us, you can explore many other options. Why not try working with cherries or blueberries? Almost any fruit will do and it's exciting to tinker with tastes.
This is an important tip.
Part of this recipe involves preparing your canna-gummy bear mould. If you can't find a gummy bear shaped silicone mat, any small shape will work. The most important feature of your mould is that it should be made with silicone. Silicone is imperative for ease of removal. If you work with metal or plastic, you may find yourself wrestling to remove your weed candies. They may also end up tearing, sticking, or breaking apart. The shape of the mould is fun, but it is just for novelty purposes. Any silicone mould for baking will do.
Start your cannabis gummy bear adventure now!
Remember, your cannabis gummy bears look like regular candy. It is important to label your weed edibles accordingly. Always keep out of reach of children. Store your weed gummy for up to one week.
Follow The Recipe Below To Create Your Cannabis Gummy Bears
Hit us up in the comments below and tag us in a pic of your cannabis candies on social. Get our gummy bear mold here!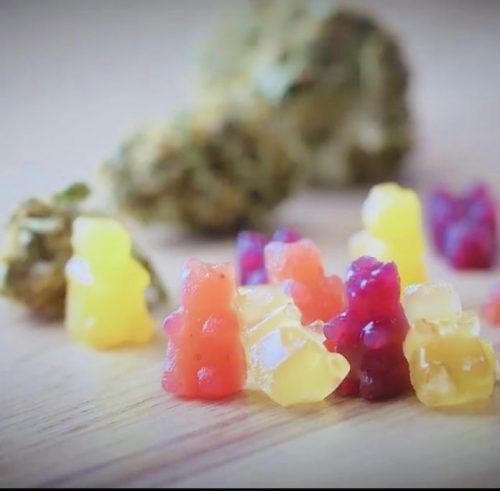 Ingredients
1

tbsp

cannabis tincture

1

cup

strawberries or fruit of choice

½

cup water

1

tbsp

lemon juice

2

tbsp

honey ⅓

1/3

Ounce

gelatin

(Agar is also an option)
Instructions
Blend 1 cup of strawberries with the water till smooth.

Strain through a sieve into a pot.

On medium heat add the lemon juice and honey and take off the heat.

While off the heat but still hot, add your cannabis tincture and gelatin and stir well.

Divide the mixture in a gummy bear silicone matt, and refrigerate or blast-chill in freeze for at least an hour till gelatin is set.
Video
Notes
Store in the refrigerator for a week or more, but be warned if the munchies hit – the little gummies are hard to resist.
If the gummies don't keep it's shape well. Try adding more gelatin to the mix.
Nutrition
Calories:
3
kcal
|
Carbohydrates:
1
g
|
Protein:
1
g
|
Fat:
1
g
|
Saturated Fat:
1
g
|
Sodium:
1
mg
|
Sugar:
1
g
|
Vitamin C:
6
mg