Cannabis Coconut Oil might be the greatest mashup since Beyonce and Jay-Z. Here's why:
Cannabis Coconut Oil is as smooth as Jay-Z and as strong as Beyonce. It only makes sense that these two ingredients make a fantastic collaboration. If you're looking to mask the flavour of weed, or add to your collection, THC oil + coconut oil is a simple addition.
Is Cannabis Coconut Oil hard to make?
Fortunately, this recipe is super easy to follow. In fact, it is made the exact same way as regular cannabis cooking oils and THC butters. From prep to cook time, you're looking at a short 47-minute process. If you're a novice cook, not to worry! We simplify the process so that these cannabis extractions can be made by anyone (of legal age, that is)!
Why should I choose to make cannabis infused coconut oil?
Excitingly, nutritional potency is another characteristic of this unique oil. According to this article, coconuts contain ingredients that support bone health. Apparently, it may even assist in regulating blood sugar. That sounds like a worthy addition to weed edibles! Furthermore, this oil is straight up delicious! The subtle hint of savoury cannabis mixed with sweet coconut rounds out dishes beautifully.
Wondering how to use your coconut THC oil?
Don't worry, there are many to utilize your THC oil blend. From sweet weed edibles, to full meals, Weed Coconut Oil is full of cooking potential. Consider adding a tablespoon of this oil to your coffee in the morning. This article (2019) suggests that adding coconut oil to your coffee may help you achieve ketosis while providing energy. Remember, this oil is packed with punch. Be sure to enjoy Marijuana Coconut Oil responsibly. If you are dairy free, consider replacing butter with this delicious option.
Furthermore, you may even want to use this oil for weed topicals. Topicals include THC oils, cannabis infused balms, THC creams, pain salves and beyond. This THC-coconut hybrid may act as a fantastic addition to your topical lineup. Coconut oil may be instrumental in creating stronger, softer hair. What's more is this article suggests that its healing potentials go far beyond the aforementioned benefits. From weightloss to nail growth, this cannabis infusion is sounding pretty promising.
Start The Recipe Below:
Once your canna coconut oil is ready you can start making delicious recipes with it. View our Cannadish cookbook here for more extraction methods and recipes!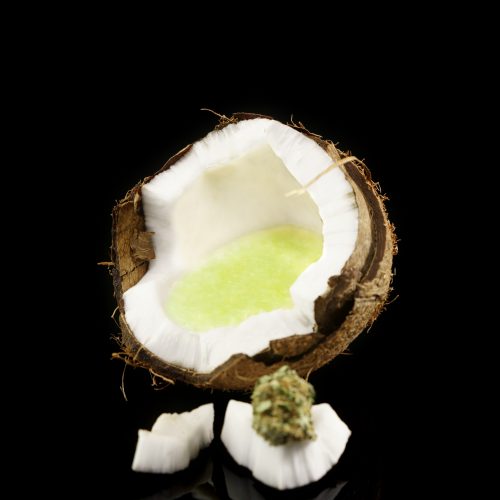 Ingredients
1/4

to

1/2 Ounce Cannabis

1

Cup

Coconut Oil
Instructions
Decarboxylate your weed by spreading your cannabis evenly on an oven tray And coat with aluminum foil.

Place in the oven on 240F/115C for 25 to 45 minutes, and then let it cool.

Grind your cannabis or chop it fine

Place the cannabis in a strong mason jar, add coconut oil and (1 tsp of sunflower lecithin)(optional)

Place your closed jar in cold water and let it come to a boil, Boil for 2 to 3 hours.

Strain through a cheesecloth or pantyhose.

Let it cool

Now you can use the Cannabis Coconut oil
Video
Notes
Simply exchange the olive oil for coconut oil. 
Nutrition
Calories:
188
kcal
|
Fat:
22
g
|
Saturated Fat:
19
g
References in order of appearance:

1 Danahy, Anne (2019, July 23rd) Five Health And Nutrition Benefits Of Coconut
2 Raman, Ryan (2019, April 11th) Should You Drink Coffee With Coconut Oil
3 Aboutaleb, Britt, Allen, Maya, Adkins, Jen (2019, September 7th) 13 Reasons You Should Be Using Coconut Oil Every Day