Creme Brûlée is an incredible and complex dessert. Excitingly, we're breaking it down into simple parts so that you can make your Cannabis Coconut Creme Brûlée dreams come true.
In case you're wondering what creme brûlée is:
This dessert is a beautiful sweet dish that contains a generous layer of custard like creme with a toasty, hard, caramelized sugar top. To eat this dish, you crack through the solid caramel top, and dig into a creamy soft smooth custard.
The marriage of these two textures is quite impressive. The two textures melt in your mouth creating a different kind of delicate dessert experience. Interestingly, in cooking shows all over the world, the formation is of a perfect creme brûlée is often part of the competition. This culinary adventure is so widely celebrated that is apparently good enough to measure the skills of a chef.
Here is a little fun fact about this incredible dessert.
Did you know that the origin of Creme Brûlée is actually unknown? In fact, England, France, and Spain claim this delectable dish as their own. Good thing this is nothing to go to war over, though some may disagree.
What better way to dose your Cannabis Coconut Creme Brûlée than with cannabis coconut oil?
We are medicating this dish with cannabis coconut oil. This light, almost untraceable cannabis infusion actually complements the flavor its custard. Whipping this weed infusion up with coconut milk, heavy cream, sugar, and coconut extract certainly seems like the key to masking the taste of cannabis.
If you need to create your cannabis coconut cooking oil, there is a simple recipe for you to follow. Collect your decarb weed buds, sunflower lecithin, and coconut oil to start this recipe now.
Start Your Recipe Here!
If you're ready to start creating your weed treat, follow the recipe below! Shoot us a message in the comments if you need any guidance. Tag us in a photo on social with the end results!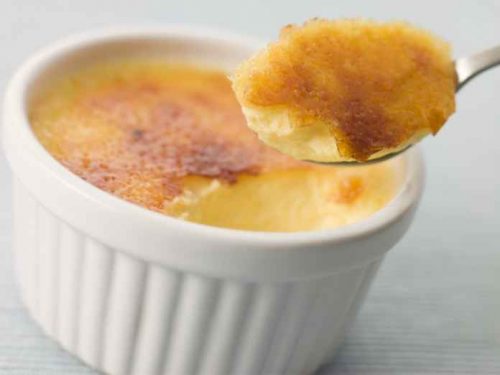 THC:
86 – 172 mg per batch
Ingredients
2

Tablespoons

Cannabis Coconut Oil

1

cup

unsweetened coconut milk

1

cup

heavy cream

Also

1

teaspoon imitation coconut extract

4

large

eggs

8

to

9 tablespoons sugar
Instructions
Preheat the oven to 325 degrees F.

Combine the coconut milk, cream, and coconut extract in a small saucepan over medium-high heat and bring to a boil. Once at a boil, remove from the heat.

Add Coconut oil

Meanwhile, whisk together the eggs and 5 tablespoons sugar in a bowl until combined.

Slowly whisk the heated cream mixture into the eggs, stirring constantly.

Divide the mixture among six heat-safe 5-ounce coffee mugs or oven-safe ramekins, filling them about 3/4 of the way up. Put them in a baking dish and add enough warm water to the baking dish so that it comes halfway up the sides of the coffee mugs.

Bake until the center is nearly set. Baking time will depend on the height of your coffee mug or ramekin. Bake time is 10 minutes for every 1/2 inch of height. For a 1-inch vessel, bake the creme brulees about 20 minutes. For a 2-inch vessel, bake the creme brulees about 40 minutes. Remove from the oven and allow to completely cool in the water bath, then refrigerate 15 to 20 minutes before serving.

Before serving, sprinkle the tops with a heavy layer of sugar and brulee using a hand torch or heating under the broiler for 2 to 3 minutes.

Serve the Cannabis Coconut Creme Brûlée
Nutrition
Calories:
200
kcal
|
Fat:
20
g