Best Weed Edible Candy & Sweet Recipes of 2020
Edibles combine two things every stoner loves: cannabis and sweets so read below as we explore the Best Weed Edible Candy & Sweet Recipes of 2020.
There are so many fantastic recipes to choose from, all of which are relatively easy to make, and will get you baked.
Of course, you don't have to choose between THC and CBD!
Make both CBD and THC treats and edibles so that everyone you've got coming over for coffee, visits or get togethers can feel included and enjoy!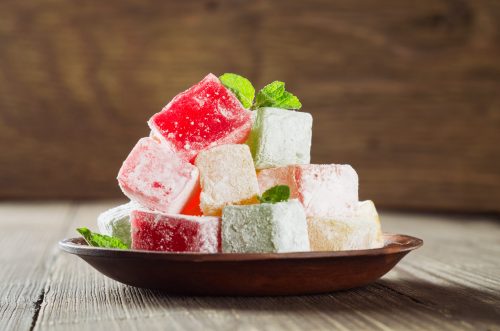 What Do I Need To Make Weed Edibles?
Let's start with Cannabis Hard Candies
The only ingredients you need to start making cannabis hard candies are sugar, water, corn syrup, and cannabis tincture.
The first thing you will need to decide on, is if you want to make THC hard candy or CBD hard candy.
Then it becomes as easy as taking candy from a baby!
Use a THC tincture if you are looking for THC edibles or a CBD tincture for CBD edibles.
You can also use both, it is all up to you!
Get creative because you can add in any flavor extract or coloring you want to customize your cannabis edibles.
Cannabis Hard Candies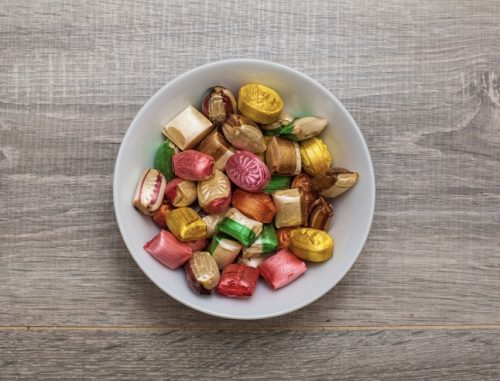 Equipment
candy molds or baking tray

candy thermometer
Ingredients
2 – 3

Tbsp

cannabis tincture

500mg THC

2

Cups

Sugar

2/3

Cup

corn syrup

1/4

Cup

Water

1/2

Tsp

Flavored extract

optional

Food coloring

optional
Instructions
In a medium sauce pan mix together the sugar, syrup and water.

Let it come to a boil and slowly stir mixture untill around 250F.

Once it reaches 250F, you need to stop stirring and let it come to approximately 305F. ( this happends quick)

Once your hard candy mixture is at around 305F, remove it from the heat.

Add cannabis tincture, flavor extract and food coloring. Stir it up and poor into your candy mold or baking sheet.

Let the cannabis candies cool down and harden before removing it from the mold.

Enjoy your canna candies!
Video
Notes
Tip!  If the hard candies are cloudy or foamy looking: once the mixture is taken off the heat, let it sit for 30 second untill all foam has gone down, before pouring into molds.
Nutrition
Serving:
1
Candy
|
Calories:
44
kcal
|
Carbohydrates:
11
g
|
Fat:
1
g
|
Sodium:
3
mg
|
Sugar:
11
g
|
Calcium:
1
mg
|
Iron:
1
mg
Having a craving for a throwback candy? Who doesn't love nerds?!
They were the BEST candy when I was a kid, and now we've re-purposed them with pot.
Check it out below – just another of Best Weed Edible Candy & Sweet Recipes of 2020.
Cannabis-Infused Nerd Candies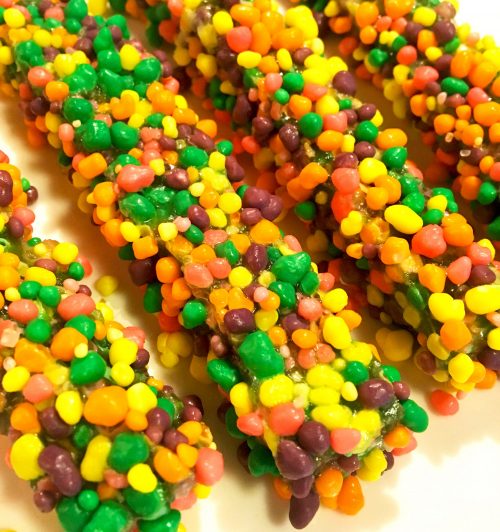 Ingredients
1/4

cup

water

3

oz.

lime Jello

or 4 sheets of Gelatin

1/2

cup

of water

1/4

cup

Corn syrup

1/2

tsp

sunflower lecithin

1/4

cup

canna-coconut oil

Large

sheet

of parchment paper for cutting
Instructions
Add gelatin to 1/4 cup of water, set aside to bloom/ soften. ( skip if using jello)

Dissolve corn syrup into 1/2 cup water in medium pot.

Add lime jello and turn heat to medium until mixture reaches a boil.

Turn heat down to low, allow to simmer several minutes.

Stir in sunflower lecithin.

Slowly stir in the gelatin mixtures that you set aside (#1) and allow it to dissolve in simmering pot. In case you don't use gelatin, use the jello mix.

Add canna-coconut oil/ your (THC/CBD). Mix well. Try not to create bubbles.

Poor into your candy rope molds and let it cool.
Nutrition
Calories:
200
kcal
|
Fat:
20
g
Now let's get a little decadent with chocolate and chocolate infused with Cannabis!
Trending now, hot-chocolate bombs are THE bomb!
Explode your tastebuds and your fav mug of hot cocoa with this simple and rich sweet treat!
Cannabis-Infused Hot Chocolate Bombs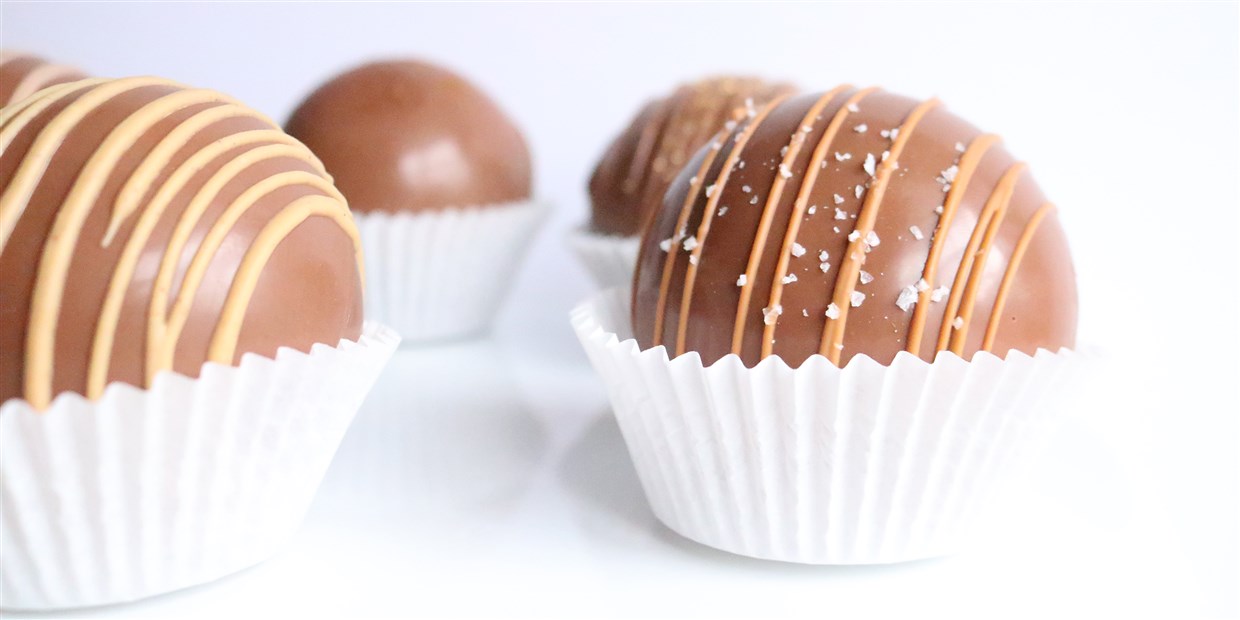 Equipment
Glass bowl

Whisk and Spatula

Double Boiler

Measuring spoons

Oven Mitts

Brownie Pop or Cake Pop Molds – Silicone
Ingredients
4

cups

Chocolate Chips – Dark

The darker the better!

2-4

tbsp

Cannabis Sugar

2 tbps to blend in the melted chocolate afterward. Save 1-2 tbsp for decoration after.

1

cup

Dry Hot Cocoa Mix

Your fav brand. You'll need to tbsp the mix into each of the completed shells – so 1 cup may work, or you may need a little more or less.

1/2

cup

Candy Melts or White Chocolate

Melted and save for decoration after.
Instructions
Using your double boiler melt the chocolate chips over hot water.

Remove from heat, and stir in your Cannabis sugar until melted/dissolved.

Using a scoop or spoon, fill your silicone molds with the melted chocolate about 3/4 – 1/2 way full. ( depending on the size of your molds)

Then, use a teaspoon to swirl and stick the chocolate around the sides to form the shells. You'll need to make sure there are no holes, and that you've evenly smoothed out the chocolate on all sides.

Next, put them in the freezer in the molds, to harden for at least 20 min.  

When you remove them, to avoid broken bombs:

1) Stretch the mold a little bit around the shells – gently.

2) Flip your mold over and push the balls out from the bottom onto a towel to cushion the fall.

3) Then, just pop them back into the molds for now, loosely.
FILL THEM UP!
Pack each half shell with 5 or 6 mini marshmallows.  Then, put your dry hot cocoa mix inside over top. A few tbsp's per shell will do. Nesquik dissolves smoothly, but you can choose whatever brand you love.
NEXT STEP
Top them with a last layer of melted chocolate! Use about a teaspoon full of the melted chocolate left over. Slide it gently on top with the spatula and seal all the edges in, covering all of the fun stuff inside.

Place them back in the freezer for another 20 minutes or more and remove them carefully, the same way you did above.
DECORATING YOUR CANNABIS HOT CHOCOLATE BOMBS
Using candy melts or melting some white chocolate or milk chocolate in your double boiler, (same as above) you can drizzle chocolate on top and add a bit more Cannabis sugar. Let it dry. Be creative here!
THE EXPERIENCE
Make some nice, hot milk. Fill your mug about 3/4 full of the hot milk, drop in your Hot Cocoa Bomb, and stir! Enjoy the experience and later? You'll REALLY enjoy the experience!
EXTRA DECADENCE?
Once you've experienced the "bomb", you can top off your hot chocolate with Cannabis Whipped Cream.
Yes, I know, I know – you're wondering where the Weed Gummy Recipe is right?
I mean, they're the cutest, tastiest and easist way (in my humble opinion) to consume Cannabis so here you go!
There are plenty of recipes, blogs and posts online about how to make weed gummies, but THIS one? It's the best.
Cannabis Gummy Bears- The Proper Way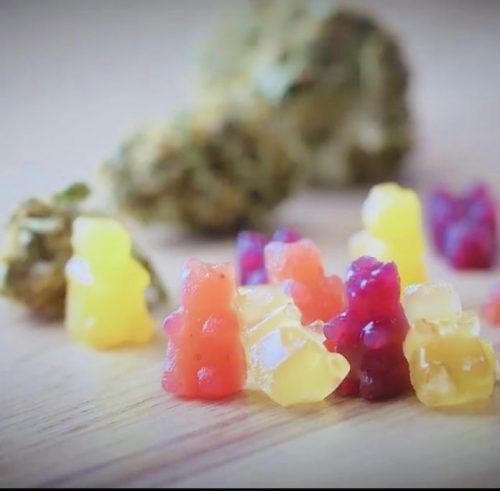 Ingredients
1

tbsp

cannabis tincture

1

cup

strawberries or fruit of choice

½

cup water

1

tbsp

lemon juice

2

tbsp

honey ⅓

1/3

Ounce

gelatin

(Agar is also an option)
Instructions
Blend 1 cup of strawberries with the water till smooth.

Strain through a sieve into a pot.

On medium heat add the lemon juice and honey and take off the heat.

While off the heat but still hot, add your cannabis tincture and gelatin and stir well.

Divide the mixture in a gummy bear silicone matt, and refrigerate or blast-chill in freeze for at least an hour till gelatin is set.
Video
Notes
Store in the refrigerator for a week or more, but be warned if the munchies hit – the little gummies are hard to resist.
If the gummies don't keep it's shape well. Try adding more gelatin to the mix.
Nutrition
Calories:
3
kcal
|
Carbohydrates:
1
g
|
Protein:
1
g
|
Fat:
1
g
|
Saturated Fat:
1
g
|
Sodium:
1
mg
|
Sugar:
1
g
|
Vitamin C:
6
mg
Last, but certainly not least – it's fun, fluffy and super easy to make.
I love cotton candy, and it bring sme back to childhood. Every year I would WAIT until the local fair was in town and I could get one bag of cotton candy.
I would go for pink, most times, and ride on the sugar high all the way home!
Now? You can ride on a different kind of sugar high – the one that has Cannabis infused into it!
Cannabis Cotton Candy
There are so many more recipes for you to check out, save, share and try out! See them here.
And for cooking products like molds and proper Canna-Chef utensils, find them here.