A nice warm bath with Cannabis oil is liquid relaxation therapy. It is peaceful, soothing, and potentially pain relieving. CBD bath bombs are great before heading to sleep. Perhaps you'll feel good when you wake up the next morning. There is even more to this CBD infused bath bomb. Cannabis is becoming a popular item for those suffering from arthritis, fibromyalgia and chronic pain disorders. There are many cannabinoids in the cannabis plant. THC and CBD are the compounds "in charge" of fighting pain and inflammation.

A review from 2013 states that cannabidiol (CBD) can help to relieve nerve and arthritic pain. Specifically, Fibromyalgia is a medical condition that causes widespread body pain. Some of this pain is due to stiffness in muscles and joints. Furthermore, this condition causes sleep problems. While a Cannabis infused Topical lotion can be applied to the skin for arthritis, a CBD bath may help your whole body relax.

It is simple to take a CBD bath with cannabis infused bath bombs. Fibromyalgia patients claim that CBD helps greatly with chronic pain, sleep, and endurance. Furthermore, patients suggest that CBD oil helps to manage a long list of devastating illness symptoms.

Unfortunately, some patients suggest that CBD oil does not help their conditions. It is very possible that it works for one, and not for the other. However, it should be noted that some hemp oils only contain very little CBD. Additionally, others have no cannabinoids at all. This may explain why some fibromyalgia patients say they have no response to cannabis oil. Quality matters, so it is best to either make your own CBD oil or buy the CBD oil from a reputable brand.
You can create a mix of THC and CBD bath bombs. If you prefer, you can make CBD infused bath bombs exclusively. CBD bath bombs may be a good option for people who avoid THC. You can make your own cannabis oil or buy CBD oil online.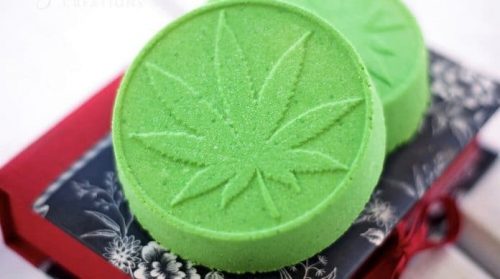 Ingredients
100

mg

CBD

1

tablespoons

olive oil or coconut oil.

1

cup

baking soda

1/2

cup

Citric Acid

1/2

cup

Epsom Salt

1/2

cup

corn starch

1

teaspoon

water Food colouring of your choice Your choice of essentials oils 30-40 drops
Instructions
Place the dry ingredients in a large bowl and mix together with a whisk.

In a small bowl, mix the liquid ingredients together, including the CBD oil until well blended.

In the large bowl, very slowly add the liquid mixture to the dry ingredients at little bit at a time. Mixture should hold together when squeezed without crumbling.

When well mixed, pack the mixture into your bath bomb mold and pack tightly, then let it dry. Make sure you work quickly so the mixture doesn't dry out in the process.

Bath Bombs need a full day to fully harden. If they're not quite hardened enough, they may crumble when you handle them, so check to make sure before taking them completely out of the mold
Video
Nutrition
Calories:
200
kcal
|
Fat:
20
g