In this little jar of liquid gold there is a peanut butter with the most perfectly melty, creamy texture. It holds a cannabis-like and peanutty intense flavor. Something magical happens when you mix cannabis oil with peanuts. We're going to teach you how to make Weed Infused Peanut Butter and give you some ideas to use it.
How is this peanut butter infused?
We use cannabis oil to infuse our peanut butter. Cannabis and peanuts just happen to create the perfect blend. Nuts contain natural oils, so these like substances infuse really well together.
It doesn't take long to create a cannabis infused oil if you're needing to. Pick your favorite strain of bud from your local dispensary. Speak to your budtender to find out what weed strain will work best for your needs. Choose a CBD bud if you're not looking to get high. Choose a THC strain if you're looking for elevating effects.
You're going to infuse your cooking oil with cannabis. This can be any type of cooking oil. Consider using peanut oil for an extra peanut-like flavor. You can even use coconut oil if you enjoy its fruity essence. Classic cooking oils like olive or canola will do the trick, too.
To kick off your oil infusion it is imperative to decarboxylate your weed. This process activates the chemical compounds in your cannabis. Skipping this step will render your hard work pointless. Decarbing your weed is one of the most important keys to cooking weed edibles.
Here are some ways to enjoy your Weed Infused Peanut Butter:
The possibilities for this weed infused snack are pretty endless. If you're a fan of peanut butter, it's likely that you know that it is multi-purposful.
Consider using your cannabis peanut butter to make cannabis cookies. You can also make amazing cannabis treats like peanut butter squares or peanut butter bars. You can even make your own weed infused peanut butter cups!
Believe it or not, Weed Infused Peanut Butter tastes really nice in Thai style noodle dishes. A small amount of this weed infused nut butter is super complementary of dishes like Pad Thai and Coconut Curry.
Start Your Weed Infused Peanut Butter Now!
This homemade cannabis peanut butter thing is way better than anything you could expect. If you thought making peanut butter from scratch was a bit of a process, oh my gosh, IT'S SO EASY! It's probably the easiest, fastest, cannabis infusion you could ever make. 2 ingredients, one machine, 5 minutes. Don't forget to check out the recipe and video below.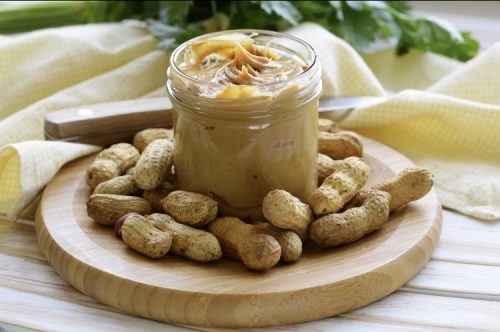 Instructions
Roast the peanuts in the oven for 10 minutes at 350F

In a blender, blend the peanuts 2 minutes for chunky and 3/4 minutes for a smooth peanut butter.

Add honey and cannabis oil and blend for another 20 seconds.
Video