This weed infused caesar dressing will blow your mind, in more ways than one!
Are you sucker for a delicious caesar salad? Less the perfect dressing, caesar salad becomes lettuce with croutons. Now, that sounds boring! This incredible weed infused caesar dressing makes the perfect cannabis edible for all occasions.
There is cannabis in this recipe, but how?
Firstly, this cannabis caesar salad dressing contains a THC olive oil blend. Does your kitchen contain this cannabis infused olive oil? If not, follow this recipe to infuse your THC cooking oil.
If you're not a fan of the flavor of cannabis, this recipe is a great option. The flavor of cannabis is unnoticeable in combination with strong ingredients like garlic and mustard.
Is this weed infused caesar dressing recipe difficult to make?
Fortunately, this recipe for cannabis infused caesar salad is super simple! Is your THC olive oil is ready? Mix up your salad in five minutes.

Grab your blender and the list of ingredients and get ready to serve up a fantastic weed infused caesar salad.

Do you know a caesar salad dressing recipe and you want to infuse it with THC oil? Simply swap out your regular olive oil for this THC infused olive oil.
Is this salad for a THC party?
Weed infused caesar dressing is an exciting way to serve up THC at your next 420 party. Of course, it is important to let your guests know how much THC is in this dressing to prepare them accordingly. Double or triple up on the recipe requirements to serve a large amount of guests.
Get creative with plating to wow your party goers. Cannabis plant leaves make a beautiful garnish to weed edibles. Simply place the cannabis leaf on top of your salad. Decarb these leaves for an extra THC hit.
Start Your Recipe Now!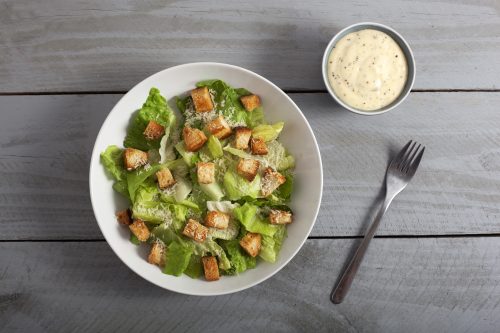 Ingredients
3

cloves of garlic- minced
3/4 cup of mayonnaise (Use a quality brand like, Helman's)
6 tbsp of grated parmesan cheese
1 tsp of Dijon Mustard
1 tsp Worcestershire sauce
1 tbsp lemon juice
2 tbsp cannabis olive oil
Instructions
In a blender combine, Mayonnaise, Worcestershire sauce, Lemon juice, dijon mustard, Canna-Olive oil, garlic, and parmesan cheese and mix until the texture is creamy.

Pour into a serving bottle, refrigerate and serve cold.

Shave some parmesan cheese on top of the salad.