What are Weed Edibles?
Edibles are THC or CBD infused food products in some shape or form, such as baked goods, gummies, or chocolates. Yummy!
There are four categories of edibles: Sativa-only, Indica-only, Hybrid (a mix of Sativa and Indica), and pure CBD.
What is Sativa and Indica?
These two weed-terms describe two primary strains (or kinds) of cannabis. Sativa is more functional, uplifting, and energetic. It's more of a head high, more creative, and giddy. Indica edibles tend to be more relaxed and sedating. It's more of a body high.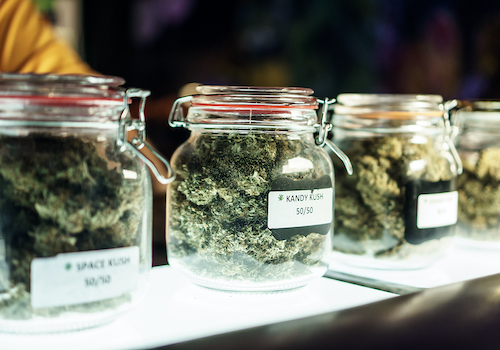 What is CBD?
CBD is part of the Cannabis plant and is a compound. CBD is popular because it offers potential medical benefits, in other words, it will make you feel good physically but won't get you high. CBD Edibles provide lots of great wellness pros.
What Edible Should I Try if it's My First Time?
Pick the type of high or wellness benefit you want, then pick something tasty to try or bake/make to match! Cookies and brownies, gummies or chocolate are all a great way to start.
Check out these CBD Gummies (won't get you high) and this delicious Classic Pot Brownie Recipe below.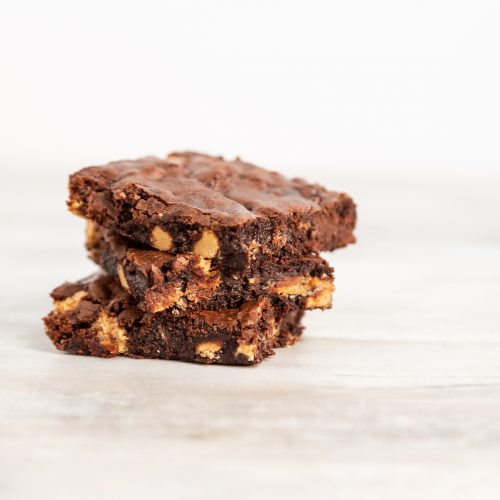 Ingredients
1/2

cup

Canna-butter

1

cup

granulated sugar

2

large

eggs

1

tsp

vanilla extract

1/3

cup

unsweetened cocoa powder

3/4

cup

all- purpose flour

1/4

tsp

salt

1/2

tsp

baking powder

Your

choice

of

1/2

cup

milk chocolate, white chocolate, caramel
Instructions
Preheat oven to 350°F and grease 8×8 inch pan.

Melt butter in a medium saucepan on stove top. Remove from heat.

Pour melted butter in a large mixing bowl. Stir in sugar, eggs and vanilla.

Sift dry ingredients together cocoa, salt, baking powder, and flour into the bowl with butter mixture. Mix batter well.

* Optional, Add chocolate, white chocolate, peanut butter chips, walnuts or fudge to or on top of batter.

Pour batter into pan, spread evenly. Cook for 30 minutes or stick a toothpick into center to be sure it comes out clean.

Allow brownies to cool. Cut into 9 squares.

* Optional, Add chocolate, white chocolate, peanut butter chips, walnuts or fudge to or on on top of batter.
Nutrition
Calories:
200
kcal
|
Fat:
20
g
I Purchased Cannabis, Now What?
When you are just starting out, the best advice we can give you is to go low and slow. Low meaning: start with a low dose. 10mg is considered a single serving for an adult. For somebody who's never had an edible before, start with less, see how you feel and then you can always move up! 5mg is a reasonable first-time starting dose.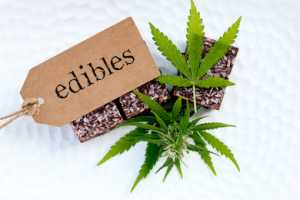 After your first bite, wait at least an hour, or an hour and a half. If it does kick in, you can then decide whether to consume more or not based on how you're feeling! It is a process, so just be patient.
An Edible High Lasts Longer than an Inhaled High
Here are a few tips for the edible-beginner:
Know how many milligrams of THC is in each product you buy
Know whether you need to cut it into pieces or if you can eat the whole thing.
Note how much you start with, how much time you're waiting, and if you add another bite, how much.
Knowing the above will help you reach a more consistent high later on (and make purchasing products much easier, too).
Why is figuring out the correct dose of edibles so tricky?
Edibles metabolize through the liver. Vaping, smoking, or rubbing creams/salves into the skin bypass the liver and go straight to the bloodstream.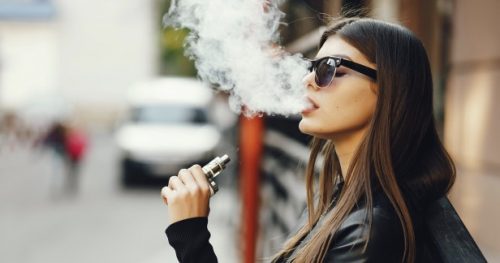 When you smoke THC, it hits your bloodstream, and you feel the high within minutes—and can adjust accordingly and as needed.
But when you munch on marijuana edibles, your liver processing takes time. Cannabinoid metabolism is much slower.
Edibles are a top pick for those taking cannabis for medical and/or wellness reasons because of this longer-lasting effect.
Edibles are a Marathon, Not a Sprint.
Make sure you know your dose, your strain and enjoy the edbile ride!
For more yummy recipes, you can click here.
If you'd like to start your journey as a Canna-Chef, check out some of these weed-tastic cooking products!
Cooking with Edibles
The best way to start cooking and baking with edibles is to use a professional and credible source like this Cannabis Cookbook.