Top 5 Best Cooking Accessories for Making Cannabutter
If you're ready to make 2022 the year of canna-cooking, then keep reading as we explore the Top 5 Best Cooking accessories for Making Cannabutter.
From canna-cupcakes to pot or special brownies – there's one common ingredient that makes them highly addictive!
Cannabis butter is by far, one of the most versatile and delicious ingredients that you can master to make every day delicious.
It's otherwise known as weed butter, THC-infused butter and a few other creative names (like bud butter), and it makes pot brownies, as well as thousands of other decadent recipes, taste great.
Making cannabutter does require certain equipment in your kitchen to make life and your batch of butter better.
Rather than heading down the path of making weed butter, only to find out you're missing something, take a look at today's necessary accessories and equipment so you can make proper and successful cannabutter.
You can use this is a checklist to go out and purchase to be prepared!
Rather than starting down the path of making weed butter, only to find out
So without further ado, here are the things we think you need to be a successful Cannabis Chef!
---
1. Magical Butter Machine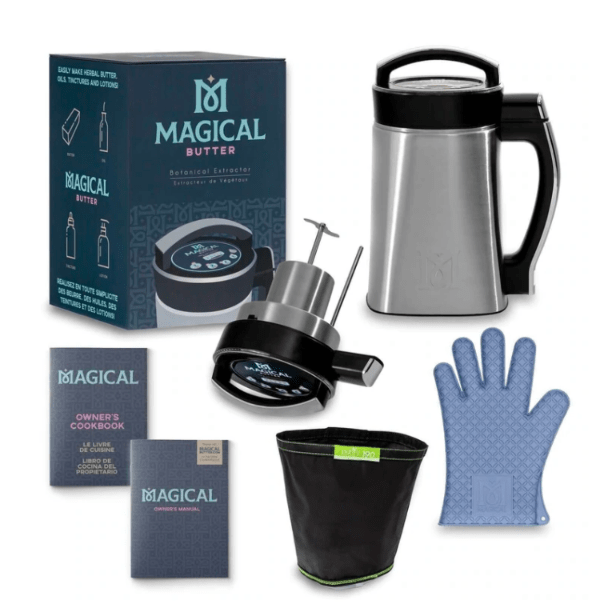 Instead of going through the process of cooking cannabutter from scratch when you just don't have the time, you can eliminate that headache by trying out the Magical Butter Machine!
You can infuse anything you like using this machine, but you can most definitely use your favourite weed strain and make perfect bud butter every single time.
You'll receive a whole kit of accessories that is easy to use, fun to make and will have you all set up to create batches of butter at home.
Pair it with a Cannabis Cookbook to make proper cannabis butter and other yummy edibles, and you're golden. (like butter!)
You can get the Magical Butter Maker here.
---
2. Weed Butter Molds
If you're like many other cooking enthusiasts, you enjoy time well spent in the kitchen. Preparation, chopping, dicing – all part and parcel when you have an appreciation for cooking and baking.
So it's no surprise that weed butter molds made the list.
To use these silicone molds after you've made cannabutter is the perfect accessory addition to your kitchen.
Here's How To Properly Make Cannabutter: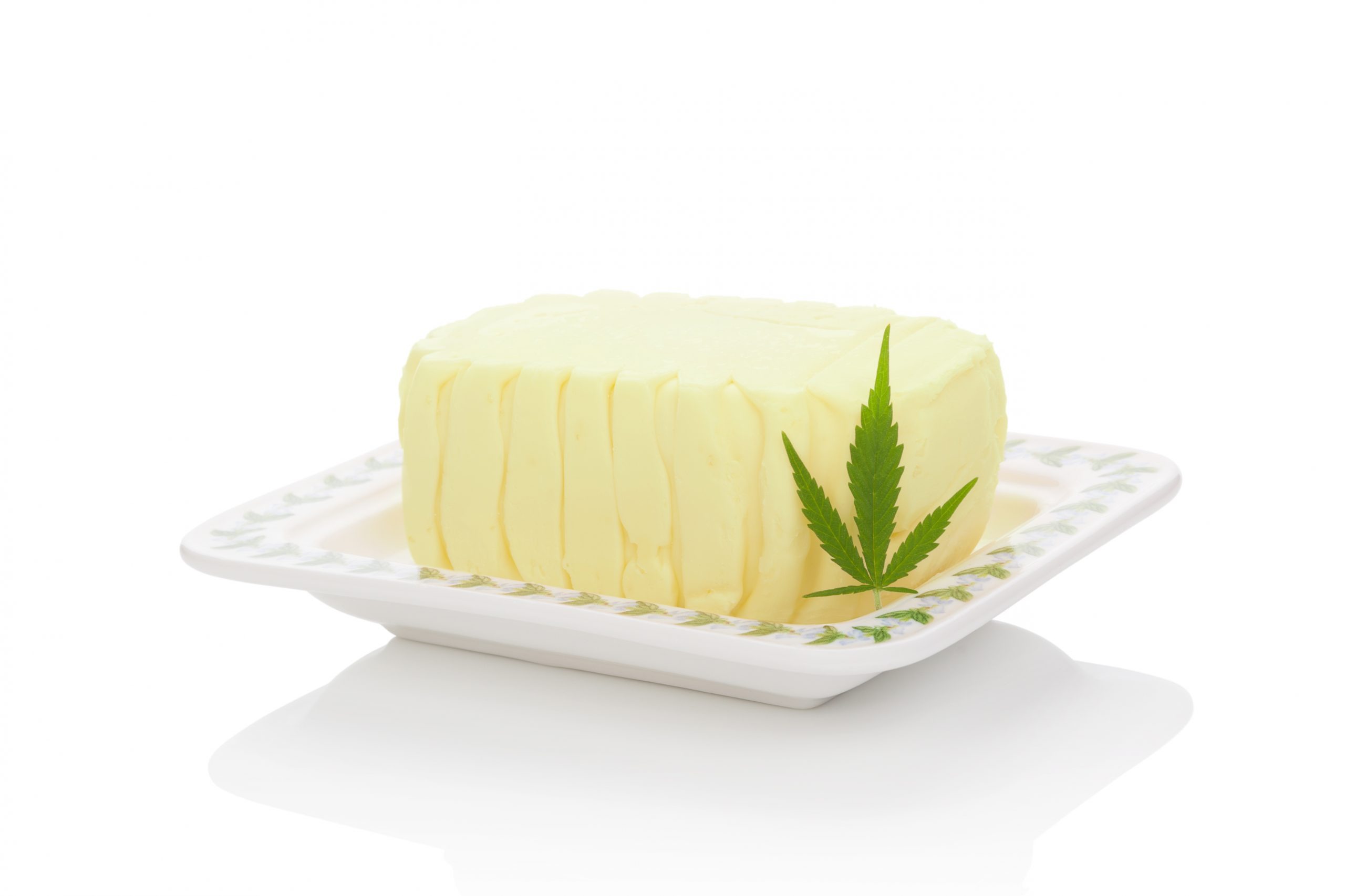 Ingredients
1/4 to 1/2

Ounce Cannabis 

1

cup

Butter
Instructions
Decarboxylate your weed by spreading your cannabis evenly on an oven tray And coat with aluminum foil.

Place in the oven on 240F/115C for 25 till 45 minutes, and then let it cool.

Grind your dry cannabis or chop it till fine.

Place the cannabis in a strong mason jar, add butter and (1 tsp of sunflower lecithin)(optional)

Place your closed jar in cold water and let it come to a boil, Boil for 2 to 3 hours.

Strain your butter through a cheesecloth.

Cool down

Now you can use the Cannabis Butter (Cannabutter)
Video
Notes
If using a mason jar, be sure to start with cold water. Furthermore, it is imperative to let the water cool gradually so that your glass will not shatter.
The video guide might be slightly different than the blog recipe. The blog recipe is the most updated and accurate.
Nutrition
Calories:
1628
kcal
|
Carbohydrates:
1
g
|
Protein:
2
g
|
Fat:
184
g
|
Saturated Fat:
117
g
|
Cholesterol:
488
mg
|
Sodium:
1621
mg
|
Potassium:
54
mg
|
Sugar:
1
g
|
Vitamin A:
5673
IU
|
Calcium:
54
mg
If you'd like to grab these fantastic butter molds, here's where you can purchase them.
---
3. Mighty Fast Herbal Infuser
For the times when you don't need massive amounts of THC-infused butter, you can use the Mighty Fast Herbal Infuser!
It works similar to other machines, and you don't have to use all of your bud in one batch – so this is the perfect machine that does the same work, but on a smaller scale.
In as little as 45-minutes, you'll have a nice little order of cannabutter!
The bonus is that clean-up is ridiculously easy, and you don't have to deal with straining. This is a great and less expensive option if you're just starting out or only want small batches.
---
4. Best Pot For Cannabutter
If you're using the stovetop to whip up a yummy batch of butter, you are going to need a proper pot to cook it all up in.
You want a proper pot that heats up evenly, and we recommend keeping your cannabutter pot separate from all other cooking supplies so that you don't accidentally use it or infuse something!
It's unlikely to happen, but you just never know.
This pot is durable, the perfect size, and works beautifully – exactly what you'd want when making weed butter. Non-stick makes it the ideal choice.
---
5. Best Cooking Utensils for Cannabutter
Spatulas and silicon utensils are just an all-around awesome tool for your kitchen.
When you're baking weed edibles, you can use them to get all of the batter into your pans, and especially with cannabutter – they can be very handy!
When you're transferring the liquid butter over to a dish, you'll need proper utensils to make sure you can actually transfer properly.
Using 100% silicone ensures you won't burn or stick at all.
You can purchase your new favourite utensil kit here.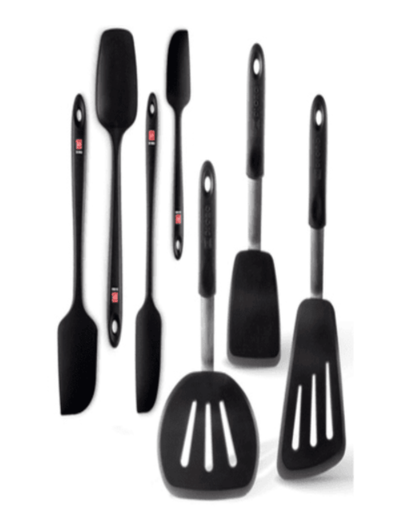 ---

If you're looking to up-level your canna-cooking or baking game, or you want more of a canna-challenge, you may want to start here.
For more recipes like this one, check out our recipe index here.
And if you love how-to-videos, our YouTube channel has everything you need.
Share our post and comment below! We'd love to hear from you.
As always, happy canna-cooking!