Cannabis bath salts can be incredibly relaxing for you body. That extra bit of THC and CBD will truly make the difference. Cannabis wellness is becoming incredibly popular in legal states such as Colorado. There are many cannabis spas to get a THC infused massage treatment and many other relaxing cannabis treatments. Excitingly, you can easily create your own cannabis spa in the comfort of your home with weed infused bath salt.
How can I make an at home cannabis spa?
Taking a CBD bath at home is not hard to achieve. This recipe for cannabis bath salts is fairly easy and does not require anything fancy. Create a cannabis bath with the easy add of cannabis bath salts. Light some candles, and add your favorite essential oils. Throw on some soothing music and create a relaxing atmosphere that resembles a cannabis spa.
How do I start my cannabis bath salts?
The key ingredient to your CBD bath salts is a cannabis tincture. Create a cannabis tincture with high proof alcohol like ever clear, and a CBD cannabis strain. Follow this step by step CBD tincture recipe and create a cannabis tincture today!
If your CBD tincture is ready to go, you can start the simple bath salt recipe now! You only need sea salt, epsom salt, essential oil, baking soda, food coloring, and your cannabis tincture. Grab a large mixing bowl and stirring utensil and you're all set!
Cannabis bath salts make an excellent gift!
A hand made gift is a unique way to show your friends and love ones that you care. Create your cannabis infused salts and wrap them up for the perfect present.
Celebrating a special holiday? Get creative with colors and wrapping to make a special holiday gift. Add ribbon and a themed box and take your cannabis present to the next level. Use a Christmas theme, or pastel colors for a baby shower. Is this a birthday gift? Use your CBD salt as a balloon weight for a practical present! Be sure to let the person know that this CBD infused salt can be used!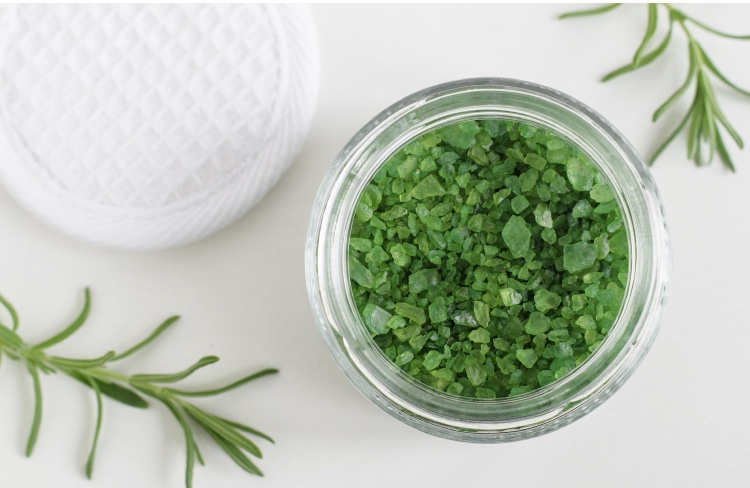 Ingredients
2

Cups

Epsom salts

1/2

Cup

Sea salt

1/2

Cup

Baking soda

10

Drops

Cannabis Tincture

1

Tsp

Food colouring

5

Drops

Fragrance/essential oils
Instructions
Stir the salts and baking soda together in a large mixing bowl.

Next, add the cannabis tincture, fragrance and coloring. Use a spoon to incorporate the liquids into the salts, breaking up any clumps to ensure that the color is evenly distributed.

Bottle your bath salts and enjoy.
Notes
You could also make cannabis soap and other wellness DIY's and create a nice cannabis gift basket!