Do you have an upcoming holiday party, and need a little green-inspiration? Maybe you are wondering how to incorporate cannabis in a way that everyone can enjoy. While you might love a highly-delicious and extremely potent infused dessert, does everyone?

Remember, many people are more sensitive to THC products than others, and not everyone will love a holiday cookie packed with 100 mg of THC. So how do you kick off a party with cannabis that doesn't alienate half the crowd?

Here is how to create an infused holiday experience that all the attendees will enjoy.

First, nothing kicks a celebrate off like a festive punch. Everyone loves a sweet, holiday-inspired drink to hold as they mingle with newly arrived guests. Second, choose a cannabinoid infusion with no intoxicating-repercussions: cannabidiol (CBD).

A CBD Infused Christmas Punch is the perfect combination of sweet Christmasy cheer and a gentle cannabis infusion.

This punch, in particular, is a visual show stopper. It's a vibrant and fruity flavored Hawaiian punch, brightened with lime sorbet. Each bright green glass is rimmed with a splash of red-colored crystal sugar, which screams holiday cheer. Even some of the more traditional cocktail punches fail to get the Christmas message across like this non-alcoholic, CBD-infused option.

But why choose a CBD Infusion made with Charlotte's Web Tincture as a thoughtful addition? With no intoxicating effects, CBD is a way to include cannabis in a way that all your guests can enjoy. Old and young alike, and even those who may have never tried cannabis before can all enjoy your CBD infused Christmas Punch without getting intoxicated.

Plus, you may have more than a few people this season who are abstaining from alcohol. Mocktails and non-alcoholic drinks are all the rage as more people move away from beer and wine in favor of a more healthier lifestyle. If you enhance the drink with CBD, we guarantee everyone will be on board.

If you need a holiday crowd-pleaser for your Christmas party, nothing beats a bright and cheerful CBD Infused Christmas Punch. It gets the party started, and your guests mingling, without the risk of anyone overdoing it. This is the Christmas punch with no hangover, no couch-lock, and that will put a smile on the face of everyone who tries it. Remember, it is responsible to notify your guests that there is CBD in their drinks.
Cheers!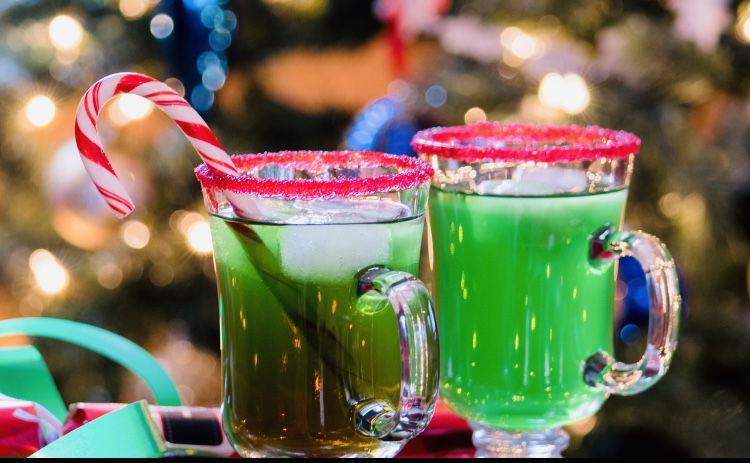 Ingredients
100

MG

CBD Tincture/oil

1

Gallon

Hawaiian Punch Green Berry Rush

12

OZ

Sprite

2

Oz

Pineapple Juice

2

Oz

Lime sorbet

1/4

Cup

White sugar

(For Decoration)

Red food colouring

(For decoration)
Instructions
Combine Hawaiian Punch, sprite, pineapple juice, CBD Tincture and Lime sorbet and stir well.

Combine sugar and red food colouring

Dip edge of punch glasses in the punch and dip in the red sugar