Weed infused Marshmallows are one of those things you have to try at least once in your life. No end-of-the-day campfire is quite complete without hoisting these little bits of sugary magic onto the perfect stick and roasting them over the flames until they're golden brown. Getting high from it while doing so makes this an even better camping experience. You can do much more with weed infused marshmallows than camping.
How is this recipe infused?
The cannabis base in this recipe is cannabis sugar. If you're starting from the very beginning, consult your local dispensary to find the best THC bud for weed edibles. If you need to make cannasugar, you will first need to make a cannabis tincture. If your THC tincture is ready, you can get started on your cannabis sugar recipe.
If you do not wish to get high from your marshmallows, you can create your cannabis sugar with a CBD tincture. This will give you access to many properties of cannabis without the high. To create a CBD infused tincture, you will need CBD bud. Ask your local dispensary for a weed strain that is high in CBD and low in THC.
This recipe also calls for powder sugar. If you would like, you can blend some of this cannabis sugar to make it powder form. Remember this will up the THC dose in your recipe.
Here are some ideas to use your weed infused marshmallows:
Cannabis infused marshmallows are full of potential. This weed edible makes the perfect homemade gift. You can make a big batch to share with friends and family.
Firstly, create s'mores with your weed infused marshmallows. Grab graham crackers and weed chocolates for the ultimate weed treat. In addition, these cannabis edibles are fantastic in a coffee or hot chocolate. Further to this, you can make a batch of weed rice crispies with these weedmallows!
Get creative with packaging your weed infused treats. Decorate these weed snacks with chocolate sauce to give them faces! Wrap your cannabis marshmallow individually and tie them with ribbon for a sweet weed gift. Stack these bad boys up in a pyramid or in the shape of a cake. Simply use toothpicks to keep them together.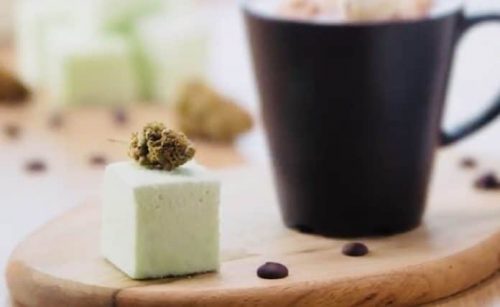 Ingredients
2

cups

Cannabis sugar

3

ounce

gelatin sheets ( or 3/4 ounce gelatin powder)

1

cup

cold water

2/3

cups

light corn syrup

1/2

tsp

salt

1

tsp

vanilla extract

1

cup

powdered sugar
Instructions
Combine the gelatin and 1/2 cup of the cold water in the bowl of an electric mixer fitted with the whisk attachment and allow to sit while you make the cannabis syrup.

Meanwhile, combine the cannabis sugar, corn syrup, salt, and 1/2 cup water in a small saucepan and cook over medium heat until the sugar dissolves. Raise the heat to high and cook until the syrup reaches 240F on a candy thermometer. Remove from the heat.

With the mixer on low speed, slowly pour the sugar syrup into the dissolved gelatin. Put the mixer on high speed and whip until the mixture is very thick, about 13-15 minutes. Add the vanilla and mix thoroughly.

Oil a 9×9 inch baking dish and top with baking paper. Coat baking paper with oil and pour weed marshmallow mixture into the pan, smooth the top, and cover with another piece of baking paper. Allow to stand uncovered overnight until it dries out.

Turn the marshmallows onto a board of powdered sugar and cut them in squares. Dust them with powdered sugar or cannabis powdered sugar.
Video
Nutrition
Calories:
200
kcal
|
Fat:
20
g