Here's how to make delicious vegan edibles
So, you want to make some cannabis edibles. Do they need to be vegan? No problem. Making vegan cannabis edibles is easy, and yes, they'll be just as awesome as any other kind of (non-vegan) edible.
There are lots of reasons why you should make your edibles the vegan way. Sure, it's a given if you're already following a vegan diet. But if you aren't, it's worth doing anyway. My making vegan edibles, you can more easily share them with others —especially if you're making medical marijuana edibles. You don't want to forget about that vegan marijuana patient in your life.
And if you already have some vegan baking recipes you'd like to use, you're already half way there. Because the process of making vegan edibles is simple. All you have to do is infuse your cannabis with a fatty ingredient that doesn't come from an animal. Then, you can use it as a base in literally any vegan recipe you like.
The First and Most Important Step
As with any cannabis edible you make, the first step in the process is decarboxylating your bud. This is very important, because heat is needed to activate the THC or CBD in your flower. Otherwise, you'll wind up with edibles that aren't very effective.
Decarbing your bud is easy — all it requires is a baking tray and an oven. Just follow the tips in this handy guide and you'll be well on your way to making those vegan-friendly edibles.
Let's Make Some Vegan Cannabutter
Vegan butter is easy to find at the store. Margarine works in a pinch. But did you know you can actually make your own vegan butter from scratch? You only need a few ingredients — and they are probably already lurking in your kitchen. Check out this easy recipe to make your own.
Your average vegan edibles recipe is going to call for some kind of infused ingredient, like cannabutter. If you can make vegan cannabutter, you're set. The only real difference between regular cannabutter and vegan cannabutter is the ingredients you're using. Yes, cannabis is the star of this show, but so is butter. For this recipe, you'll need some vegan butter.
Now that you have some vegan butter, you're ready to make vegan cannabutter. And, of course, we've got the best recipe for you here. Just follow the steps below.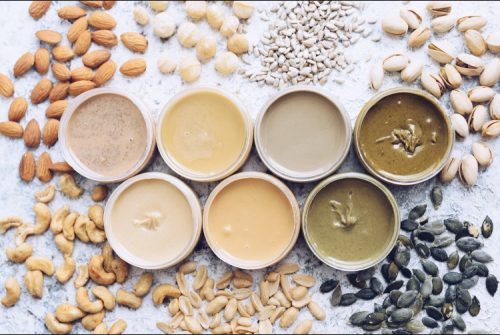 Ingredients
1/4 to 1/2 Ounce Cannabis

1 cup Vegan butter (such as margarine)

1 tsp sunflower lecithin
Instructions
Decarb your weed by spreading your cannabis evenly on an oven tray And coat with aluminum foil.

Place in the oven on 240F/115C for 25 till 45 minutes, and  let it cool.

Grind your dry cannabis or chop it fine.

Place the cannabis in a strong mason jar, add vegan butter and 1 tsp of sunflower lecithin (optional)

Place your closed jar in cold water and let it come to a boil, Boil for 2 to 3 hours.

Strain your vegan cannabis butter through a cheesecloth or unused pantyhose.

Now you can use your vegan cannabutter in any vegan recipe you like.
Video
Notes
The video guide might slightly differ from the actual text recipe. The blog recipe is always the most updated and accurate.
Best Vegan Edible Recipes
So you've made yourself some vegan cannabutter. You may find yourself wondering what's next? Basically, you can use that vegan cannabutter in any recipe that calls for vegan butter. You can also make cannabis oil that is vegan-friendly, which is useful in recipes that don't use butter. Find the recipe for canna oil here.
With vegan cannabutter or canna oil in hand, you're ready to get cooking. Have a look at some of these tried and true edible recipe favorites that can easily be adapted for vegan-friendliness.
This recipe calls for the use of eggs, which isn't exactly vegan. Not to worry! You can substitute applesauce for eggs, which will give your lemon bars the same consistency without the use of animal products. Not sure how much applesauce to use? Find helpful tips in substituting for eggs here.
This tasty cannabis guacamole recipe is completely vegan, all you need is some of that cannabis-infused oil. Serve it up at your next 420 party, where everyone — vegan and non-vegan alike — can get their munchies on.
Once again, you'll want to use that vegan cannabutter you made for this scrumptious summer cobbler. Even if it's the dead of winter, you can pull some berries out of the freezer and remind yourself of warmer days. And, best part, your cobbler will be totally vegan.
Happy Cannabis Brussel Sprouts
Who said vegetables had to be boring? This recipe gives those brussel sprouts some extra flavor. And with the help of some cannabis-infused olive oil, some extra kick, too. Basically, you can incorporate canna oil into any vegan recipe that calls for oil as an ingredient. So, don't be afraid to use it to saute those vegetables. You can also use your canna oil in just about any vegan salad dressing recipe.
Guess what? Cannabis sugar is technically vegan, too. Which opens up a whole lot of possibilities when making vegan edibles. It's a prime ingredient for cannabis cocktails like this weed sangria. Next time you're having people over, brew up this tasty drink that everyone can enjoy. Your guests will thank you, regardless of whether or not they're vegan.