Cannabis tea is a popular way to consume THC or CBD. Fortunately, creating weed tea uses a very similar process to making cannabis edibles. Just like any other weed edible recipe, you will need a base cannabis infusion to dose the tea.
In addition, when it comes to infusing your tea with herb, you'll need to make sure that this warm weed beverage is effective. In this article, we will cover the best ways to make marijuana tea at home using a potent cannabis base.
How to make weed stem tea:
Cannabis stem tea is another way to infuse your tea with weed. However, stems of the cannabis bud are not very high in THC. Therefore, you will need to collect a lot of stems to formulate this base infusion.
There are many other ways to create a marijuana infused tea. This weed tea provides the perfect route if you're looking for a way to use your entire cannabis plant.

Tea made with cannabis sugar
This is a super easy and favorite way to make THC tea. Simply make tea like you always would, and add a dash of cannabis sugar to your cup. Weed infused sugar is made by combining a THC tincture and white crystal sugar. You must air dry the combination overnight. Once you have a fair amount of THC sugar ready, you add it into tea, coffee, cocktails or any cannabis edible that needs sweetening.
If you do not like sugar in your tea, you can simply add cannabis tincture to your warm weed beverage. Using a tincture in your hot drink will ensure that everything will dissolve nicely while allowing the THC to spread evenly throughout your beverage. Additionally, this is a much better alternative to using cannabis butter or oil in your tea.
Cannabis Tea made with THC oil powder
Another way to make THC infused tea is by creating cannabis oil powder. You can even create tea bags in advance and use them at a later time. Cannabis oil powder is a more bio-available option to dosing weed recipes. Excitingly, weed powder will even allow the effect THC to kick in faster than a standard infusion.
To dose a plain tea bag, simply add a teaspoon of your favorite herbals and a teaspoon of THC powder to an empty sachet. When you are making a cup of tea, insert the tea bag into hot water. The cannabis powder that your tea bag contains will dissolve when it touches the liquid, thusly infusing your tea with cannabis.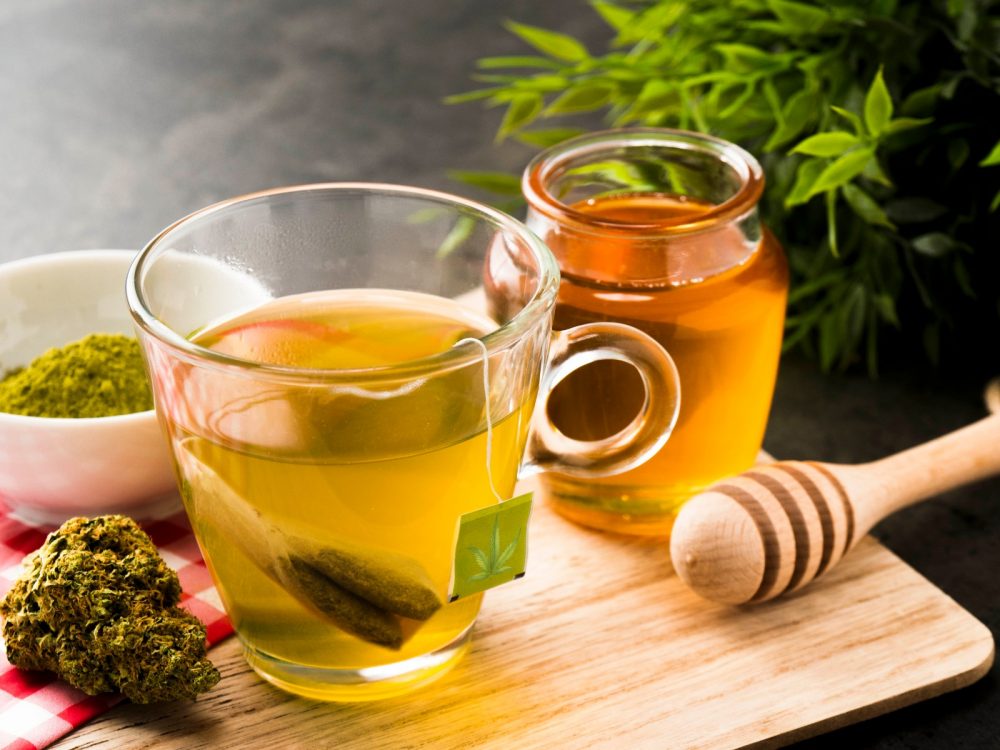 Instructions
In an empty tea bag, fill 1 tsp of cannabis oil powder and 1 tsp of dry tea herbs.

Infuse the tea bag in hot water and the THC will dissolve into the hot water.
Notes
The cannabis powder will only dissolve when in contact with liquid.
Nutrition
Serving:
8
Bags
|
Calories:
35
kcal
|
Carbohydrates:
1
g
|
Fat:
4
g
|
Saturated Fat:
1
g
|
Sodium:
1
mg