The Best Christmas Cannabis Edibles Recipes
Christmas is a time for being jolly, staying warm by the fire, and making festive food so today we've gathered up some of The Best Christmas Cannabis Edibles Recipes for you.
Traditionally, festive foodies include putting a few roasted almonds in your dessert.
But, for cannabis lovers, our recipes below including a yummy chocolate mint almond caramel that you can eat with your hands are sure to satisfy both worlds. It's also quick and easy, just the way we like it!
Ingredients:
1/4 cup white sugar
1/2 cup almond flakes or almond meal
2 tablespoons unsweetened cocoa powder
1/4 teaspoon salt
2 tablespoons cannabis butter
1 teaspoon vanilla extract
3 tablespoons peppermint extract
1/4 teaspoon baking soda
White chocolate chips — optional
Instructions: In a saucepan over medium heat add the sugar, stirring until it melts.
Add the almond meal, cocoa powder and salt.
Stir well and bring to a simmer. Cook for 2 minutes, stirring constantly.
Remove from heat and allow the mixture to cool for 5 minutes. Add in the cannabis butter and extracts, stirring well until fully combined.
Stir in the baking soda and you should have a smooth mixture that's easy to spread over an airtight container. Once it has hardened, cut into small pieces with a sharp knife. It's sort of like brittle, but better!
---
Cannabis-Infused Hot Chocolate
Nothing, and I mean NOTHING is better than a hot cup of cocoa in the Wintertime.
If you're lucky enough to live somewhere like me (Canada) where you have the pleasure of watching snow softly falling, you'll really appreciate having a Cannabis-Cocoa!
Here's the yummy recipe: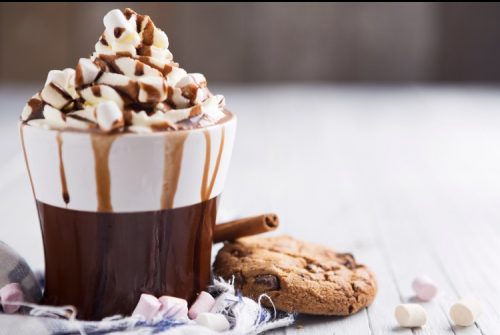 Ingredients
1 1/2

Cup

Full fat Milk

50

Grams

Cannabis chocolate

1

Tsp

Cocoa powder

5

Drops

Vanilla essence

1

Tsp

sugar

(optional)

1/4

Cup

Whipped cream

1

Cup

Marshmallows
Instructions
Pour the milk in a pan and add the sugar, vanilla and cocoa powder.

Let it slowly come to a light boil and take off the heat.

Chop the cannabis chocolate fine and add in the pan with hot milk. Whisk untill all cannabis infused chocolate has melted.

In a bowl, add the whipping cream and mix until it thickens.

Now get a drinking cup ready and fill with cannabis hot chocolate, top with whipped cream and marshmallows.
---
Cannabis Christmas Yule Log
Not only will you impress your own self with how beautiful your log will look, but your friends will also be wowed!
What's even better than an aesthetically pleasing weed edible dish? The taste, of course!
And this cannabis-infused dessert delivers on every level.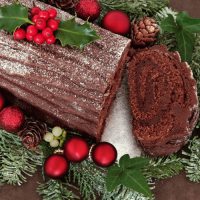 Equipment
Stand Mixer or Electric Mixer

Measuring cups

Measuring spoons

Spatula

Sheet Pan & Parchment Paper

Oven

Mixing Bowls

Pastry brush or BBQ brush

Plastic Wrap

Clean, Large Kitchen Towel or Tea Towel
Ingredients
Yule Log Filling
1 1/3

cups

Powdered Sugar

1/2

cup

Cannabis Butter

Room Temp

1 1/2

tbsp

Unsweetened Cocoa Powder

1

pinch

Himalayan Salt

2

tbsp

Coffee Flavoured Liquer

1/3

cup

Marscapone Cheese
Yule Log Sponge Cake
2

tbsp

Melted Butter

1/2

cup

Unsweetened Cocoa Powder

1/2

tsp

Himalayan Salt

2

tbsp

All Purpose Flour

5

Large

Eggs

Room Temp

2/3

cup

White Granulated Sugar

1/2

tsp

Vanilla Extract

2

tbsp

Powdered Sugar

Or As Required
Yule Log Ganache Frosting
1

cup

Heavy Cream

Boiling Hot

1

8 oz

Package of Dark Chocolate Chips

70 % +
Instructions
Whip powdered sugar, Cannabis butter, cocoa powder, salt, and coffee liqueur together in the bowl of a stand mixer on high speed. Transfer buttercream into a separate bowl and add mascarpone cheese. Mix until combined and then set aside.

Preheat the oven to 400 degrees F. Brush a little melted butter over a 13×18-inch rimmed sheet pan. Line your pan with parchment paper and brush remaining melted butter on top.

Combine cocoa powder, salt, and flour together in a bowl. remove all clumps and bumps.

Grab a fresh, clean bowl and put the eggs in. Mix in sugar and whip until fluffy, and thick.

Then, add 1/2 of the cocoa powder mixture and vanilla extract; mix on low speed for a few seconds. Beat in remaining cocoa mixture on low for a few seconds. Switch to high speed; stop once mixture is moistened but not fully blended.

Pour the mixed batter onto the sheet pan and spread out with a spatula, leaving some room around the edges. Tap pan on the counter to knock out any air bubbles. This step is very important! Give it good tap!

Bake in the preheated oven until top is dry and edges start to pull away from the sides, about 8 to 10 minutes. Don't over cook because we're going to roll this, and if it's too hard it will fall apart.

Using a clean kitchen towel, sprinkle powdered sugar directly on top – enough to cover an area just a bit larger than the sponge cake.

Remove cake from the oven. Sprinkle some powdered sugar over the top. Run a spatula under the parchment paper to make sure it's not stuck to the pan.

Quickly flip the pan upside down onto the towel. You can remove parchment paper and dust cake with more powdered sugar.

Here's the fun part: Gently roll cake up inside the towel; allow to cool on the counter for 15 minutes.

Unroll cake and put your creamy buttercream on top, saving some for later.

Spread frosting all the way to the edges. Roll your cake up over the frosting, using the towel to lift it if needed. Sprinkle more powdered sugar on top. Wrap your log in plastic wrap. Refrigerate until firm, about 2 hours.

Combine chocolate chips and hot cream in a bowl. Whisk until the chocolate melts.

Spread your ganache all over the cake, except for the swirls. Refrigerate for 15 minutes to firm up ganache.

Carve lines into the ganache using the tip of a knife to create the appearance of tree bark if you like. Refrigerate until completely chilled before serving. Dust with cocoa powder and powdered sugar.
---
Candy Cane & Sugar Cookie Balls
It sounds like a mouthful, and it tastes like a mouthful of pepperminty-bliss!
Make these SUPER easy Christmas cannabis edibles in advance, and keep them cool.
Just pull them out about an hour before guests arrive and enjoy the high of the holidays!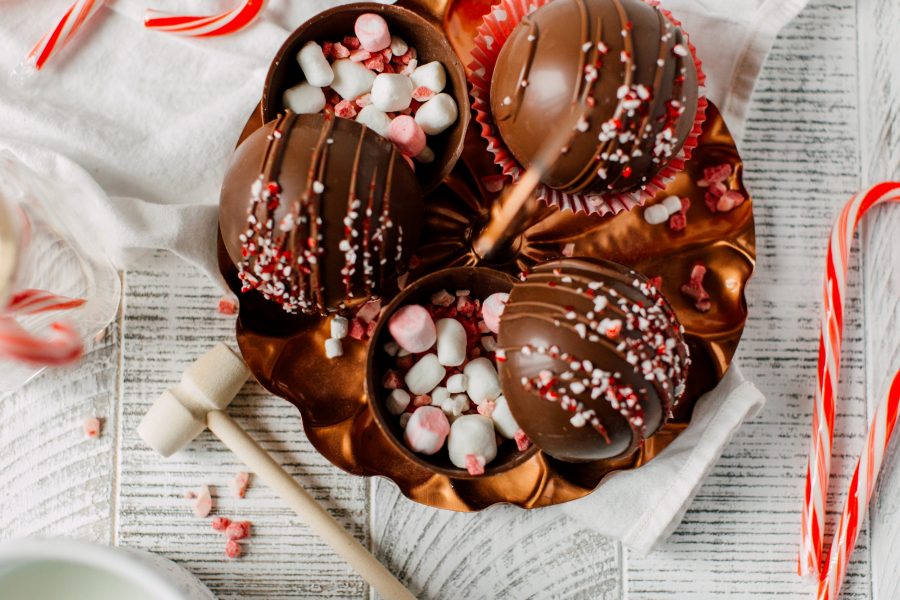 Equipment
Hand mixer or stand mixer

Parchment Paper

Cookie Sheet

Mixing Bowls

Sauce pan

Spatula

Whisk

Measuring spoons and cups
Ingredients
1

cup

cannabutter

softened

1

cup

sugar

1/2

tsp

peppermint extract

2

cups

all purpose flour

1/2

cup

crushed candy canes

and more for topping!

1-3

tbsp

milk

2

cups

chocolate chips

2

tbsp

shortening
Instructions
Cream together the cannabutter and sugar using a hand mixer or a stand mixer with the paddle attachment. Beat in the peppermint extract. Add in the flour and 1/2 cup candy canes, then beat until the flour is mostly absorbed. Add in the milk, 1 tablespoon at a time, mixing until the dough can hold together.

Form dough into balls, approximately 1 and 1/2 to 2 tablespoons of dough each. Cover and chill the balls on a parchment lined cookie sheet until very cold, at least two hours in the refrigerator.

Melt the chocolate chips and shortening together in the microwave or in a double boiler. Cook on short 30 second intervals, stirring in between, just until the chips are melted, being careful not to let them burn. Let cool for 5 minutes.

Dip the truffle balls into the chocolate, and allow the excess chocolate to drip off. I use a fork to dip them. Place the truffles onto a parchment paper lined cookie sheet. Sprinkle each one with crushed candy canes right after it is dipped, the chocolate will start to harden quickly.

Refrigerate the truffles until ready to serve.
---
A Little Christmas Nightcap
Not everyone drinks booze – and that's a-okay with us.
Why not try a CBD cocktail that won't get guests high, but still feeling mighty fine?
It looks like the Grinch but tastes like Christmas in a cup.
So try this one on for size!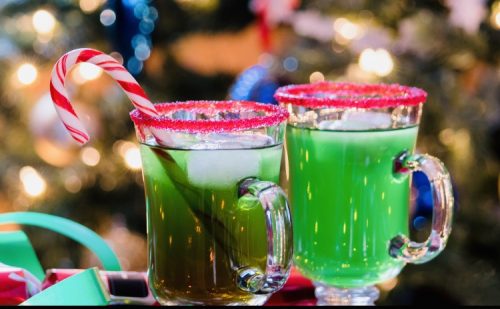 Ingredients
100

MG

CBD Tincture/oil

1

Gallon

Hawaiian Punch Green Berry Rush

12

OZ

Sprite

2

Oz

Pineapple Juice

2

Oz

Lime sorbet

1/4

Cup

White sugar

(For Decoration)

Red food colouring

(For decoration)
Instructions
Combine Hawaiian Punch, sprite, pineapple juice, CBD Tincture and Lime sorbet and stir well.

Combine sugar and red food colouring

Dip edge of punch glasses in the punch and dip in the red sugar
---
If you're looking to up-level your canna-cooking or baking game, or you want more of a canna-challenge, you may want to start here.
For more recipes like this one, check out our recipe index here.
And if you love how-to-videos, our YouTube channel has everything you need.
Share our post and comment below! We'd love to hear from you.
As always, happy canna-cooking!