Sweet Vanilla Weed Biscotti
There's nothing I love better to go with my cannabis coffee than a Sweet Vanilla Weed Biscotti!
Crispy and perfect for dipping, these delicious treats are a great gift, or edible to have on standby for when the munchies creep up on you!
Today's recipe will be using Cannabutter – my all-time, favorite and most versatile edible on the planet.
Seriously! Find me one better, I dare you!
If you don't know how to make it, I'm sharing the recipe below with you.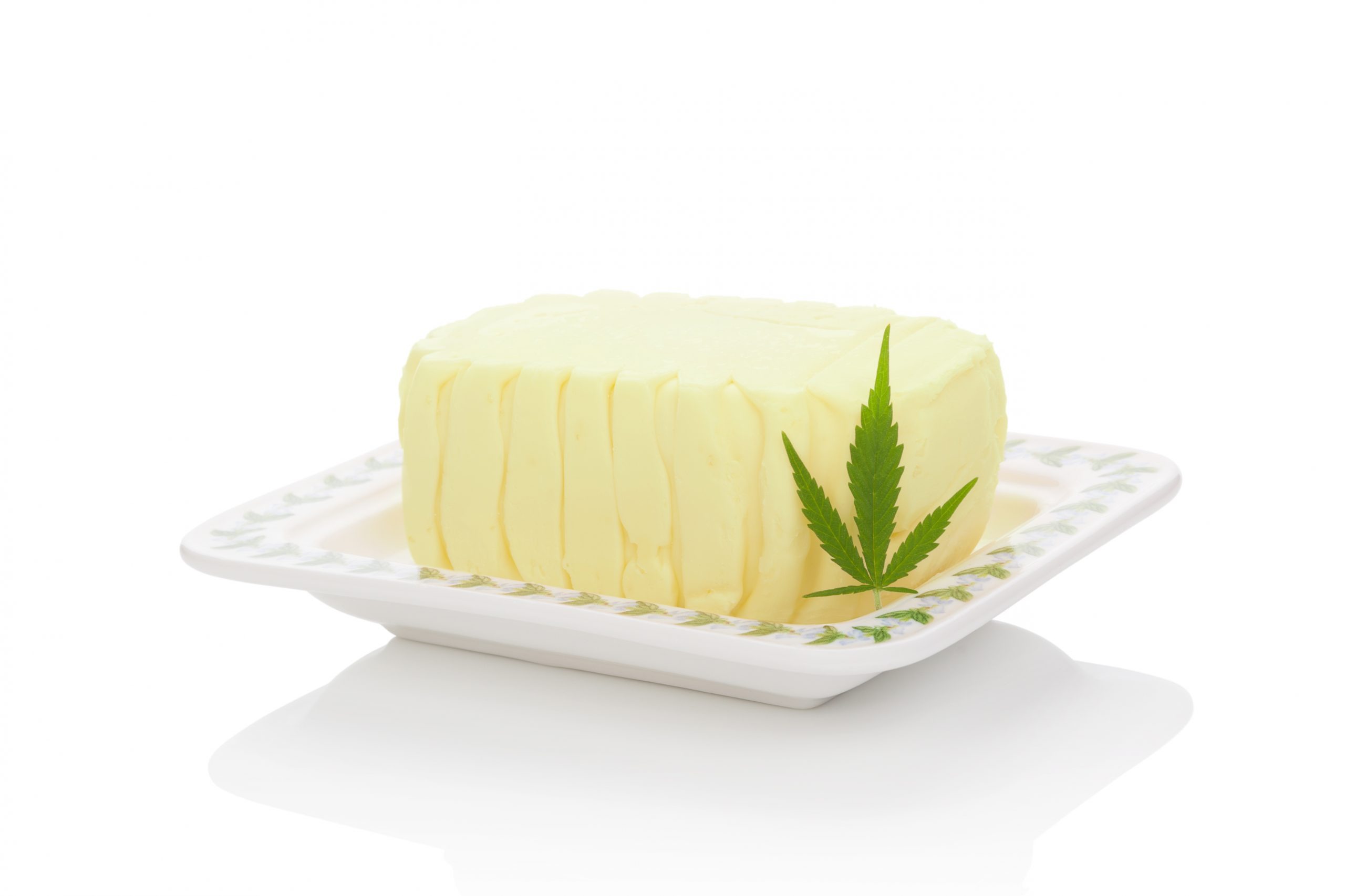 Ingredients
1/4 to 1/2

Ounce Cannabis 

1

cup

Butter
Instructions
Decarboxylate your weed by spreading your cannabis evenly on an oven tray And coat with aluminum foil.

Place in the oven on 240F/115C for 25 till 45 minutes, and then let it cool.

Grind your dry cannabis or chop it till fine.

Place the cannabis in a strong mason jar, add butter and (1 tsp of sunflower lecithin)(optional)

Place your closed jar in cold water and let it come to a boil, Boil for 2 to 3 hours.

Strain your butter through a cheesecloth.

Cool down

Now you can use the Cannabis Butter (Cannabutter)
Video
Notes
If using a mason jar, be sure to start with cold water. Furthermore, it is imperative to let the water cool gradually so that your glass will not shatter.
The video guide might be slightly different than the blog recipe. The blog recipe is the most updated and accurate.
Nutrition
Calories:
1628
kcal
|
Carbohydrates:
1
g
|
Protein:
2
g
|
Fat:
184
g
|
Saturated Fat:
117
g
|
Cholesterol:
488
mg
|
Sodium:
1621
mg
|
Potassium:
54
mg
|
Sugar:
1
g
|
Vitamin A:
5673
IU
|
Calcium:
54
mg
Is It Hard to Cook or Bake With Cannabis?
When you've got cannabutter on your side, nothing can go wrong! Well.. things can go wrong, but you get my point right?
As long as you follow the directions on decarbing and making your decadent cannabutter, and of course, follow the recipe steps below for biscotti, you will be just fine!
What is Sweet Vanilla Weed Biscotti?
Biscotti is a crunchy rectangular cookie. The center is crumbly in all the right ways and melts in your mouth, especially when dunked in your cannabis hot chocolate!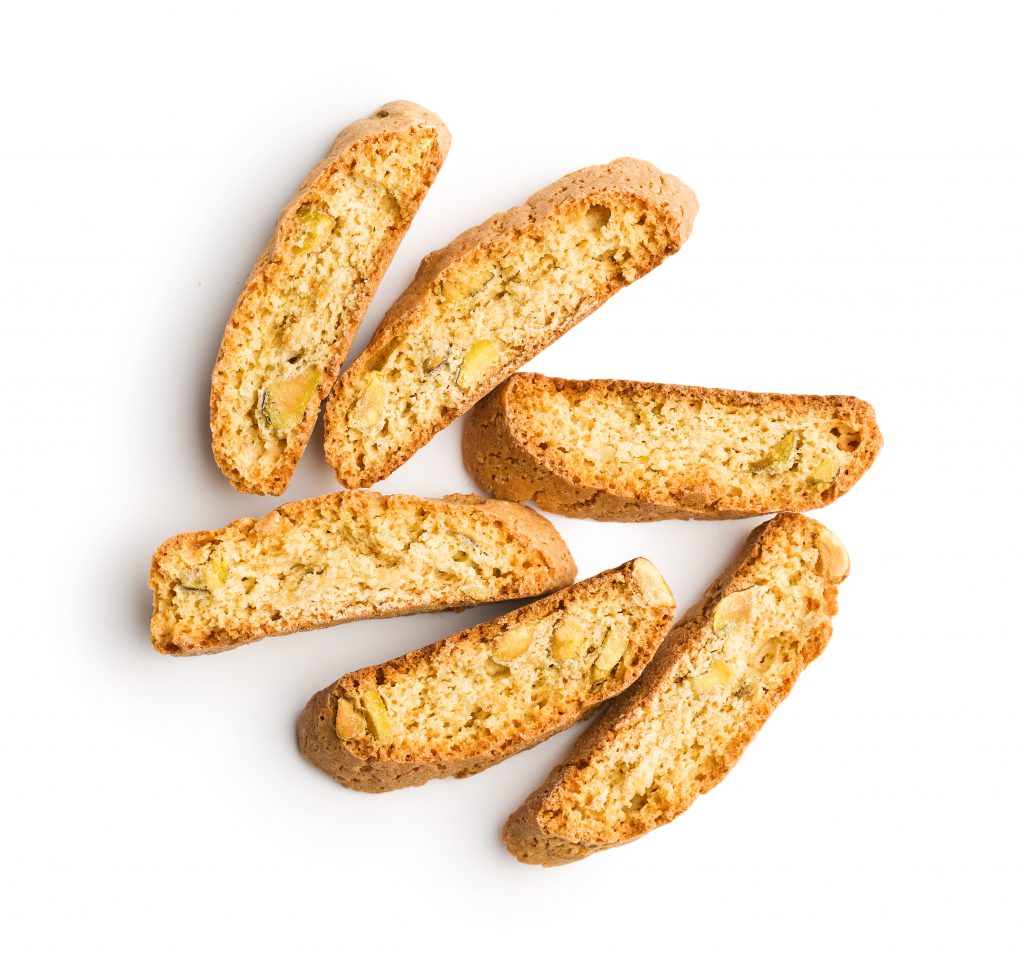 You can make the biscotti in our recipe today with regular granulated sugar, but if you want to uplevel the taste, try vanilla sugar!
They might seem complicated because you have to double bake them, but the process is simple. Promise that you won't overwork the dough, okay?
You don't have to chill the dough first. This makes it easy because if you're ready to bake right now, you don't have to wait!
The Recipe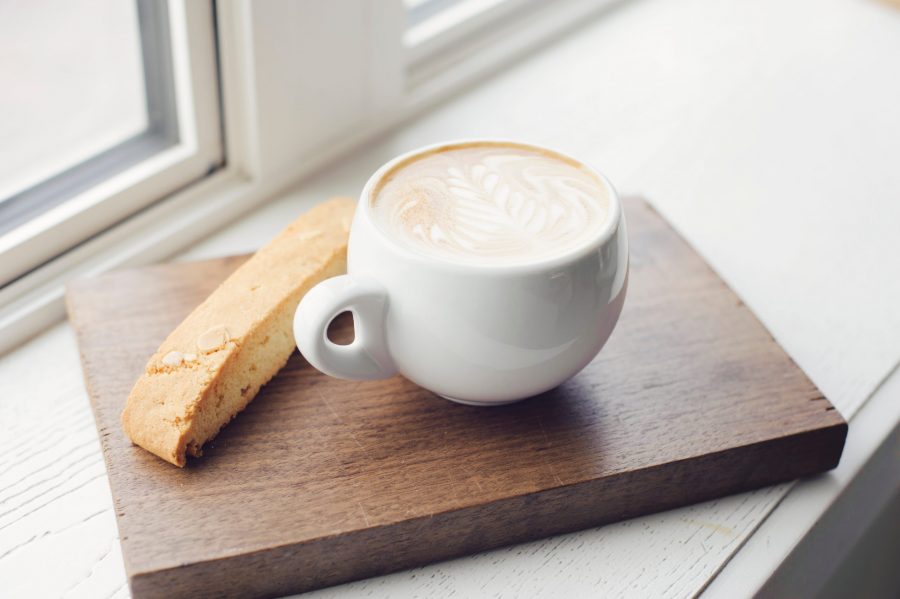 Equipment
Measuring spoons

Measuring cups

Parchment Paper

Cookie Sheet/ Baking Sheets ( x 2 )

Oven

Spatula

Pastry Brush

Mixing Bowls

Pastry cutter or fork
Ingredients
2 1/4

cup

all purpose flour

1

cup

sugar

try vanilla sugar, but granulated sugar is just fine.

1

tsp

baking powder

1/2

tsp

Himalayan salt

1/4

cup

Cannabutter

** COLD & CUBED **

3

Large

eggs

1

tbsp

Coconut oil

melted

2

tsp

pure vanilla extract
EGG WASH
1

large

Egg

1

tbsp

Milk

Mix egg and milk together in bowl.
CHOCOLATE DIP ( optional)
1

bag

your choice of chocolate chips

1/2

cup

Sprinkles, nuts or crushed candy canes
Instructions
#1. Preheat oven to 350°F. Line two large baking sheets with parchment paper. Set aside.

#2. Whisk the flour, sugar, baking powder, and salt together in a large bowl until combined.

Using a pastry cutter or fork, cut in the butter until the mixture is crumbly. Set aside.

#3. In a medium mixing bowl, whisk the 3 eggs, oil, and vanilla extract together. Pour into the flour/butter mixture and gently mix together with a spatula until everything is just barely moistened.

Note: Yes! It will be very crumbly, that's what you want!

#4. On a lightly floured surface and with floured hands, knead the dough lightly until the dough is soft and slightly sticky, about 8-10 times.

Divide the dough in two and place each half onto your parchment-paper-lined baking sheets.

Shape each half into an 7-8 inch long slab or rectangle, patting down until each is about 1/2 inch thick.

Using a pastry brush, lightly brush the top and sides of each biscotti slab with egg wash.

#5 Bake in batches for 25 minutes, or until the top and sides of the biscotti slabs are lightly browned.

Remove from the oven, but do not turn off the heat. Allow to cool for 10 minutes.

Once the slabs are cool enough to handle, cut each into 1 inch wide slices.

Set slices cut sides upright, ¼ inch apart, on the baking sheets.

Return to the oven to continue baking for approximately 7-8 minutes. Then you'l have to flip them all over, and bake the other sides for about 7- 8 minutes. T

They will be slightly soft in the centers with harder edges.

Remove from the oven and cool the biscotti for 5 minutes on the baking sheet.

The biscotti becomes more and more crunchy as it cools!
CHOCOLATE DIP for BISOCOTTI
Melt your white chocolate or chocolate chips in a double boiler, stirring constantly.

Dip each cookie in the melted chocolate and place back onto the baking sheets. You can also sprinkle on nuts, or festive sprinkles, or chocolate flakes for even more tasty flavor!

Allow chocolate to set in the refrigerator or at room temperature.