Everyone's favorite holiday just got a little more exciting!
Not many things are more delicious than a butter infused Thanksgiving turkey. However, this dish just got the glow up we didn't know it needed. Cannabis butter turkey is on the menu this thanksgiving and we are here for it!
Firstly, grab your cannabis butter!
Do you have cannabutter in your kitchen? If your answer is no, do not worry. Cannabutter is easy to create and a fantastic base for cannabis infused meals. All you need is cannabis and butter! Follow this simple recipe to start your weed butter now.
Is your cannabis butter ready to go?
Great! You're ready to start preparing your cannabis butter turkey! Excitingly, you are about to melt your cannabutter into your stuffing mix. Not only will this turkey pack a powerful punch, it will taste incredible.
You are going to slow roast this weed turkey and allow the cannabis butter to soak into its meat. The turkey is going to absorb the weed infused butter keeping it moist and juicy. This blend of spices, cannabutter, and vegetables is sure to astound your guests with flavor.
Will this cannabis butter turkey get my guests high?
Interestingly, you can choose between what type of strain you would like to infuse your turkey with. Perhaps your guests will be driving home and they cannot consume anything that will elicit psychoactive effects. For these times, choose a CBD strain to infuse your weed infused Thanksgiving turkey.
If you are looking to enjoy a nice buzz, choose a cannabis strain that is high in THC. Remember, cannabis edibles take awhile to kick in. Go easy and enjoy responsibly!
Always inform your guests that their meal contains cannabis BEFORE they start eating.
Start Cooking Your Cannabis Butter Turkey Now!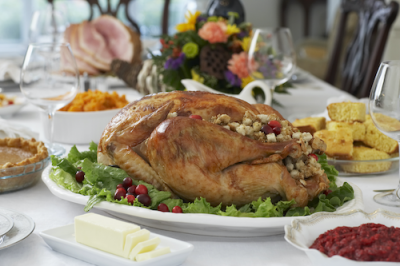 Ingredients
1 whole turkey (12lb/5.5kg) 

1 cup Cannabis butter

1 large onion diced in small cubes

3 medium carrots diced in small cubes

5 garlic cloves diced small

14 ounce packaged bread stuffing cubes

1 Tbs dried thyme

salt to taste

Pepper to taste

1 tbsp Paprika powder

1 tbsp oil
Instructions
In a medium bowl, combine bread stuffing cubes together with carrots, onions, garlic, thyme and salt to taste. 

Melt 1 cup cannabis butter and use half to combine in the stuffing mix.

Use the other half to put in a turkey syringe and inject the turkey with cannabis butter from different angles.

Fill your turkey with your cannabis stuffing and season rub whole turkey with salt, pepper, paprika powder and a tbsp of oil.

Preheat the oven to 180 F.

Place turkey in the oven and let it slow cook for 9 hours.

Check the temp of the thigh meat and the thickest part of the breast.

If they aren't at 64ºC yet then give it more time.

Once fully cooked, crank the oven up to 350F and let it roast for 15-20 minutes until golden brown and gorgeous.
Did you know we are giving a free cannabis mini Ebook for Thanksgiving. Download it here.