Pot Brownie Ice Cream Sandwiches
I can't think of a better way to incorporate my two favorite snacks then by creating Pot Brownie Ice Cream Sandwiches!
Here's the thing: I'm always craving something decadent and satisfying at the end of the day, and admittedly, I just get too lazy in the hazy days of summer to go to the store.
I just want to have my cake and eat it too.. or in this case, have my brownie!
So making a batch of these tasty weed edible snacks just makes complete sense.
Why? Well, first of all it is a convenient way to get my munchies cravings, and second of all it's tasty as heck!
Once you whip these bad boys up, you just need to dig into the freezer when the mood strikes, and voila! A cannabis edible snackie for vous!
Let's get down and dirty with these Pot Brownie Ice Cream Sandwiches!
---
Black Bean Bud Brownies
If you feel like having a healthier option in terms of a pot brownie, you can always opt for black bean bud brownies.
They taste REALLY good, and are a healthier option for those on a diet, meal plan, counting cals, or just want to enjoy a snack without the added fringes.
Here's a recipe you can use and try at home – under bake these so that when they freeze, they aren't rock-hard.
The recipe calls for baking these for about 15-18 minutes. Try 12 minutes tops.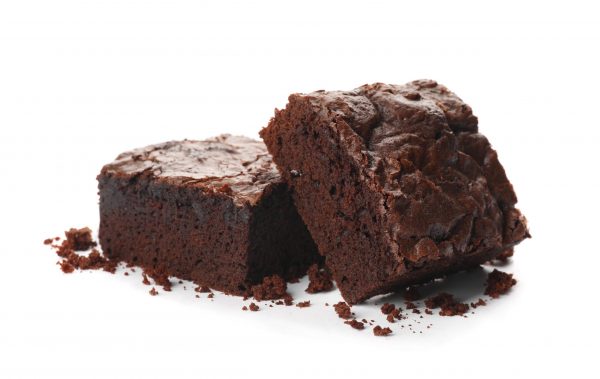 Equipment
Can Opener

Measuring spoons & cups

Spatula

Large Bowl

Standing mixer or electric mixer

Brownie Pan

Parchment Paper
Ingredients
1 1/2

cans

black beans

rinsed very well and strained/drained of any liquids

2

tbsp

cocoa powder

12

cup

quick oats

organic if you can

1/4

tsp

salt

1/3

cup

honey

raw, pure.

1

pinch

stevia

1/4

cup

coconut oil

2

tsp

pure vanilla extract

1/2

tsp

baking powder

3

tbsp

cannabutter

1/2

cup

dark chocolate chips or chunks
Instructions
Pre-heat the oven to 350. If you're like me and you store things in your oven, make sure you take them out!

Combine all of the ingredients into your mixer except for the chocolate chips/chunks.

Blend very well so it's a nice, not-too-thin brownie batter consistency.

Gently fold in your chocolate chips or chunks. Save a few to sprinkle on top after.

Line your brownie pan with parchment paper and pour in the batter.

Bake for 15-18 minutes – checking to make sure they don't burn, and using a toothpick or a skewer stick or even a fork, to poke the middle of the batter. If it sticks keep baking. If it doesn't you should be good to go.

If you serve these to friends, make sure you let them know they are pot-brownies – but don't tell them about the beans! See if they can guess afterward.

Enjoy!
---
Success Tips For Pot Brownie Ice Cream Sandwiches
Use parchment paper. You're going to need parchment paper for sure, with enough overhang so you can easily lift the brownies out of the pan.
9-inch square pan – best size, and best thickness for this particular pot recipe.
Underbake the brownies – this ensures that when they're done, you won't break your front tooth over them! They will be very soft coming out of the oven and that's okay!
Freeze them for a LONG time – at least 14-20 hours. Otherwise, everything will be a gooey (still delicious) hot mess… or should I say cold mess!? The jury is out on this one.
Use a Sharp AF knife. Enough said.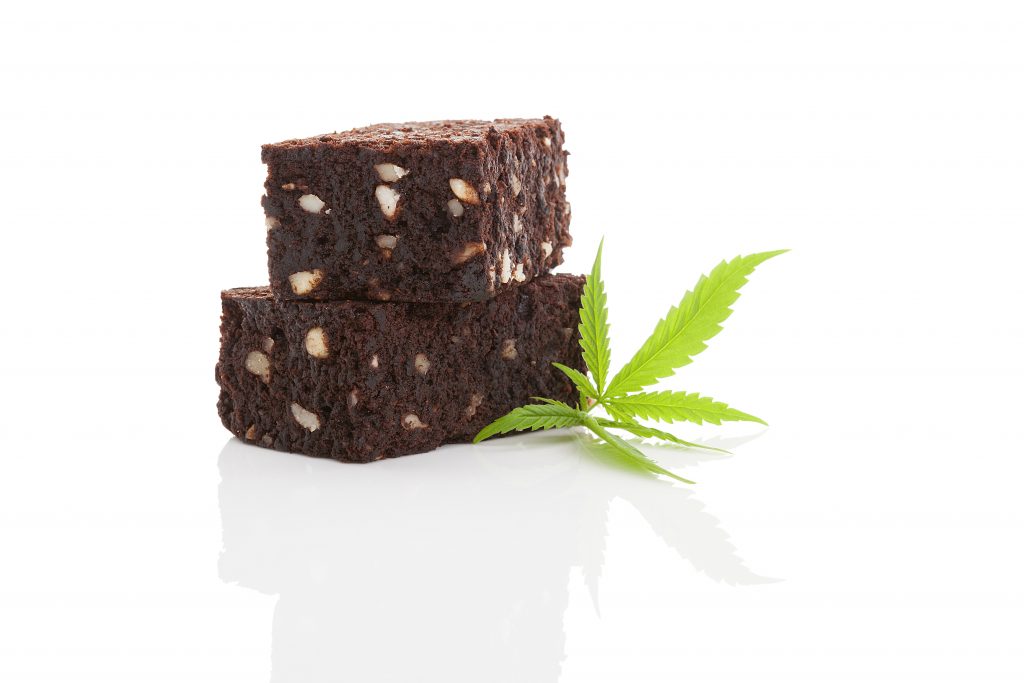 ---
The Recipe – Ice Cream Sandwiches with Pot Brownies!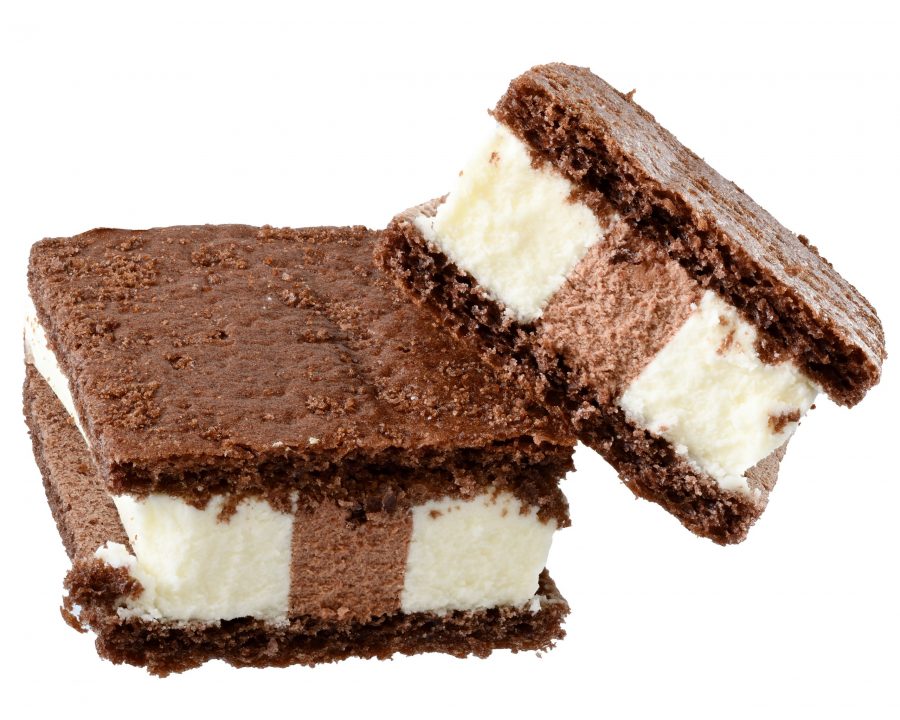 Equipment
Parchment Paper

9-inch square pan

Large Bowl

Spatula

1Sharp knife
Ingredients
1

cup

Cannabutter

2

cups

Granulated sugar

3

lg

Eggs

room temp

1

tbsp

Pure vanlila extract

1

cup

unsweetened Dutch cocoa powder

1

cup

All-purpose flour

1

tsp

Baking Powder

1/2

gallon

Vanilla ice cream

or your favorite – softened slightly.
Instructions
Preheat the oven to 350°F and line a 9-inch square baking pan with parchment paper, leaving enough overhang on the sides to lift the warm brownies out. Set aside.

In a microwave-safe bowl or a saucepan on the stove, melt the cannabutter. After melting, whisk in the sugar until completely combined, then whisk in the eggs and vanilla.

Add the cocoa powder, flour, salt, and baking powder. Fold it all together with a rubber spatula or wooden spoon.

Spoon and spread half of the batter (about 2 cups) into prepared pan.

The batter is thick and heavy, so do your best to spread it evenly in the lined baking pan. I find the back of a spoon is most helpful. Place a small sheet of parchment paper directly on top of the brownie batter, smoothing it down.

This helps them stay flat.

Bake for 12-14 minutes.

Remove brownies from the oven and cool for 5 minutes in the pan. Carefully, using the overhanging parchment paper on the sides, lift the warm and soft square sheet of brownies out of the pan as a whole. Remove top piece of parchment. Set aside.

Line the warm pan with another sheet of parchment paper, and then spoon and spread the remaining brownie batter in the pan. Place a small sheet of parchment paper directly on top of the brownie batter like last time.

Bake for 12-14 minutes. Remove brownies from the oven and cool for 15 minutes in the pan. During this cooling time, I remove the ice cream from the freezer so it can soften.

Scoop the softened ice cream onto the warm brownie layer in the pan. You'll use almost all of the 1/2 gallon of ice cream. Using the back of a spoon or your ice cream scoop, gently spread it into an even and thick layer.

Carefully pick up the 1st square sheet of brownies and place on top of the ice cream layer. Gently press it down into the ice cream to help it stick. Cover the entire pan with aluminum foil or plastic wrap and freeze for at least 12 hours.

Remove the pan of ice cream brownies from the freezer. Carefully lift them out as a whole using the parchment paper overhang on the sides. Using a very sharp knife and cut into squares. Enjoy!
---
If you're looking to up-level your canna-cooking or baking game, or you want more of a canna-challenge, you may want to start here.
For more recipes like this one, check out our recipe index here.
And if you love how-to-videos, our YouTube channel has everything you need.
Share our post and comment below! We'd love to hear from you.
As always, happy canna-cooking!