Italian Fig Cookies With Cannabis Sugar
Italian fig cookies with cannabis sugar are one of the easiest cookies to make, but that doesn't mean they're not delicious.
These sugary snacks are perfect for dunking into your coffee or tea, and they're the perfect accompaniment to an afternoon tea party. With a little help from cannabis sugar, you'll be the talk of your cookie-loving friends!
What's So Good About Figs, Anyway?
Figs have a long history associated with enhancing health and wellbeing.
The Chinese Ming dynasty used Figs as a natural treatment for constipation.
While the ancient Greek, Romans and Egyptians all used figs to remedy or reduce a variety of gastrointestinal ailments.
Figs are high in vitamin B6, rich in potassium (great for regulating blood pressure levels), vitamin A and magnesium.
Figs naturally contain anti-inflammatory nutrients.
So basically, today's recipe is good for you! At least, good for your tastebuds right?
How Do You Eat Figs?
Figs are best when eaten uncooked or stewed.
The compounds within the fruit's flesh give them a distinctively rich and sour taste, much like a green apple will do if you cook it long enough.
If you're lucky and you live in a climate or region where you can just pluck figs off the tree then enjoy!
For many of us though, we don't have that pleasure – so when you get them at the grocery store you can eat everything except the stem – but most people just enjoy the inside part – seeds and all.
How To Make Cannabis Sugar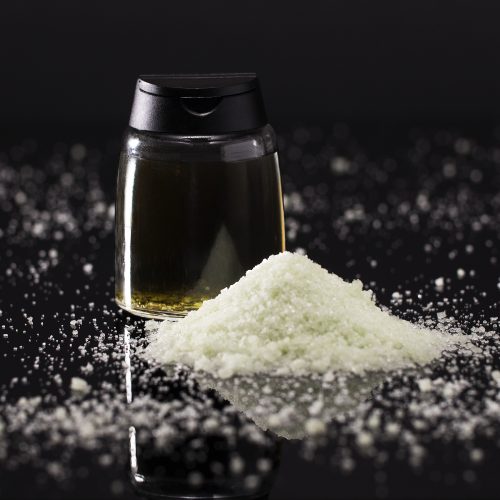 Instructions
Add 4 cups of sugar into a glass bowl.

Add ½ cup of cannabis tincture and mix well with the sugar.

Line a tray with parchment paper, and even spread the sugar over the parchment paper in a thin layer.

Using a solid object, like a bottle, can or the bottom of a glass, crush up the cannabis sugar to remove the lumps. You can also do this step in a food processor, or blender.

You can also do this step in a food processor, or blender. Store the weed infused sugar in a cool dry place.
Video
Nutrition
Serving:
1
Tbsp
|
Calories:
48
kcal
---
The Recipe
Equipment
Mixing Bowls

Measuring cups

Whisk

Stand Mixer or hand mixer

Cookie sheets

Parchment Paper
Ingredients
The Dough
1/2

cup

unsalted cannabutter

or regular butter at room temp

1/4

cup

cannabis sugar

1/4

cup

light brown sugar

1

large

egg

1

tsp

pure vanilla extract

1 3/4

cup

all purpose flour

1/4

tsp

baking soda

1/2

tsp

salt
Fig Filling
1

cup

dried figs, stems removed

finely chopped

1/2

cup

dried and pitted dates

finely chopped

1/2

cup

fresh orange juice

freshly squeezed if possible2

1/3

cup

candied orange peel

diced up finely

2

tbsp

cannabis sugar

1/4

tsp

ground cinnamon

1/3

cup

blanced almonds

2

tbsp

Grand Marnier

optional
ICING
1

cup

powdered sugar

2

tsp

fresh lemon juice

freshly squeezed

1/2

cup

sprinkles

if desired!
Instructions
In a large mixing bowl beat the cannabutter (or regular butter) on medium-high speed using an electric mixer until smooth and creamy, about 1 minute. Add the granulated sugar and brown sugar and mix until combined. Add the egg and vanilla and blend just until incorporated. Scrape the sides of the bowl and beat again for a few seconds. Whisk together the flour, baking soda and salt. Add the flour mixture to the dough in three additions, mixing on low to incorporate.

Divide the dough in half and form each into a small rectangle. Wrap the dough in plastic wrap and refrigerate for at least 3 hours or up to overnight.

In a small saucepan, combine the figs, dates, orange juice, candied orange peel, sugar, lemon zest and cinnamon. Bring the mixture to a boil over medium-high heat. Reduce the heat to medium-low and simmer for 5 to 8 minutes or until fruit is soft and the mixture is thick. Remove from the heat and add the chopped blanched almonds and 2 tablespoons Grand Marnier, if using. Set aside to cool to room temperature. Cover with plastic wrap once cooled until needed.

To assemble and bake the cookies, preheat oven to 375°F. Line a baking sheet with parchment paper and set aside. Remove the dough from the refrigerator and allow it to rest for 10-15 minutes before rolling out.

Place a piece of parchment paper on a clean work surface. Generously dust the paper with flour. Roll one portion of the dough into a 10×8-inch rectangle. Cut each rectangle into two 10×4-inch strips. Portion 1/4 of the filling down the center of each strip (in a rounded mound). CHILL the dough and filling as is for 10-15 minutes before rolling into cylinders.

Using the parchment paper as a guide, bring one long side of the dough up and over the filling. Repeat with the opposite side forming a tube and enclosing the filling. The dough should overlap slightly on top of the filling. Gently seal the edges.

Carefully transfer the filled strips to the prepared baking sheet placing them seam side down on the pan. Bake for 12 minutes or until lightly browned. Remove and transfer to a cooling rack.
For The Lemon Icing or Glaze
Combine the powdered sugar and lemon juice in a small bowl and whisk until smooth. Drizzle on each cookie then top with colored sprinkles if desired.
If you're looking to up-level your canna-cooking or baking game, or you want more of a canna-challenge, you may want to start here.
For more recipes like this one, check out our recipe index here.
And if you love how-to-videos, our YouTube channel has everything you need.
Share our post and comment below! We'd love to hear from you.
As always, happy canna-cooking!