Cannabis Stem Tea is a long standing weed recipe that is simple to make. This is one of the true cannabis classics. It is exciting that weed infused tea is still a popular item today. It is likely because this is a great way to use your entire cannabis plant and eliminate any waste.
Why try this warm weed beverage?
Cannabis stem tea is one of the pioneer cannabis edibles. This method of consuming cannabis is a historical endeavor due to its use for centuries. There is something soothing about a warm tea. If you're battling a cold, or need to warm up, tea is the perfect remedy.
In addition, cannabis tea is very easy to make. Following decarboxylation, all you need to do is boil your stems in water. Some leave these weed stems in the water for extra potency and flavors. Others strain the cannabis stalks out of the tea for easy consumption.
Weed Stalk Tea is customizable and easy to modify. Check out these ideas for flavors:
Cannabis Stem Tea is palatable on its own. However, if you like to get creative with flavors, there are many ways to add omph to your tea.

Consider adding in vanilla bean pods. A soothing yet sweet vanilla flavor would really complement this earthy weed tea.
If you enjoy the taste of anise, a liquorice taste really overpowers the flavor of cannabis.
Of you're weathering a cold, add in honey, lemon, and ginger. The honey will coat your throat, while the lemon provides vitamin C, and the ginger clears your nose.
Throw in some peppermint to clear your sinuses or calm your stomach.
Follow the recipe below and create your own weed stem tea!
Enjoy your soothing weed infused tea. Let us know how your tea turns out and if you use any modifications! Send us a pic on social media and message us in the comments below.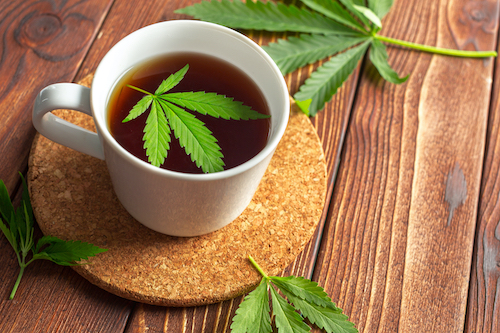 Equipment
Baking tray

Parchment Paper

Teapot

Tea bags
Instructions
Using the baking tray and parchment paper, decarboxylate the stem pulp. (Not sure how? Find instructions here.)

Spoon decarbed stem pulp into your tea bags.

Heat water in your teapot to a low boil.

Fill a ceramic mug with the water and insert filled tea bag. Allow it to steep for about 6-7 minutes.