In this recipe we will show you the key to an amazing cannabis burger. This burger starts with a sesame seed bun, wrapped around a perfectly seasoned, mouth-watering hamburger, topped with your favorite cheese, crisp onion, lettuce, juicy tomato, pickles and burger sauce. And it is completely infused with THC.
In this recipe we will show how to infuse the burger patties with cannabis without wasting any valuable THC. To make that happen, you will first need to make the cannabis butter before starting the rest of the recipe. Cannabis butter roughly takes 3 hours to make, so make sure to make it ahead of time.
Once your cannabis infusion is ready to go, it's time to start working on the burgers. High quality meat is important in this burger so make sure to get the best from you butcher. And ask for the meat to be at least 20% fat and 80% lean.
When you would be making a regular burger, an oven is usually not needed. But for this recipe we use an oven to make sure the THC does not degrade due to high heat. We also brush any remaining cannabis butter in the pan onto the buns and crisp it up in the oven.
Do you like to plan this recipe for a cannabis party or for 420? You can easily create smaller patties and get small buns to create cannabis infused sliders! Enjoy the recipe and always consume weed edibles responsibly!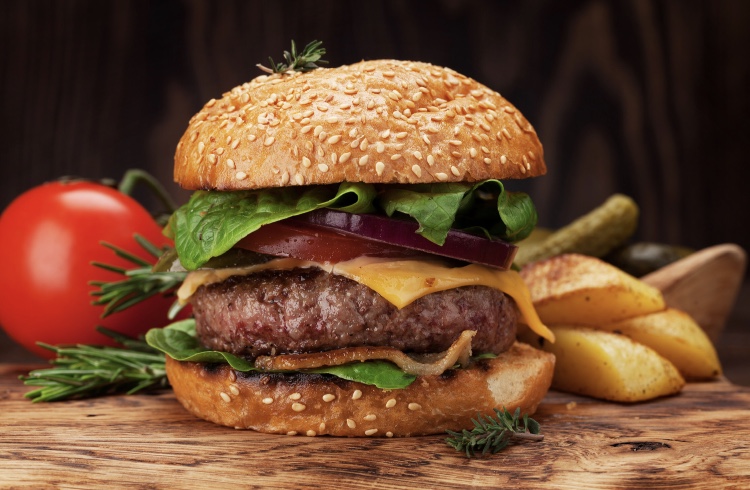 Ingredients
2

Pounds

Freshly grounder chuck

20 percent fat

12

Slices

American cheese

6

Burger buns

6

Tbsp

Cannabis butter

Salt and pepper

Sliced tomatoes

Sliced pickles

Sliced onions

Lettuce

Burger sauce
Instructions
In a large bowl, mix ground beef and cannabis butter until just combined. Do not overmix. 

Divide into 6 portions and create nice round patties. Using your hands or a burger pattie device.

Season the patties with salt and pepper. Preheat your cast iron pan and sear the burger 1 min per side. Do this with all 6 burgers and transfer to an oven tray. (Keep the remaining fat in the pan for the buns)

Finish the burgers in the oven untill medium well on 350F.

While the burgers are in the oven: Take your buns and cut them all in half. Place on an oven tray with the insides facing up. Take the remaining fat that was in the burger pan and brush the inside of your buns with it. Place buns in the oven on 350F untill nicely golden.

Take out your burger patties and place sliced cheese on them. Put back in the oven for 10 sec untill cheese melted nicely.

Start building your burger with all vegetables, burger sauce and meat patties.