Cannabis infused butter is a very popular base for weed edibles. Excitingly, there are many ways that you can enhance the flavor of cannabutter. In this recipe, we show you how to make Italian Herb cannabis butter. The best part is, you can use any herbs you want.
This is how to start your infusion.
In order for the THC in your cannabis buds to properly activate, your cannabis needs to be heated at low temperatures. This first step is called Decarboxylating or (decarbing). Once the THC is activated, it is time to infuse your butter with weed to make cannabutter. This recipe will show you step by step how to decarb your weed prior to infusing it.
While the THC is being extracted into the butter, you can start chopping all the herbs you want to use. There are many different butter variations that you can create. Consider dill infused cannabutter, cannabis rosemary butter, or even cinnamon marijuana butter. Make sure you add the herbs to the butter once it is slightly cooled and soft.
There are so many dishes that will benefit from Italian Herb Cannabis Butter.
Once your Italian herb infused weed-butter is ready, it's time to make edibles. Check our guide to learn how to make weed edibles for beginners.
While cannabis infused butter can be used in many edibles, this herb butter is obviously not meant for cookies and cakes. You can, however, add your herb infused cannabis butter to a nice steak. This butter will help to create weed infused pasta, cannabis lasagna, marijuana bread and more. Consider lathering this weed butter over a morning bagel. Smear this spread over biscuits to make weed crackers. Use your imagination and you will see how much potential this weed infusion has!
Start Your Italian Herb Cannabis Butter Today!
We would love to see how your herbed cannabutter works out. Follow us on social media and hit us up in the comments below!
Check out the recipe below!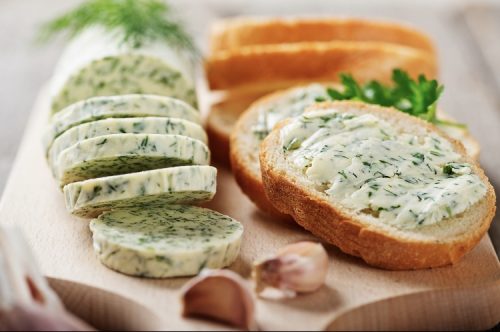 Equipment
1 strong Mason Jar

1 medium sized cooking pot
Ingredients
1

Cup

Butter

7 – 14

Grams

Cannabis buds

3

Tbsp

finely chopped fresh parsley

2

Tbsp

Chopped Chives

1

Tsp

Chopped fresh Thyme

1

Clove

Garlic
Instructions
Decarboxylate your cannabis by spreading the cannabis evenly on an oven sheet. And place in a pre-heated oven on 240F for 45 minutes.

In a strong mason jar, add 1 cup clarified butter, 1 garlic clove and the decarbed cannabis buds.

Place the mason jar in a pot of cold water and turn on the heat. Let the water in the pan simmer for 3 hours. Add extra water once the water starts to evaporate.

While the cannabis is infusing with the butter and all THC is being extracted into the butter. It's time to chop your fresh ingredients.

Chop all the italian herb fine and ser aside.

Once the cannabutter is done infusing, strain the cannabis and garlic out of the butter and discard.

Take the cannabutter and let it cool down untill you have a soft cannabis butter. At this point, add all your herbs and stirr. Let it cool untill butten is hardened.

Your italian herb cannabis infused butter is now ready to be used in weed edibles.
Video
Notes
The video might give a slight different recipe than the text recipe. The blog recipe is always the most accurate and updated.