So, you've got some hash and you'd like to make hash oil. But first, what is hash oil? Basically, it's a super concentrated cannabis extract. It's so concentrated that it's actually more potent than your average cannabis oil that you make from flower. In fact, hash oil can contain up to ninety percent THC.
If you don't have any hash yet, don't worry! You can make that yourself, too. Hash can be made with weed bud from the dispensary. Or it can also be made with trimmings from marijuana plants that you might otherwise throw away. The best trimmings to make hash with are the sugar leaves of the plant. These are the leaves found closest to the bud. You'll notice that they're glittery with trichomes, just like the bud — except maybe a little less-so.
Making hash is a very simple process that you can do in your own kitchen. And with just a few common kitchen utensils. So before you can make hash oil, you'll want to make hash with this recipe first.
Once you've got yourself some hash, it's time to make hash oil. What is hash oil good for? It's handy for making edibles. It can also be smoked or vaporized. You can even rub it on your skin. It's also commonly used in dabbing. Dabbing utilizes a "rig," or special pipe to heat and vaporize the oil.
One thing to keep in mind: hash oil is very potent. So when making edibles, keep track of your dosing. The goodies you make with hash oil will be a lot stronger than edibles made with lower potency cannabis oil. And it's always a good idea to start with a low dose and increase from there.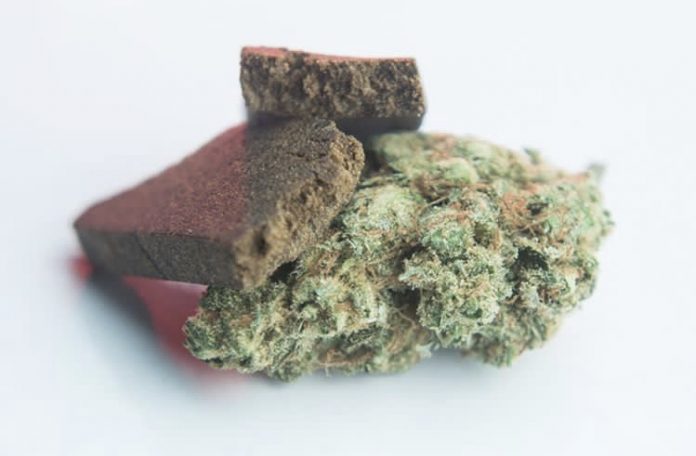 Instructions
Decarboxylate your hash by crumbling it on an oven tray and coat the top with aluminum foil, placing in the oven for 40 minutes on 240F.

In a strong mason jar, place your decarbed hash and oil and close the jar.

Put it in a pot of cold water and let the water come to a boil. Let it simmer for 30 minutes.

Take the mason jar out, and stir your oil to see that everything is dissolved.

Your hash oil is ready.
Nutrition
Calories:
200
kcal
|
Fat:
20
g