How do you make Cannabis-Infused sea salt? It's delectably savory and the best addition to just about any dish you make – and today?
We're Going to Teach You How to Make Cannabis-Infused Sea Salt!
Salt is a seasoning that is literally the most important addition to all meals. Wouldn't you agree?
Salt is great sprinkled and seasoned on steaks, avocados, and veggies too.
When you infuse salt with Cannabis it adds depth and a flavor profile that is out of this world! Your taste-'buds' will love it. Guaranteed!
How do You Make Cannabis-Infused Sea Salt
Wellness Benefits of Sea Salt
Keeps you hydrated. Contrary to popular belief, sea salt is extremely beneficial in keeping us hydrated
May reduces fluid retention
A great source of essential minerals
Balances electrolytes
Prevents muscle cramps – great for post workouts
Great for skin health and when ground up, can be a gentle body exfoliant for dead skin
May help to improve digestion
Check out our Cannabis-Infused salt recipe below and start your infusing engines!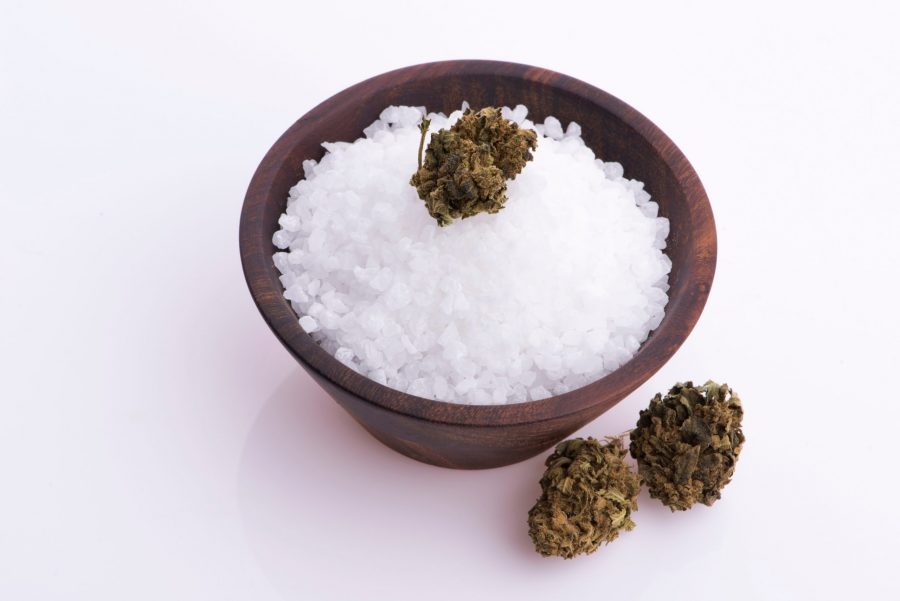 Equipment
Tall Glass Dish

Mortar & Pestil

Glass bowl

Strainer

Coffee filter

Rice Cooker

Brownie Pan

Spatula

New/Empty Salt Grinder
Ingredients
1

oz

Cannabis – OG Kush – 50/50 Sativa & Indica Strain

Ideal all around strain

2

cups(approx)

190 Proof Grain Alcohol

any kind will do but we use Everclear

1 1/2

cup

coarse sea salt
Instructions
Take your tall glass and put your cannabis into it

Pour the alcohol overtop, just covering the top

Mash it for about 3 minutes

Grab your strainer and a glass bowl, place the strainer on the bowl and strain the cannabis and alchohol mixture, removing the solvent and placing aside.

Repeat to improve your yield and place the solvent aside.

Once you have repeated the process and you are back to straining, use the back of a spoon to pat down the cannabis to really ensure the moisture is out. Set cannabis aside.

Now, take the liquid solvent and strain it yet again through a coffee filter. Place it on top of the strainer and the rice cooker to remove all solids.

In a well ventilated room, bring your liquid solvent mixture to a boil. You should have about a 1/4 cup left.

Take your salt and sprinkle it evenly in a brownie pan.

Using a spatula, pour your liquid over the salt and spread it out evenly

After 24 hours, break the salt apart with your pestil and mortar or a fork and bowl.

NOTE: If you want finer salt, you can use a food processor too!

Throw it in your salt grinder, and voila! You've just made cannabis infused salt!
MEASUREMENTS
1 tsp = approx 44 mg of THC
Video
Want to enjoy more yummy recipes?
Check out our Cannabis Watermelon Slushies or our Cannabis Chocolate Ice Cream!
Feel like a nice summer-inspired gin martini? or what about a salt-rimmed Caesar? Now that you know how to make infused salt, use it with this Canadian Cocktail!
Happy cooking Cannadishers!