Cannabis cuisine is relatively new, that makes experimenting with new flavors and techniques so much fun. How about a cannabis oil rich in truffle flavor? This will certainly take cannabis fries, pizza or weed infused pasta to another level!
What is truffle oil?
Truffle oil is an oil that is infused with the complex flavor of a wild grown fungus called truffle. This precious fungus contains a very unique and earthy flavor. There are many different types of truffles. Each of these truffles contain a specific and vastly different flavor profile. Truffles are native to different areas of the world. The environment that which they are grown in adds to the differentiation of taste.
Typically, truffles grow in the shade of trees. They are often discovered in the shade of oak and nut trees. Truffles are a subterranean species, meaning, they are dug up from within the earth. These culinary delicacies are referred to by their color, the season that which they grow, and the area that which they come from. For example, there is a French truffle called a Burgundy Truffle. It is also known as Black Summer Truffle. Though this truffle is more commonly found in France, they do grow throughout Europe.

Weed infused truffle oil is the marriage of this extraordinary fungus with your favorite cooking oil.
Truffle oil is expensive. Try this trick to make your cannabis truffle oil last!
The incredible taste of cannabis truffle oil does come with a price. Truffles are not cheap! However, if you would love to try weed infused truffle oil without spending too much money, there is a solution. You can infuse your cannabis with regular oil and add store bought truffle oil to the batch.
What foods will complement this weed infused delicacy?
Once your cannabis infused truffle oil is ready to be used, you can incorporate it in any weed edible recipe you see fit. Think THC truffle fries or THC truffle pizza! It also pairs nicely with a fresh french baguette and balsamic vinegar.

This oil will add an interesting and incredible flavor to many of your dishes. Due to its rarity, cannabis infused truffle oil can be the talk of a dinner party.
Easily Create Weed Infused Truffle Oil Today!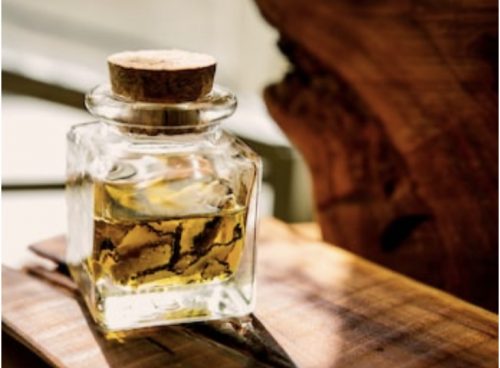 Ingredients
2

Small

Truffles

1/8

Ounce

Cannabis

1

Cup

Olive oil
Instructions
Preheat your oven to 240F.

Decarboxylate your cannabis by spreading it on a oven tray coated in silver foil and place it in the oven. Leave it in for 40 minutes.

Take out your truffles and slice them thinly using a sharp knife or mandolin.

Combine your truffles and cannabis in a strong mason jar and add olive oil.

Set up a pot with cold water and place your mason jar in it. Now turn up the heat to medium and let the cannabis, truffles and oil infuse for 3 hours.

Carefully strain out your cannabis oil into a new mason jar. Pick out all sliced truffles and add to the oil. Discard the cannabis.

Infuse your oil for another 5 days in the refrigerator.
Video