Learn how to make a cannabis salve the proper way with Cannadish. Using CBD oil and essential oil, this step by step recipe is simple. In only 15 minutes you can easily whip up a homemade CBD salve recipe that is organic and full of natural ingredients.

How To Use CBD Salve
Get ready for some good news! To use this CBD salve, you're going to whip it up, and lather it on. Simply put a quarter-size amount in your hands, and apply to your skin. Rub gently into your skin in circular motions. This is all it takes to use your CBD infused salve!
Does Cannabis Salve actually work?
There is certainly a lot of potential for cannabis salves. From supposed anti-inflammatory properties, to rumoured pain assistance, CBD salves serve up a whole lot of potential.

Fibromyalgia and Multiple Sclerosis patients use CBD infused salves as part of their topical treatment regime. It is also common for athletes to use cannabis topicals following strenuous activity to wind down.
If you're not a patient or an athlete, not to worry. You can use our CBD salve recipe to moisturize skin. As CBD oil locks in moisture, this cannabis product maybe used as a CBD topical for added moisture.
Can you mix CBD with essential oils?
Excitingly, you can mix up your cannabis infused salve recipe with essential oils of your liking. If you enjoy the smell of peppermint, or find the smell of orange to be revitalizing, you can always add them into your CBD salve recipe.
There are endless possibilities to add scent with essential oil to your cannabis salve. Get creative with your scents or use your known favorite essential oils for your at home CBD topical salve.
In addition essential oils are also a wellness product. If you're stressed out, essential oils are commonly used for calming. Varieties like peppermint and chamomile may help to mellow you out after a long day.
Further to this, if you have a cold our stuffy sinuses, it is possible that these oils may help to soothe your senses! Refreshing aromas of eucalyptus may be the pick me up you need!
Essential oils coupled with CBD in your homemade cannabis salve might be the CBD wellness product you need!

Seeing as CBD and essential oils posses many exciting potentials, this homemade weed topical is pretty exciting! Using this cannabinoid and essential oil together creates a potent CBD topical for your wellness routine.

Simply follow the recipe bellow and start your own CBD salve with essential oils!
Time to make your homemade CBD salve!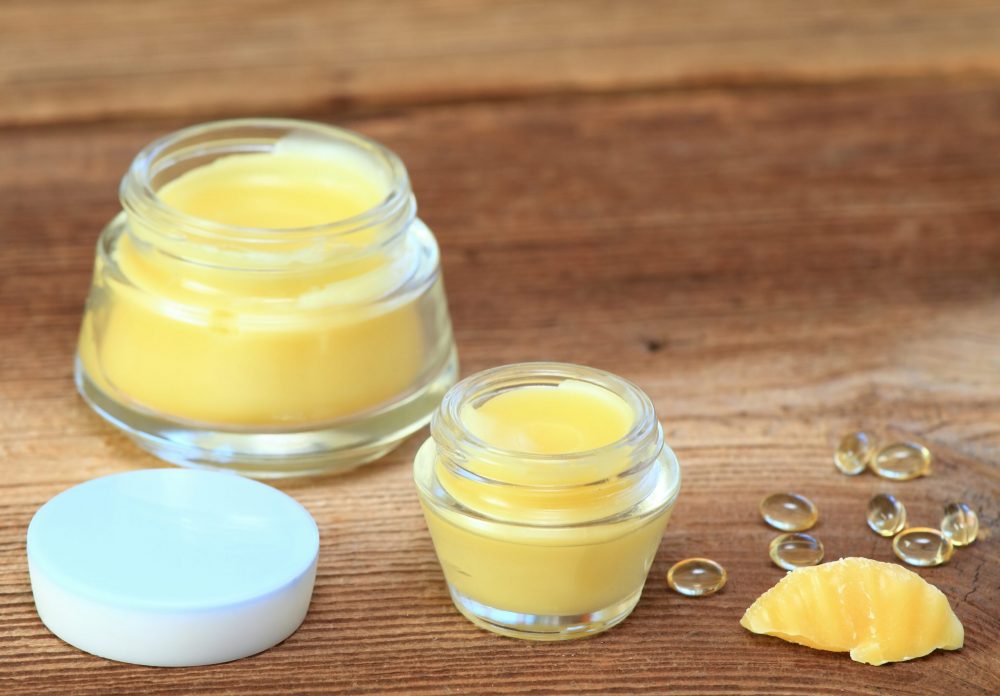 Ingredients
1/4

Cup

Olive oil

1

Pinch

Cayenne pepper

1

Tbsp

Beeswax

Pellets

150

mg

CBD oil

50

mg

THC oil

(Optional)

10

Drops

Eucalyptus essential oil

10

Drops

Peppermint essential oil

10

Drops

Jojoba oil

10

Drops

Clove oil

10

Drops

Lavender essential oil

10

Drops

Rosehip oil
Instructions
Heat olive oil and CBD oil and cayenne pepper together in a double boiler for 15 minutes.

Add your beeswax pellets and stir untill all melted.

Remove from heat and add all your other essential oils and stir well. Now poor the mixture in a glass jar and let it cool and harden up.

Once the CBD salve is ready to use, gently massage on the affected areas for 2 – 4 times a day.