My milkshake brings all my friends to the yard, and damn right! It's better than yours. Let us teach you to create an incredible cannabis infused milkshake. Stunt on everyone with the best weed infused cold beverage for those long summer nights.
Why create this creamy weed beverage?
Weed infused milkshakes are straight up delicious. There's no need to dance around it. Ice cream, cream, vanilla, and milk. It's very simple, but this blend is truly incredible.
Our recipe calls for strawberry ice cream. If you're a chocolate lover, don't let this deter you. You can add in chocolate, or swap out our recommendation with chocolate. For that matter, swap with mint, maple walnut, rocky road, cookies and cream, whatever you like!
Our intention is to teach you how to infuse your milkshake with cannabis. You can definitely modify the choice flavor.
This is how we dose your cannabis milkshake.
We are using a cannabis tincture to dose these milkshakes with marijuana. Feel free to choose between a THC tincture or a CBD tincture to create your weed infused shake.
Weed tinctures are a fantastic way to make cannabis beverages. This is because the dropper makes it simple to accurately dose your recipe. Accurately dosing your recipe is super crucial to any cannabis edible. This ensures that you will have an enjoyable time while achieving your cannabis goals.
We recommend that you speak with your cannabis budtender to find a weed strain that works best for cannabis edibles. Pick a THC strain if you're hoping to dose with THC. Let your dispensary rep know that you're creating a weed tincture. This way they can appropriately advise you on the right cannabis flower.
Follow this recipe to create a cannabis tincture. Be sure to choose the right type of cannabis bud for your weed extraction. Use a CBD bud if you're looking to create a CBD tincture.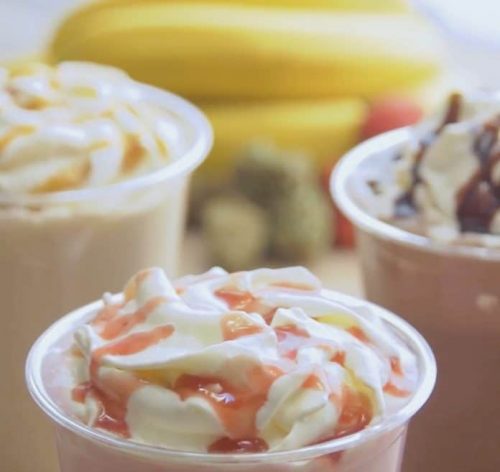 Ingredients
2

tsp

Cannabis tincture

1

cup

strawberry

1

tsp

vanilla extract

3/4

cup

milk

1

cup

strawberry ice cream
Instructions
Blend all ingredients together

Serve
Video
Nutrition
Calories:
200
kcal
|
Fat:
20
g