Gingerbread Cannabis Grow House For Christmas!
There is nothing, and I mean NOTHING more festive for the holidays than a gingerbread house, and this year why not make a Gingerbread Cannabis Grow House For Christmas!
It will take patience, time and preparation – but since most of the world is in isolation, there really is no better time than now.
I've heard it being called a Ganja Bread House, but personally, I am partial to calling our creation a Gingerbread Grow House!
Call it whatever you like, but know that THIS will make spirits bright this upcoming Christmas!
It's so much fun, surprisingly easy, and a great way to pass the time 'cause we all know we have a lot of that this year! (tick,tock)
Baking With Cannabis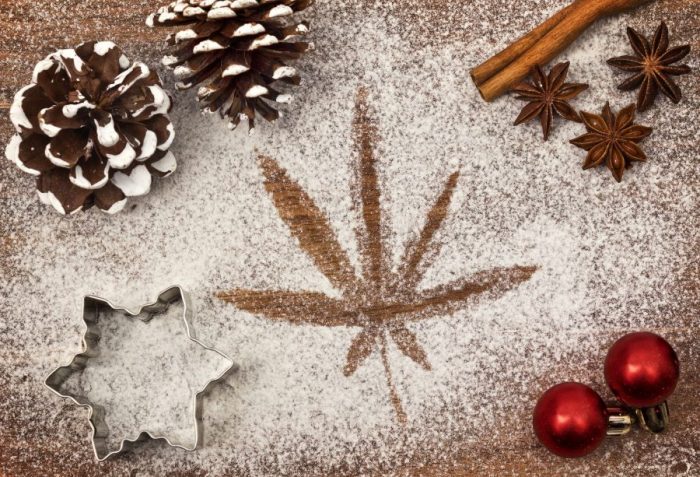 If only little stoner elves could sneak inside the kitchen overnight to decarb our weed and make cannabutter!
As I said earlier, a little preparation and a dash of patience will mean that you can not only create a gorgeous gingerbread house infused with Cannabis treats, but you can use it for other yummy weed edible recipes.
How To Decarb Cannabis & Make Cannabutter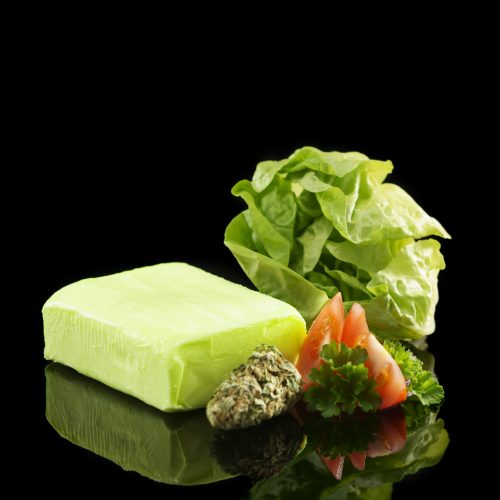 Ingredients
1/4 to 1/2

Ounce Cannabis 

1

cup

Butter
Instructions
Decarboxylate your weed by spreading your cannabis evenly on an oven tray And coat with aluminum foil.

Place in the oven on 240F/115C for 25 till 45 minutes, and then let it cool.

Grind your dry cannabis or chop it till fine.

Place the cannabis in a strong mason jar, add butter and (1 tsp of sunflower lecithin)(optional)

Place your closed jar in cold water and let it come to a boil, Boil for 2 to 3 hours.

Strain your butter through a cheesecloth.

Cool down

Now you can use the Cannabis Butter (Cannabutter)
Video
Notes
If using a mason jar, be sure to start with cold water. Furthermore, it is imperative to let the water cool gradually so that your glass will not shatter.
The video guide might be slightly different than the blog recipe. The blog recipe is the most updated and accurate.
Nutrition
Calories:
1628
kcal
|
Carbohydrates:
1
g
|
Protein:
2
g
|
Fat:
184
g
|
Saturated Fat:
117
g
|
Cholesterol:
488
mg
|
Sodium:
1621
mg
|
Potassium:
54
mg
|
Sugar:
1
g
|
Vitamin A:
5673
IU
|
Calcium:
54
mg
You'll need to make sure you have a bunch of treats and candies ready to go so you can decorate your Growhouse.
You can use a combination of regular candies, and check out some of 2020's BEST Cannabis-infused candies and our hard-candy recipe below.
Tips For Decorating Your Gingerbread Grow House
Use shredded coconut as snow
Make sure you have a flat surface to work on and from – one little wobble and there goes your grow house!
Tinfoil-wrapped cardboard as your base is a great idea, but you can use a cutting board too.
Be creative and go shopping at the candy store! Licorice, nerds, gumballs, and more – you'll feel like a kid again!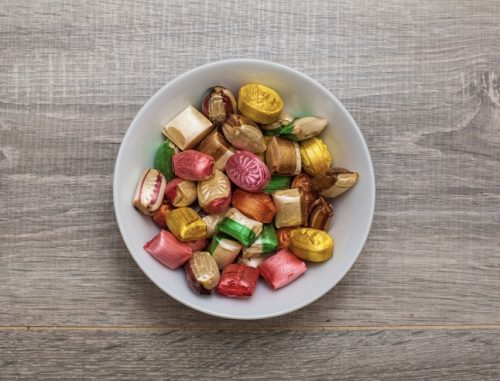 Equipment
candy molds or baking tray

candy thermometer
Ingredients
2 – 3

Tbsp

cannabis tincture

500mg THC

2

Cups

Sugar

2/3

Cup

corn syrup

1/4

Cup

Water

1/2

Tsp

Flavored extract

optional

Food coloring

optional
Instructions
In a medium sauce pan mix together the sugar, syrup and water.

Let it come to a boil and slowly stir mixture untill around 250F.

Once it reaches 250F, you need to stop stirring and let it come to approximately 305F. ( this happends quick)

Once your hard candy mixture is at around 305F, remove it from the heat.

Add cannabis tincture, flavor extract and food coloring. Stir it up and poor into your candy mold or baking sheet.

Let the cannabis candies cool down and harden before removing it from the mold.

Enjoy your canna candies!
Video
Notes
Tip!  If the hard candies are cloudy or foamy looking: once the mixture is taken off the heat, let it sit for 30 second untill all foam has gone down, before pouring into molds.
Nutrition
Serving:
1
Candy
|
Calories:
44
kcal
|
Carbohydrates:
11
g
|
Fat:
1
g
|
Sodium:
3
mg
|
Sugar:
11
g
|
Calcium:
1
mg
|
Iron:
1
mg
On to the main event my friends! I'm so excited to hear if you tried this, and we'd love to see pics and comments below.
Gingerbread Cannabis Grow House For Christmas!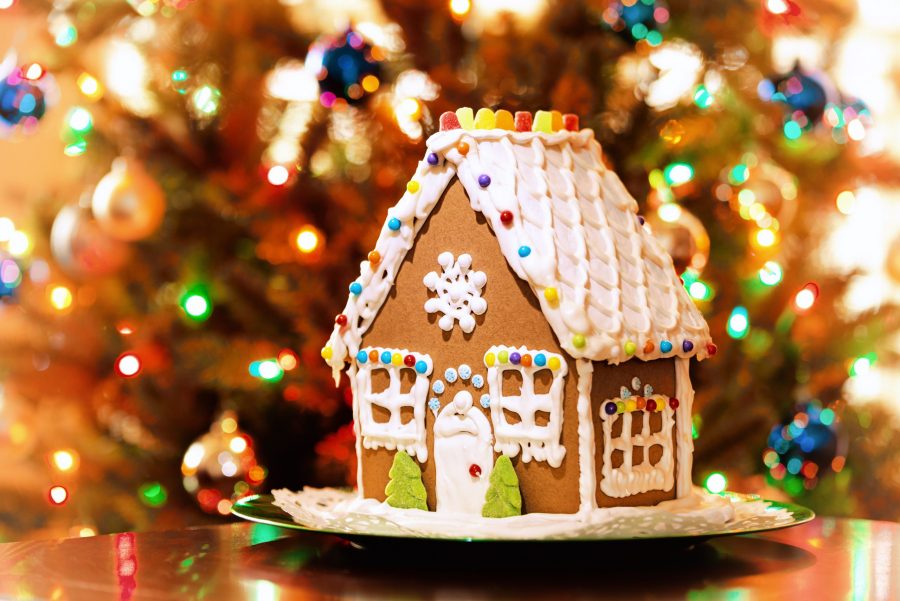 Ingredients
7

ounces

unsalted butter

softened

3

tbsp

cannabutter

softened

1 1/2

cup

dark brown sugar

2

eggs

beat them lightly

1

cup

dark molasses

2

tsp

vanilla extract

6

cups

all purpose flour

1

tbsp

ground ginger

4

tsp

ground cloves

3

tsp

ground cinnamon

1

tsp

baking soda

1/2

tsp

Himalayan salt
ICING
3

cups

powdered sugar

2

egg whites

1/2

tsp

cream of tartar powder
Instructions
Gingerbread
In a mixer, cream the butter until smooth. Add the sugar, and continue mixing until light and fluffy. Add the eggs, molasses and vanilla and mix some more.

In a large bowl combine the flour, ginger, cinnamon, baking soda, cloves and salt. Gradually add the flour mixture to the butter and sugar. Put the dough in the fridge, covered.

In the meatine, heat oven to 340°F. Cover two baking sheets with parchment and paper so you're ready!

Sprinkle flour on your counter, grab the dough, and divide it in half and roll the pieces out to ¼ inch thickness. Cut out evenly-shaped / measured squares and rectangles from the dough- enough to make your house and roof, and transfer to the prepared sheets. Have extra dough? Make a few extra squares and rectangles as back up.

Bake for about 15-18 minutes. The dough should not give when pressed lightly. Allow to cool fully.
ICING
In a large mixer, whip the powdered sugar with the egg whites and cream of tartar. The process should take about seven minutes. The mixture should be thick enough to hold its shape.

Using your icing, glue the walls ( your gingerbread squares) of the house together first. After attaching, allow it to set for at least 20 minutes. Propping the sides is helpful. Continue on with the roof and allow it to set completely. When it's fully 'glued' you can start decorating!