It's true. These are Cannabis Infused Doritos and yes, they're amazing.
If you're thinking that Dorito Chips can't get any better, think again. Cannabis Infused Doritos are an exciting way to get your weed on. This is the ultimate cannabis edible and we're happy to show you how to make them.
How do I infuse my Dorito Chips?
Not only is this recipe THE BOMB, it is super simple. You're going to need a few simple ingredients. The main ingredients are a bag of Cool Ranch Dorito Chips, and cannabis coconut oil.
Firstly, cannabis coconut oil is how you're going to get your dose of cannabis with these chips. Create your cannabis coconut oil following this step-by-step recipe. You're going to decarb your weed and infuse it into coconut oil. This step takes a little bit of time as you will need to boil the infusion for 3 hours. Don't let this deter you. Cannabis coconut oil is a weed staple and you'll surely get plenty of use out of this weed infusion.
Why make cannabis infused Doritos?
It is a no brainer. These cannabis chips are super delicious and easy to create. This is one of the tastiest weed edibles to hit the scene. They are easy to serve and make a great portion for a gathering or cannabis party. These chips require a few household ingredients and won't stress a cook that is hosting a group of people.
If your cannabis coconut oil is ready, all you need to do is mix these Doritos with a few common spices. This way, the cannabis coconut oil won't take away from the flavor of these amazing chips. We love Doritos, and we definitely don't want to ruin their taste.
Start Your Cannabis Infused Doritos Today!
Closely follow the recipe below to create these amazing weed chips. Show us your cannabis snack on social media and leave us a note in the comments below!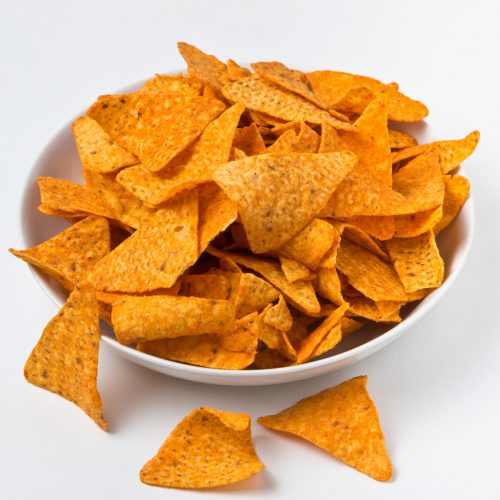 Ingredients
1

ten

ounce Bag of Ranch Doritos

1/3

cup

canna-coconut oil

1/4

cup

powdered buttermilk

1

tsp

dry parsley

1/2

tbs

garlic powder

1/2

tsp

onion powder

1

tsp

sugar

1

tsp

salt
Instructions
Preheat oven to 250°

In a medium size bowl, add your canna-coconut, grape-seed oil, or vegetable oil.

Add your powdered buttermilk, salt, sugar, dry parsley, garlic powder, onion powder to the infused coconut oil. Mix well.

Gently pour the bag of Doritos onto the pan.

Using a pastry brush, dip the brush into the mixture and gently and liberally brush the mixture on both sides of each chip.

Spread the chips all around the pan as evenly as possible. Bake on the middle rack for 30 minutes or until the chips are dry.
Nutrition
Calories:
200
kcal
|
Fat:
20
g