Have you been loving kombucha before it became trendy? Maybe you've only just heard of it. No matter your experience, this is a new one to try!
Cannabis Kombucha may improve digestion and here's why I'm loving it:
It's natural fermentation process means that it delivers on probiotic promise – meaning: your digestive system will love it.
It's fizzy and refreshing – like drinking pop, without all of the extra chemicals and additives.
You feel so chill and relaxed afterward. Who doesn't like that feeling?
The flavor infusions are endless and you can put in anything you like to add a little extra to it!
Have we got you convinced that Cannabis Kombucha is where it's at?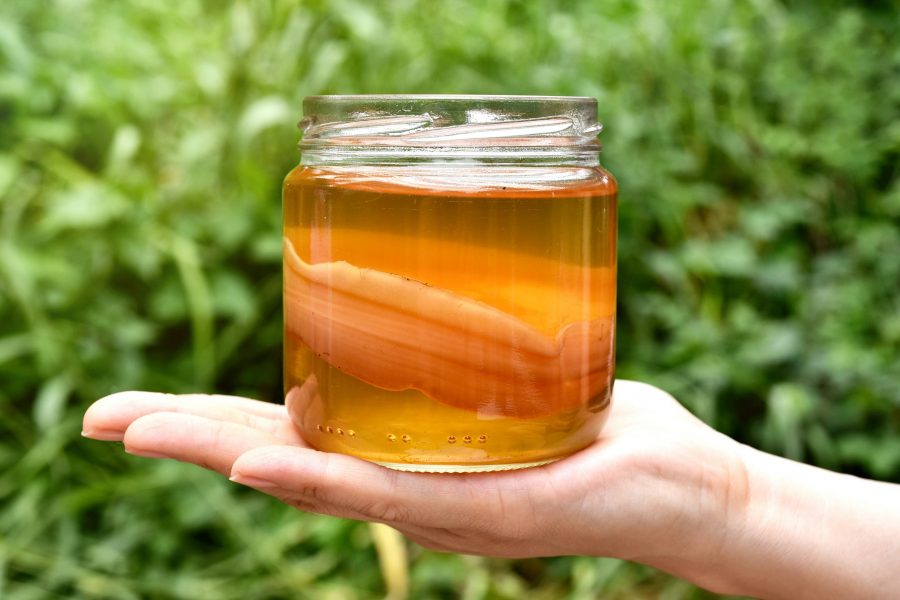 We do have to warn you that making your own Cannabis Kombucha takes patience and time – so knowing that, we'd love to share with you how to brew it yourself.
Kombucha 101:
Kombucha is a fermented tea beverage, and because of it's fermentation process it is believed that it can support a healthy digestion system.
Fermentation is great for digestion because it contains probiotics – essential for gut health!
From what we've researched, it also delivers in vitamin B and antioxidants.
A SCOBY is the one thing you can't leave out – it stands for: symbiotic colony of bacteria and yeast.
Yes – a SCOBY is slimy, and strange-looking – but it's the most important element in your batch!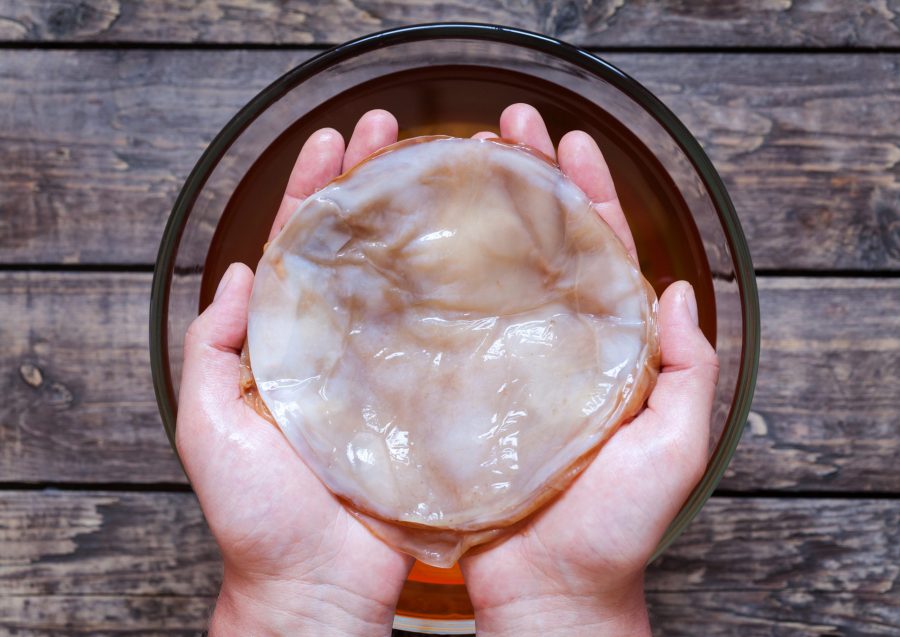 As kombucha brews, it also produces vinegar and probiotics. Vinegar helps your body by killing any harmful bacteria.
The probiotics aid in digestion and may even lower inflammation! The cannabis makes it perfect with a fizzy buzz that'll leave you feeling great!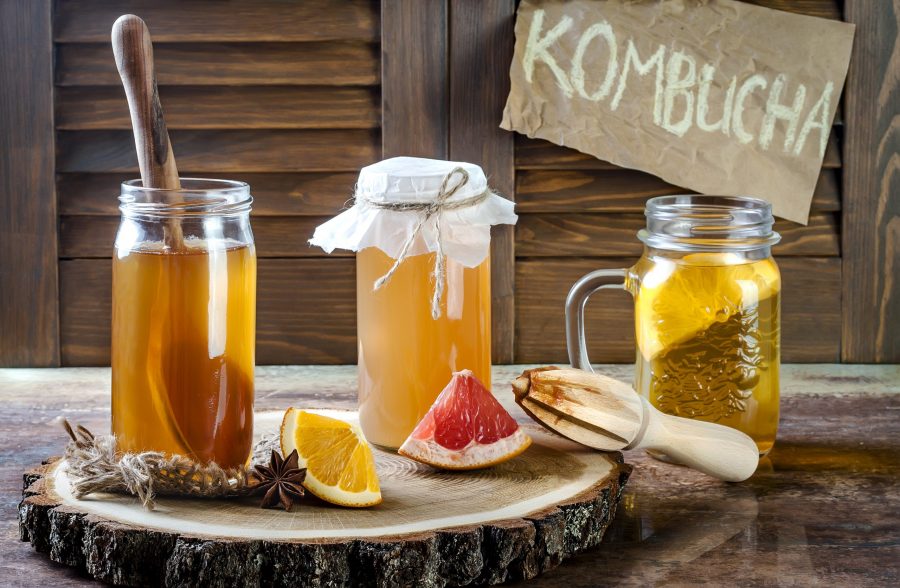 Equipment
Big Cooking Pot ( enough to fit one gallon of water)

Wooden spoon only ( no metal)

Stove/Cooktop

Large Glass Storage JUG with sealed lid (enough to fit one gallon of water)

Cheesecloth of pantyhose
Ingredients
1

SCOBY ( you can check online or go to natural food stores to get a start scoby)

1

cup

Store-bought kombucha for your first batch

Any plain brand/flavor will do

1

cup

Organic Cane Sugar

12

bags

Black Tea

Any brand you like

1

quart

Of your favorite juice

Optional

1

ounce

Cannabis – decarbed
Instructions
On your stove, bring water to a boil

Add your sugar and stir with wooden spoon until it's all dissolved

Add your tea bags to the water and let it steep for 10 minutes

Once it's cooled to room temperature, you can remove the tea bags and transfer the liquid to a large glass jug – leave enough room at the top.

Pour your juice inside (optional)

Pour your store-bought kombucha inside

With very clean and sanitized hands, gently slide in your SCOBY. It's okay if it sinks or floats – let it be. Do not adjust it.

Dip in in your decarbed cannabis – either with cheesecloth or pantyhouse. Tighten the lid, seal it up and ensure no air can get in – this is the fermentation process.

Gently place your jug somewhere warm, dark, and quiet. 75-85 F is an ideal temp.
Checking on your Cannabis Kombucha
Leave your kombucha alone for a few days, untouched.

After about 4 days, check on your batch by either noticing tiny little bubbles OR taking a straw and having a small sip of your batch. It should taste sweet. Seal it back up thought, it needs to ferment more to reach the best levels!

Leave it for another 4-7 days. Check it every 4 days or so. When you test it, if it has the right amount of fizz and taste – then it's ready for you!
You can always pair your kombucha with one of our delicious edibles, and we have some great pairing recipes for you to try below including our CBD Gummy Bears!
Enjoy!