These Cannabis Infused Pancakes are an incredibly decadent way to enjoy your morning meal. Not only are you creating a weed breakfast, this is a creamy, sweet, chocolatey weed treat. If you're hoping to impress some friends or you're hosting a brunch, this recipe will absolutely wow your guests.
We are infusing these pancakes with a very special ingredient.
Perhaps you were thinking that we are dosing with cannabis butter. Believe it or not, this is wrong. We are using cannabis milk to formulate these drool worthy weed pancakes.
Cannabis milk is the unsung hero of weed edibles. Think about its potential culinary capabilities. Think about cannabis smoothies, weed milkshakes, marijuana béchamel sauce. Creating this cannabis infusion will take your cannabis edible creations to new highs.
We understand that this cannabis extract is not the most common in kitchens. That is why we're hooking you up with a recipe to create your own. Feel free to purchase your milk in advance of this recipe, or whip it up using our step-by-step guide.
Let's talk about customizing your Cannabis Infused Pancakes.
This recipe can act as a base to the cannabis breakfast of your dreams. There are so many ways that you can make this dish your own. Here are a few ideas.
If you don't love the taste of strawberries and blueberries, why not substitute this with blackberries or raspberries. In fact, you can elevate this fruit game by making a mix berry pancake or going a completely different direction. Do you love banana and mango? Why not create this recipe using the fruit that you adore.
Maybe you're not really into chocolate. No worries. Why not try making our cannabis infused caramel sauce? Throw in a little seasalt and you're turning these into salted caramel creamy cannabis infused pancakes.
Let's start whipping up your Cannabis Infused Pancakes!
You're all set. It is time to create your cannabis breakfast!
Follow the recipe below! Be sure to hit us up in the comments and let us know how these bad boys turn out. Tag us in a pic on social media of your results.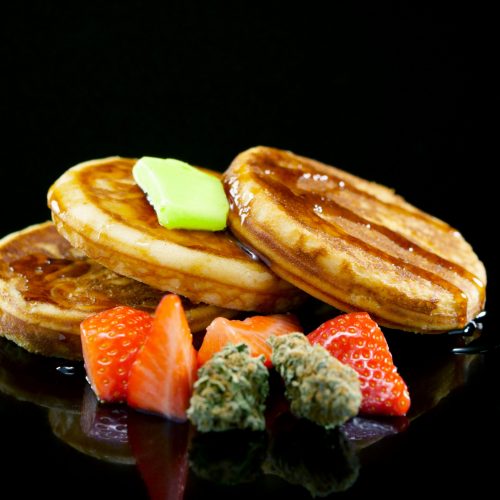 THC:
175 MG for whole mixture
Ingredients
1

cup

Cannabis Milk

1

Egg

2

tbsp

Vegetable Oil

1

tsp

Salt

2

tbsp

Sugar

1

cup

Flour

2

tsp

Baking Powder (For The Filling)

1

cup

Cream Cheese

Chopped Strawberries

Blueberries

2

tbsp

Vanilla Sugar

1/2

cup

Whipping Cream
Instructions
In a large bowl, sift together the flour, baking powder, salt, and sugar. Make a well in the center and pour in the milk, egg and vegetable oil; mix until smooth.

Heat a lightly oiled griddle or frying pan over medium-high to low heat. Pour or scoop the batter onto the griddle, Brown on both sides and serve hot.

For filling: In a medium mixing bowl, beat the softened cream cheese until smooth.

Add whipping cream and vanilla. Beat mixture until combined. Stir in both berries and sugar.

To serve, spoon 2/3 tablespoons of filling onto each thin pancake

Serve with chocolate sauce.

Serve the Cannabis Infused Pancakes
Nutrition
Calories:
200
kcal
|
Fat:
20
g