Tiramisu is one of the greatest desserts to grace us from Italian patisserie. This dish can definitely stand up on its own but we love cannabis, so… We're infusing Cannabis Tiramisu for a modern spin on a classic Italian dessert. Tuck in to this recipe and learn to create a delicious cake with an exciting THC twist.
Let's start by introducing you to this delicious dessert.
Ladyfingers, espresso, decadent mascarpone, and of course, cocoa powder. These are just some of the ingredients of the classic Tiramisu Cake. It is often that these cakes are made with rum other other high grade spirits. It is common to serve this cake after dinner or during afternoon espresso.
If you're wondering how we're infusing Cannabis Tiramisu, you're going to like this answer.
If you're a sucker for an incredible dessert, it should make sense to you that we're infusing this weed cake with cannabis coconut oil. The light yet sweet flavors of this cannabis cooking oil only enrich the existing tastes of the weed infused Tiramisu.
Cannabis coconut oil is a very simple infusion to make. If you need to create your weed infused coconut cooking oil, there is a simple recipe for you to follow.
Firstly, you'll need to select a cannabis strain. Selecting your bud strain should always involve consulting your dispensary representative. Let them know that you are creating a cannabis infused cooking oil for a cannabis dessert. This way, they can point you to a weed strain that is full of terpenes that work well with a sweet weed treat.
Do not miss this step!
Next, it is imperative that you decarboxylate your weed. This process activates the compounds that you are trying to elicit from a weed edible. Unfortunately, not following this process renders your weed somewhat mundane. You will not access several unique properties of cannabis without following this step — including its psychoactive effects.
Collect your decarb weed buds, sunflower lecithin, and coconut oil to start this recipe now. When this infusion is ready, it's time to create your Cannabis Tiramisu.
Start your this weed cake today!
Follow the recipe below to create your Cannabis Infused Tiramisu. Tag us in a picture of your cannabis cake on social media. Hit us up in the comments below with any questions.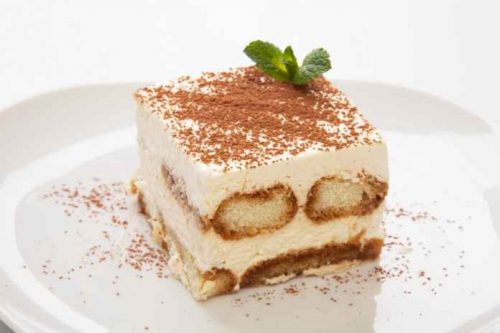 THC:
130 – 260 mg per dish
Ingredients
3

Tablespoons Cannabis

Coconut Oil

6

extra-large

egg yolks, at room temperature

1/4

cup

sugar

1/2

cup

good dark rum, divided

1

1/2

cups brewed espresso, divided

16

to

17 ounces mascarpone cheese

30

Italian

ladyfingers, or savoiardi

Bittersweet

chocolate,

shaved or grated

Confectioners'

sugar

(optional)
Instructions
Whisk the egg yolks and sugar in the bowl of an electric mixer fitted with the whisk attachment on high speed for about 5 minutes, or until very thick and light yellow. Lower the speed to medium and add 1/4 cup rum, 1/4 cup espresso, 2 Tablespoons cannabis coconut oil and the mascarpone. Whisk until smooth.

Combine the remaining 1/4 cup rum and 1 1/4 cups espresso with tablespoon cannabis coconut oil in a shallow bowl. Dip 1 side of each ladyfinger in the espresso/rum mixture and line the bottom of a 9 by 12 by 2-inch dish. Pour half the espresso cream mixture evenly on top. Dip 1 side of the remaining ladyfingers in the espresso/rum mixture and place them in a second layer in the dish. Pour the rest of the espresso cream over the top. Smooth the top and cover with plastic wrap. Refrigerate overnight.

Before serving, sprinkle the top with shaved chocolate and dust lightly with confectioners' sugar, if desired.

Serve the Cannabis Tiramisu
Nutrition
Calories:
200
kcal
|
Fat:
20
g