Nothing says Thanksgiving like a delicious, homemade, pumpkin pie. Elevate your tradition this year with cannabis pumpkin pie!
Pumpkin pie is a Thanksgiving staple. This delicious dessert houses the true taste of fall festivities. What better way to kick off Thanksgiving celebrations than with a cannabis pumpkin pie. This recipe is sure to elevate your holidays while keeping true traditions alive!
How do I start this cannabis pie infusion?
For starters, our cannabis pumpkin pie is made with cannabis butter. Follow this easy recipe to infuse your butter correctly. If your cannabis butter is already on hand, you are ready to start making your pumpkin pie.
This THC infused pie is created almost exactly the same way as a traditional pie. However, we substitute regular butter for cannabutter.
If you prefer, you may use cannabis sugar as the infusion instead. Swap your regular sugar with cannasugar to infuse your recipe this way.
For this recipe, we highly recommend using cannabutter instead of cannasugar. We do not suggest that you use both of these ingredients due to potency.
Here is a list of ideas to make your weed pumpkin pie extra festive:
Create a pumpkin shape with a small piece of dough. Add this to the center of the pie before baking
Decorate your pie with candy corn
Add a small amount of orange or green food coloring to your whipping cream for festive color
Use cannabis sugar to decorate the pie by creating festive shapes or colors
Is this pie a gift or party favor?
A pie is a thoughtful gift to bring to a party. Of course, it is important not to show up to a party with empty hands.
Create a THC infused pumpkin pie for an extra special way to show thanks. We strongly recommend clearly labelling this pie as THC containing. This is to ensure that your guests or friends are completely aware that this is not your usual pumpkin pie.
Be sure to declare that this pie contains THC and clearly mark the weed infused edible so that there is no confusion!
Start your cannabis pumpkin pie today!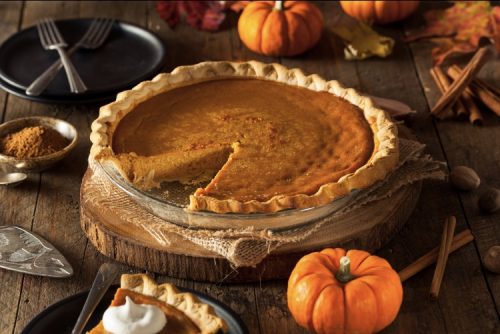 Ingredients
1 unbaked pie crust 

1 (15-ounce) can pumpkin purée 

1/2 cup granulated sugar

1/2 cup packed brown sugar

1/2 teaspoon salt

2 teaspoons ground cinnamon

1 teaspoon ground ginger

1/4 teaspoon ground nutmeg

1/8 teaspoon ground cloves or allspice

3/4 cup whole milk

3/4 cup heavy cream

1/4 cup Cannabis butter

3 large eggs

1 teaspoon vanilla extract
Instructions
Line the pie crust with parchment paper or aluminum foil.

Bake until the edges just start to brown, 12 to 15 minutes on 400F. Remove from the oven and keep near the stove. 

Place the pumpkin purée, granulated sugar, brown sugar, salt, cinnamon, ginger, nutmeg, cloves or allspice in a food processor fitted with the blade attachment or blender.

Blend until the brown sugar is completely mixed in and the purée looks glossy.

Transfer the mixture to a large saucepan and place over medium-high heat. Stir frequently until incorporated for 3 minutes.

Remove the pan from the heat. Whisk in the milk, cannabis butter and cream.

Once the mixture is cooled off a little, slowly whisk the eggs into the saucepan with the pumpkin mixture until smooth.

Carefully pour the warm pumpkin mixture into the warm pie crust.

Carefully transfer the baking sheet with the pie to the oven on 350F for 50 to 60 minutes.

Let the pie cool to room temperature before serving — it will continue to set as it cools.